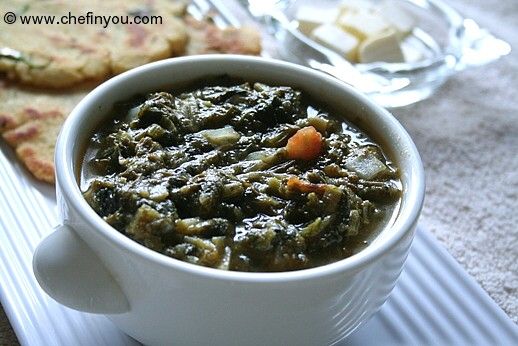 From the archives: I had posted this way back, but recently when a reader (Vidya Devan) requested this dish, I thought I will repost it once again
So many times, it happens that we cook something "classic" from some other unknown region thinking that we have that one authentic recipe. Most often than not its authentic alright - but only problem is that its not classic to that region at all - in fact people from that region weren't even aware of such a famous dish from their country!!! Take Mango Lassi and
Saag Paneer
for example! For having grown up in India my entire life these were never in my menu nor have I ever seen in any restaurants. Of course, now that its famous worldwide, they might be freely available everywhere. The classic instead was and is - sweet and salt lassi and Sarson ka Saag / Palak Paneer! I think
Saag Paneer
is the Americanized version of Palak Paneer cos the Sag is always made of Spinach! So that's Indian Palak Paneer for you :) Its also saddening to note that I am yet to get that classic taste in any Sarson Ka saag I have tasted in any of the restaurant. I taste only butter and cream. The original classic is not supposed to taste of butter and cream at all! It has this earthy taste where you get to enjoy the Mustard leaves and spinach in full form!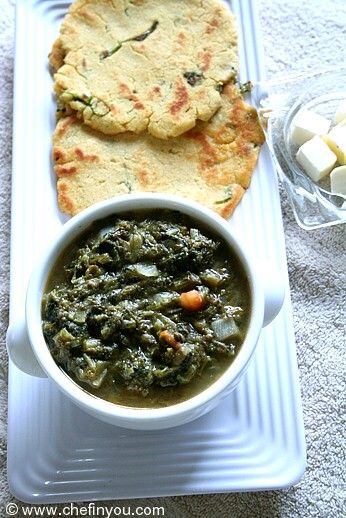 Why make a dish with Mustard leaves and Spinach, if all you want is douse its taste with butter and cream? The farmers in Punjab ate rich food - agreed. They did it cos they had to rely on their brute force strength to do all that back wrenching hard work. They needed sufficient fats which came by way of ghee/milk/buttermilk (hence Lassi!) predominantly, to give all that energy! But I am sure their meal was not doused with so much fat that they couldn't taste the nutritious greens! With so much fat, I am wondering if they would be able to even get up after a meal ;) Mustard leaves have this slightly bitter taste. So if you are not used to the leaves/ or are going to try for the first time, then use Spinach and Mustard leaves in same proportion. The spinach leaves subdue the bitterness of the mustard. But usually spinach is used half of mustard leaves for the dish to have a little earthy taste without being overly bitter. I am not sure about the weight of the leaves I bought, but the beauty of this dish is you cannot mess it up. It has minimal ingredients and which can easily adjusted to suit your taste.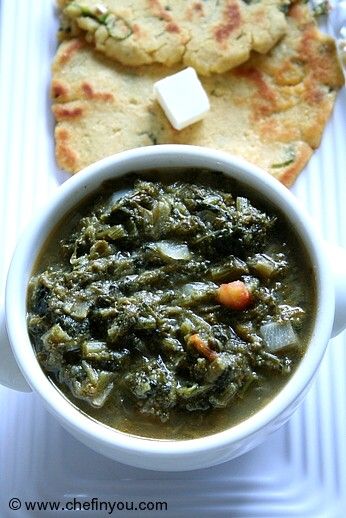 Ingredients
2 bunches Mustard Greens
1 bunch Spinach Greens
1 onion, chopped
1 tomato, chopped
approx 1 inch ginger, peeled and grated
1-2 green chillies (as per taste)
2-3 tbsp Maize flour(cornmeal)
salt to taste
1-2 tbsp ghee(optional, use Oil instead)
Method
1
Clean the leaves well in cold water. Chop them roughly. Place them together in a large skillet/ pan with little water.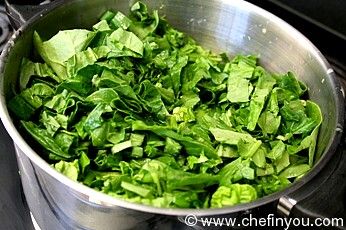 2
Close the lid and cook for few minutes in medium heat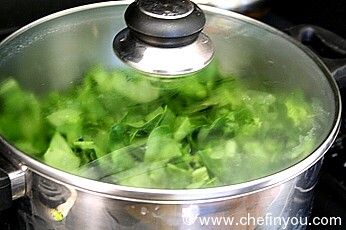 3
until the greens have wilted.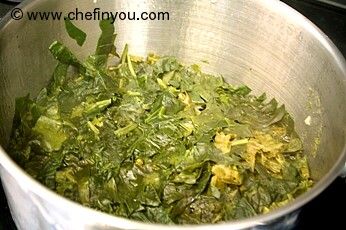 4
Mash it lightly with a potato masher or back of a spatula.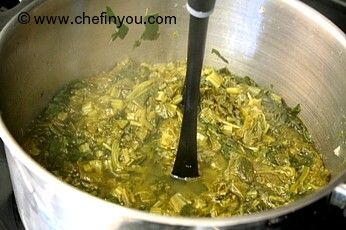 5
They are usually not pureed and are kept coarse textured. Add Maize (makki ka atta) to thicken the gravy.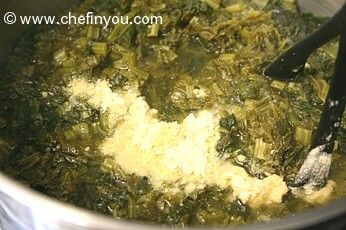 6
Add as per your liking. I don't prefer mine too thick not too gravy- just enough to scoop with my Makki Ki Roti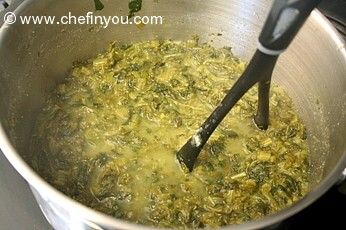 7
Meanwhile in another skillet, heat up little ghee (its traditional, you can of course use oil instead) and saute the onions, tomato, chillies and ginger with salt; in that order.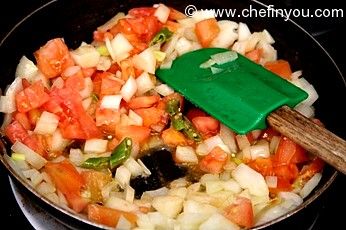 8
Once they are soft, add it to the greens.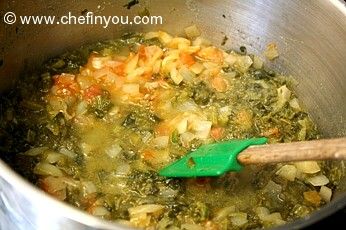 9
Stir it for few minutes until well combined. Add more seasoning if required.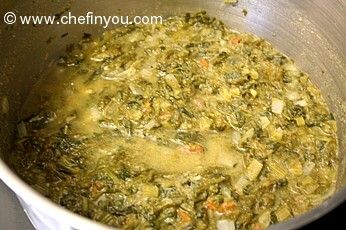 Serve hot with Makki Ki Roti.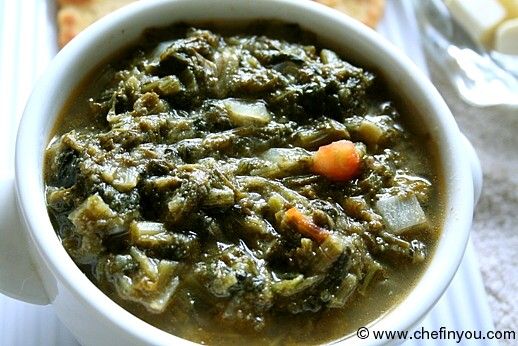 Related Recipes You May Like
Did you make this recipe?
Please click below to share your experiences while you were making this recipe. Thanks for your input!
Have a favorite recipe?
Know a family recipe your mom used to make? Or maybe a go to recipe that works everytime? Share it with your fellow foodies!