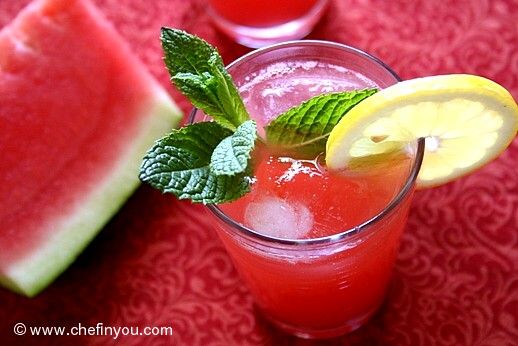 The only advantage I find during the Summer, is the lack of appetite for anything solid. I just feel like gulping down gallons and gallons of water, juice, shakes or any liquid based diet! And if you can serve it to me chilled, my parched throat will thank you for it. Its also an another incentive for me to gorge on fruits (cos I ain't eating those good things otherwise! bad me I know!). If you have read this space before, you would be aware of my allergy for the sun! Yes! I am weird - dint you know that? Out of all of all the vacations that we have enjoyed, the only place I was busy moping and cursing was in - cough - ahem! HAWAII! There, I said it! Can you believe that? I know and am fully aware of the "ooooh's" and "aaaah's" it always seem to invoke in people but for me, all that sun - strict No No. While everyone were busy giving themselves that "gorgeous" tan, I was busy making myself the walking advertisement for a Sun Block cream! Not that it did me any good - My weird anti-social (to the sun, I mean) skin was all itchy, blotched, red and peeling right on the 2nd day of the vacation! Trust me! You don't want to be around me that time! :)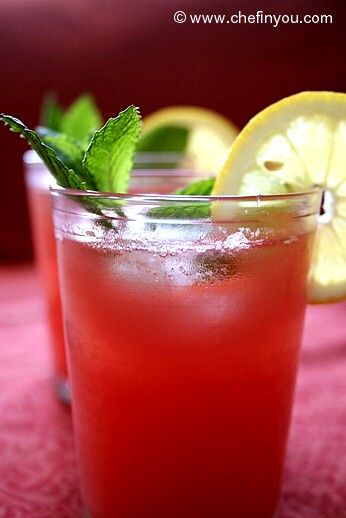 May be I was a vampire or something in my previous birth (Now waittaminute! Do those things even have this cycle of births!!! Don't they like live -"forever"! Boring I say!) - I dunno! I just am not cut out for that and love cooler places. So when the Sun started "blessing" everyone around me and all were rejoicing away on the streets, yours truly was sitting quietly in the shade and sipping - Aguas Frescas :) Agua Fresca is a Mexican boon to parched throats. "Aguas" in Spanish means "water" and "Frescas" meaning "Fresh". Its a famous drink often sold by street vendors there although its now available even in high class Mexican restaurants. Humble with a mighty status, it sure seems to have earned for itself :)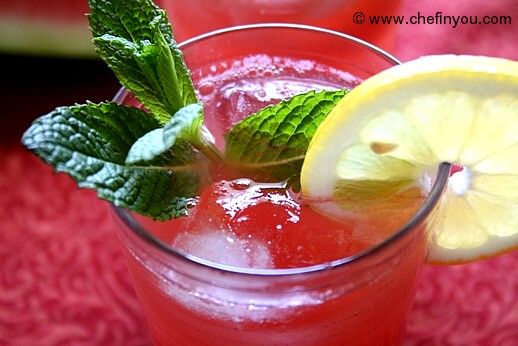 Its a simple juice made with variety of flavors - tamarind, fruits, seeds or flowers. The array is mind boggling. For today, I have made Watermelon Agua Fresca - simply said, Watermelon Juice. Watermelon has a cooling property and its immense water content is a boon during this hot season. Especially in place like India - this drink will seem like nectar from heavens! The trick to making a classic Agua fresca is to make sure there is
no pulp in the drink
which makes it more like a smoothie or slush. You need a smooth drink. Also you can add as much water to it as you please. Since watermelon by itself has lots of water content, I like to add more watermelon and less water as opposed to what many online recipes suggest. I also adore lemons and mint in my drink hence have been generous with it. But it all comes down to your customized taste - hence work around this recipe to match your needs :)
Ingredients
Approx 4-5 cups of watermelon (seeded and cubed)
1-2 cups of water, as required
sugar/honey/agave nectar to taste
2-3 tbsp of fresh lemon juice (I used the juice of one large lemon since I love the taste)
few mint leaves for garnish
crushed ice to serve
Method
1
Pulse the watermelon using little water in batches.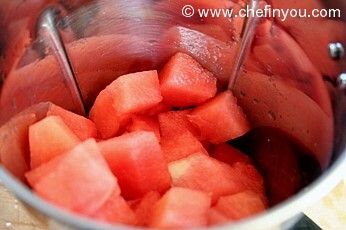 2
I used about 1-1/2 cups water only while many sites ask for about 4 cups of water. I like the watermelon taste more and also the fact that it has more water content, I tend to use less of the water. Also adding ice cubes tends to water it more later when it melts.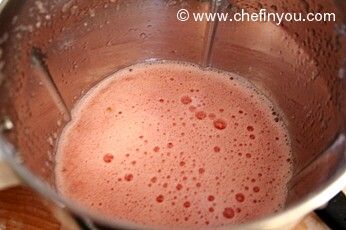 3
Filter it using a sieve. Add the rest of the ingredients according to taste.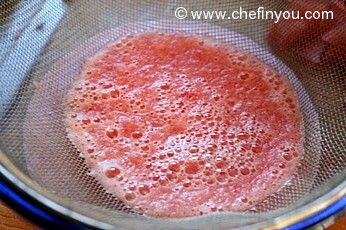 Serve chilled. I use sweet watermelons since it makes it possible to add less sugar and enjoy natural goodness more :)
Related Recipes You May Like
Did you make this recipe?
Please click below to share your experiences while you were making this recipe. Thanks for your input!
Have a favorite recipe?
Know a family recipe your mom used to make? Or maybe a go to recipe that works everytime? Share it with your fellow foodies!