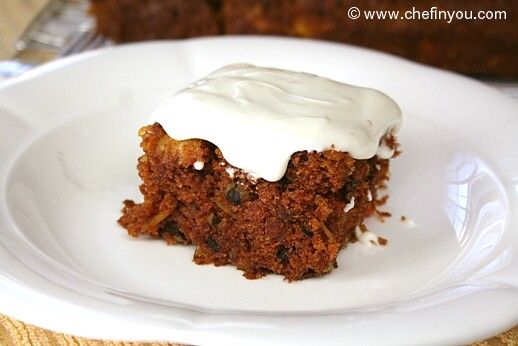 My quest for that Perfect and THE Best Carrot Cake ends here! I have tried at least 8 carrot cake recipes till date. I know each and everyone of us have a different palate. With that in mind, mine always had some fault or the other to find with the recipes I tried. Ditto for my other half - "Too rich", "Too sweet"," Too crumbly","Is that really a carrot cake? Where is the carrot? ","Wholesome, too healthy tasting (read as "blech") carrot cake", etc etc. You get the idea. Agreed that we dont like too much sweet but some were too saccharine sweet with a generous dollop of overly sweet frosting that one bite, all I wanted was to spit it out pronto! But at last - I hit the nail with this one. I got it from the
adorable  neighbor I spoke about earlier,
who gave me this recipe from this Book called The New Basics. It is everything I wanted a Carrot cake to be.
Moderately sweet , moist with that coconut and nuts combo playing merry in your mouth! Its perfect example of harmony of ingredients. The pineapple is subtle and the carrot never tasted better to me. If you like it more sweet, then this Cream Cheese Frosting is a MUST for you. Its sweet, its rich and its to die for and it works perfectly well with this cake.  This makes a generous portion and you can easily halve it.  This classic version for once is the BEST tasting too. Don't take my word for it - give it a try. Its very easy to put together. Don't go by the pic cos this cake though not at all photogenic is worth every little crumb and tastes wayyyyyy better than it looks! Yes, appearances can be deceptive indeed :)
Basic Information
Cook Time
:
30 min to 1 hour
Yield
:
Makes one 13X9 inch layer cake (about 12 portions)
Ingredients
2 cups all purpose flour
2 cups granulated sugar
2 tsp baking soda
2 tsp ground cinnamon
1 cup corn/vegetable oil
3 eggs, lightly beaten
2 tsp vanilla extract
1-1/3 cups pureed cooked carrots
1 cup chopped walnuts
1 cup shredded coconut
3/4 cup canned crushed pineapple, drained
For topping
Cream cheese frosting, see Tips
confectioner's sugar for dusting
Method
1
I made my pureed cooked carrots this way. I chopped them into large slices. I think I used about 3-4 thin carrots to make the required amount.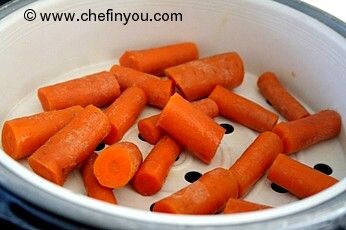 2
Steamed them until soft - about 8-10 minutes. Dropped them into my food processor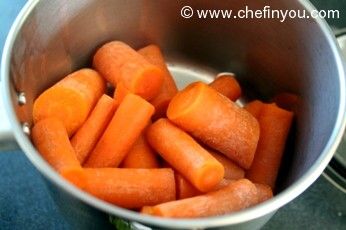 3
and pureed them.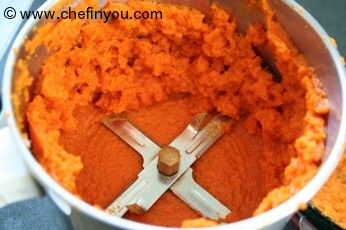 4
Preheat Oven to 350F. Take a large bowl  and sift the four, sugar, soda and cinnamon together.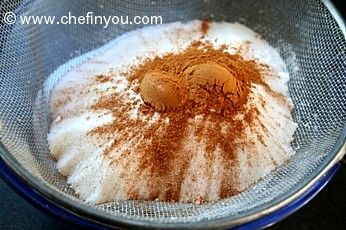 5
Add the oil, eggs and vanilla. Beat well.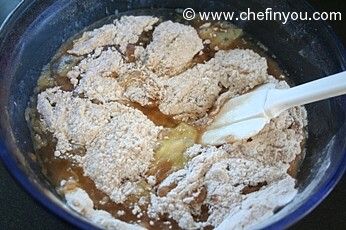 6
Fold in the carrots, walnuts, coconut and pineapple.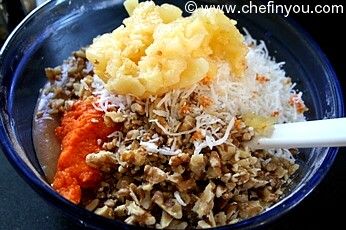 7
Mix well until it all comes together.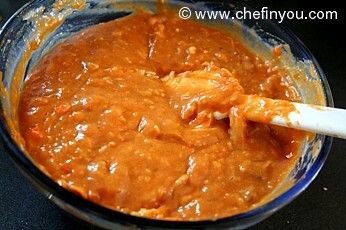 8
Line a 13X9 inch layer cake pan with waxed paper and grease the paper. Now pour the prepared batter into the pan.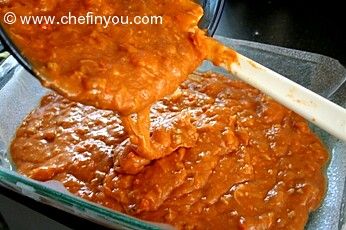 9
Place the pan in the middle rack of the oven and bake until the edges pull away from the sides of the pan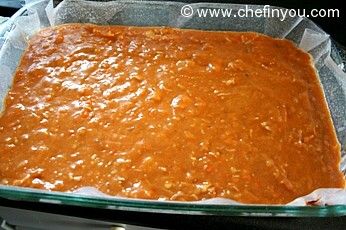 10
and a toothpick inserted in the center comes out clean. Takes about 45 min to 1 hour (depending on your oven)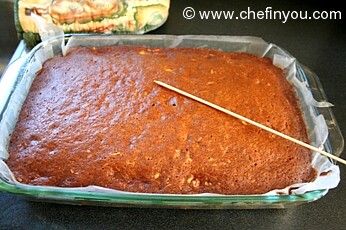 11
Cool the cake in the pan for 10-15 minutes. Then turn it over a cake rack and unmold, peeling the wax paper gently. Cool it further for about 1 hour.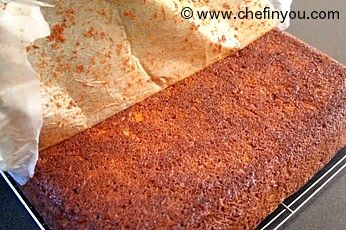 Since not everyone likes it with frosting in my house, I made the frosting separately and those who wanted it dolloped it on top of the cake. The frosting does the trick for those with sweet tooth and who like this cake very sweet. You can further dust the top with confectioner's sugar too, if you like.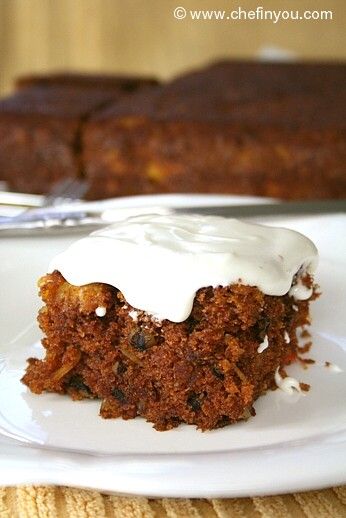 Related Recipes You May Like
Did you make this recipe?
Please click below to share your experiences while you were making this recipe. Thanks for your input!
Have a favorite recipe?
Know a family recipe your mom used to make? Or maybe a go to recipe that works everytime? Share it with your fellow foodies!