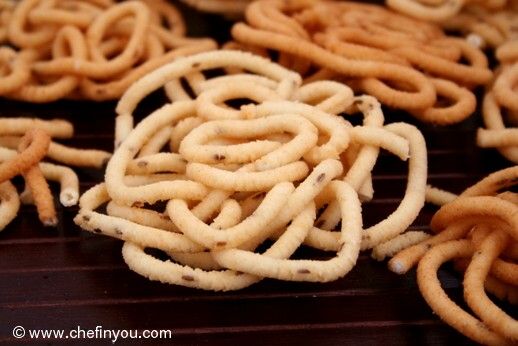 My mother until recently always wondered why I was doing this thing called "Blogging". "
As if you don't have enough on your plate
!" - she quipped. Words like passion, hobby, wonderful readers did not hit a home run. She was unconvinced - until she visited me last year. She was awed at the amount of work I put in behind every recipe (One photo session behind
Mysore Pa
did it!). She was also impressed at reader's response. It  made her realize why I do this inspite of a job and now a baby. After that, the amount of support she lends me is mind boggling. She keeps sending me easy recipes that I can blog to fit the miniscule time I now have thanks to the ever increasing demands of a little one. She reads the comments, queries of my readers in the blog (&
facebook
) and sends me answers to them even before I can think of asking her. She corrects my recipe errors, offers suggestions to rectify possible issues with recipes etc. I have to add that even before they knew the work behind this blog, my father esp.collected a bunch of Tamil magazines with recipes in them and bought it along just for the fact that I seemed to have passion for cooking. What else can I say, except that I am blessed.
This thenkuzhal recipes comes along the same way. Our conversation went something like this last week
Mom
: "
Hey, why don't I see Thenkuzhal recipe in your blog. I thought you have made them before?"
Me
: "
yes Amma, I have. But I did not make them recently. And the last time I made them I did not take a photo
"
Mom
: "
Oh you should. I saw someone asking for the recipe, I think in your facebook page.
"
Me
: "
Ya, I remember too. But will post it some other time amma..I have the recipe written somewhere. Have to search in that huge clutter I have!
"
(other blah blah(s) for next 5 minutes)
Mom
: "
Check your email now..
.."
Me
: "
Why....one sec...Oh..You sent me the recipe......(grinning)
"
Mom
: "
yeah - don't waste time searching. I have written it. Ask me if you have any doubts...
"
Me
: "
Mom - You are the BEST!!! :) :)
"
...and so couple of days later, I made them and took photos this time. I mean how can I NOT! Love you mom :) Thenkuzhal is a famous crispy South Indian snack made of Rice flour and lentil flour (black gram) enjoyed not only during festival season (
Diwali
and
Krishna jayanthi
) but also year round. Countless have been the times when my mom on a regular day would fry them up in batches and store in a huge air tight (stainless steel) container. The plan would be to make them enough to last a month, but needless to say, it used to get over within a week ( or two max) with all of us sneaking one with every single visit to the kitchen :). Simple to make, extremely crunchy and addictive.
Basic Information
Yield
:
Around 20-25 thenkuzhals depending on the size and shape
Ingredients
3 cups Rice Flour (sifted)
1 cup Urad Dal flour (sifted)
2 tbsp Butter, melted
2 tsp Cumin Seeds (See Tips)
1/4 tsp Asafoetida
salt to taste
Tips
Instead of Cumin, you can use Sesame seeds. My mother mentions that some proportions use 4 cups rice flour to 1 cup urad flour. That work great too.
Method
1
In a shallow pan , add oil for deep frying. Mix all the dry ingredients together.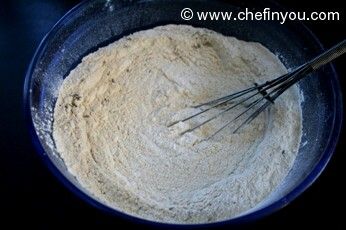 2
Add the butter and water little by little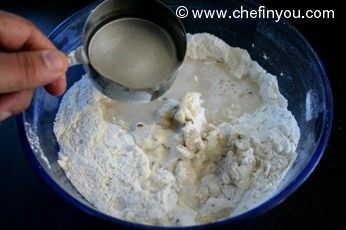 3
until the dough is pliable. - Nor too tight nor loose. Also make sure to fry them as soon you prepare the dough. This will help to avoid oil retention.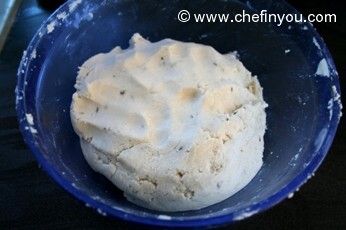 4
Take the Murukku press and use the plate that has 3 smooth round holes in it.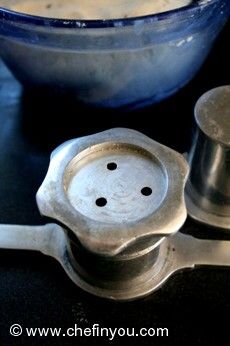 5
Drop a lemon size dough in it.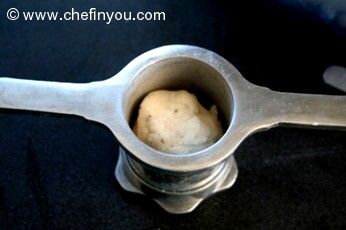 6
You can now deep fry it in 2 ways. One safe way - esp. for beginners - would be to press the dough in a circular motion on top of a ladle.
7
Now place the ladle inside the hot oil. Keep the flame Med-high. Too hot will burn the outside and too low will make these retain lots of oil.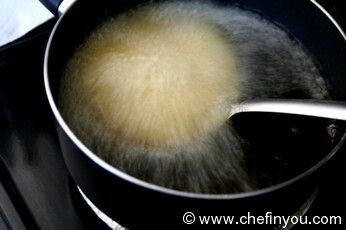 8
There will be lots of bubbling actions and in few seconds you will find that shaking the ladle a little will help to dislodge the dough into the oil. You can otherwise grease the ladle a little for the first murukku to help it to slide smoothly into the oil.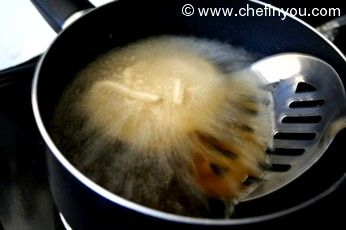 9
Once the hissing and bubbling action subsides, you know the thenkuzhal murukku is done. Remove and set aside on a paper towel. Do not crowd them while frying. Add 1-2 at a time (or couple more depending on the size of your murukku and vessel used for deep frying). Too many will bring down the temperature of the oil making the thenkuzhal soggy.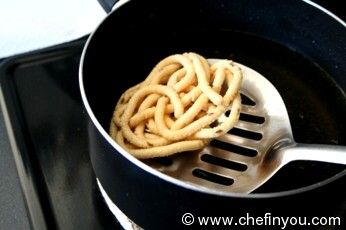 10
The other method that my mother usually follows, is to place the filled murukku press right on top of the hot oil,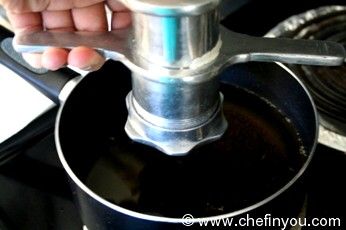 11
and squeeze the dough in a circular motion right on top of it. I would advise the beginners to avoid this since there is also a risk of oil bubbling out of the vessel if you press down too much dough into it. Also another reason is you might not make neat rounds (although taste wise it really doesn't matter if its in bunches or separated ).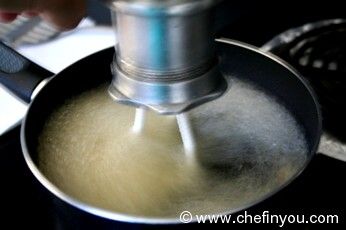 12
Turn it until its light golden yellow.  I personally prefer the cream color while the better half likes it dark (like dark red!!!). I refuse to deep fry until its get that deep red, hence fry mid way to reddish yellow! But traditionally you will find Thenkuzhals are mostly light creamy yellow.
Crsipy Thenkuzhals are ready! Cool them and store them in air tight containers so that they remain crispy. These keep well for months, although I assure you, it wont remain longer than days!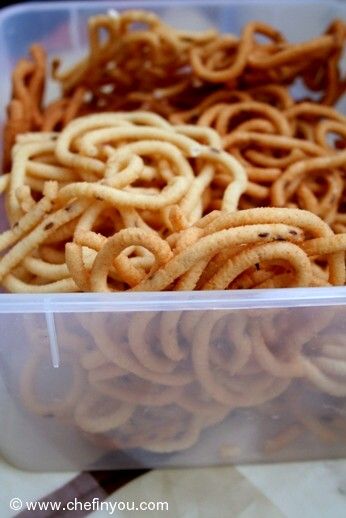 Related Recipes You May Like
Did you make this recipe?
Please click below to share your experiences while you were making this recipe. Thanks for your input!
Have a favorite recipe?
Know a family recipe your mom used to make? Or maybe a go to recipe that works everytime? Share it with your fellow foodies!