Batata Poha (Rice Flakes with Potatoes)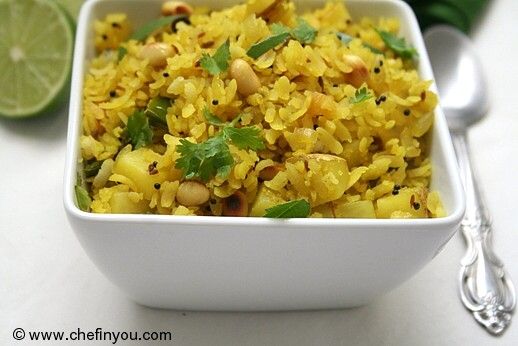 Growing up, for considerable number of years, in the Northern parts of India has definitely played its part in expanding my palate's horizon. The otherwise routine South Indian flavors were jazzed up with a burst of Garam Masala(s), aromatic tea(s) and hearty wheat goodness in the form of flatbreads (roti(s)).  Of course, the kid in me had no clue whatsoever about all that myriad tastes that her tongue was imbibing - thanks to an ever curious mom's antics in the kitchen. What mattered was how it tasted and am blessed to have an awesome cook for a mother. It shows, even today, in the way I look..er..ahem..I mean in the way I cook! It was only after I discovered the cook in me (years later with the advent of marriage!) that I slowly distinguished the regions of where the familiar flavors (and my favorite foods)  came from.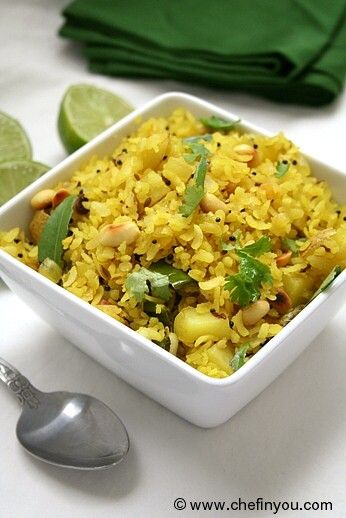 Like this Batata Poha for example (among many others). I grew up enjoying this dish for tiffin after school (though never for breakfast) on and off. It was a favorite - for the simple and child like reason that it had potatoes. Sigh! Those uncomplicated and Not-so-complex years! Little did I know ( or care to)  that it was in fact a
Maharashtrian Breakfast
recipe. What mattered was it was delicious in an uncomplicated, comforting way. Spices are minimal and subtle just enough to enhance the potatoes. Roasted Peanuts add to a flavorful crunch amidst softer and moist Rice flakes. Lemon juice gives it a light tang and the garnish makes it look more appealing with a burst of color in the sea of yellow. This is NOT a "
I-am-going-blow-your-mind-away
" kinda dish, but more like "
I-am-going-make-you-feel-warm-and-cozy
" with its promise of filling you up without weighing you down.
References
recipe courtesy: mom
Ingredients
2 cups Beaten/Flattened Rice Flakes, thick variety (Poha)
1 med-large Potato, scrubbed and cubed
1/4 cup Peanuts, skinned
1 tsp Mustard
1 tsp Cumin
1 Jalapeno sliced(or use 2-3 thin green chillies, as per taste)
1 medium Onion, chopped
1/4 tsp Turmeric
1 tsp Sugar (optional)
Salt to taste
Garnish: Cilantro leaves, Curry leaves and Lemon Juice to taste
Method
1
Wash the poha well with cold water.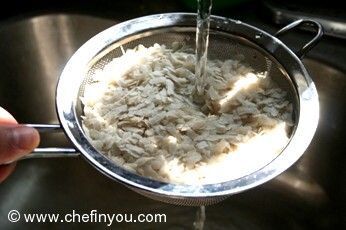 2
Let it sit in a colander and drain the excess water.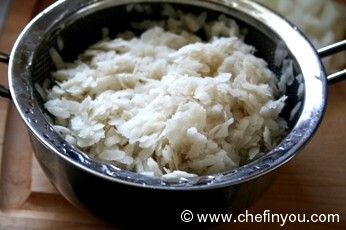 3
While that's draining, dry toast the peanuts on a skillet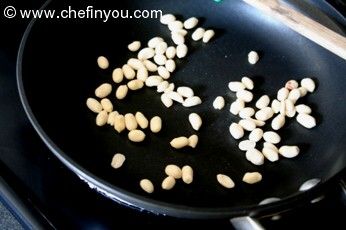 4
until golden- reddish brown. Set aside.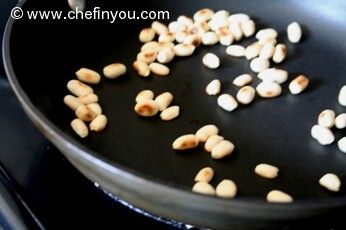 5
In the same skillet add around 1-2 tsp oil ( my mom at times used to add Ghee and it just made this taste all the more better!). Drop the mustard in it and when it starts popping, add in the cumin. When it gets aromatic, add the onion,  chillies along with salt and half of curry leaves (tear it to release more flavor). You can otherwise add the curry leaves towards the end or add all the curry leaves at this point. It doesnt really matter, but I usually love to saute half the curry leaves right in the beginning to imbibe its flavor and add the remaining towards the end for its freshness and color.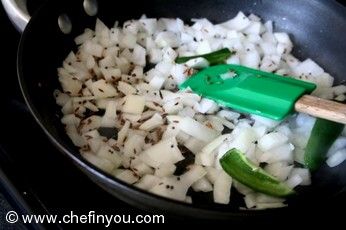 6
Give it a quick stir and add the turmeric. Cook for 1-2 minutes until the onion gets soft.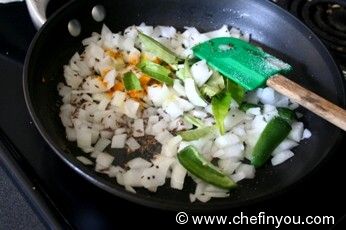 7
Add the chopped potatoes and mix until combined. Sprinkle some water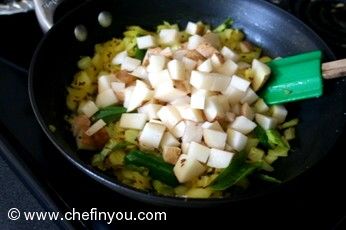 8
and close it with a lid. The sprinkling of water is done to help the potatoes cook by way of steaming in a closed pan.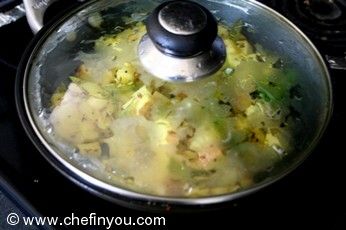 9
Cook until the potatoes are done (they will be soft when pressed) - takes around 6-8 min.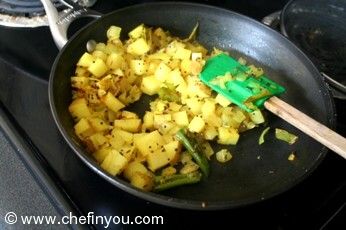 10
Now add sugar ,  Poha along with roasted peanuts and toss until well combined. At times I like to keep the flame low, close the lid and let this sit for 5-10 minutes. This Slow steaming helps to give it more moistness along with flavors to mingle very well with Rice flakes. This makes the roasted peanuts soft, so if you like to retain the crunch, add it after this.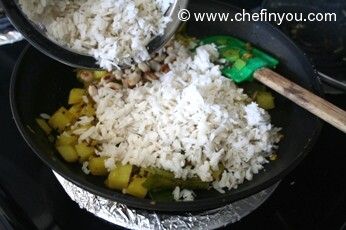 11
Just few minutes before serving, add chopped cilantro, remaining curry leaves and lemon juice. Stir and serve hot.
Tips: If its on the dry side, you can warm it further by sprinkling water or milk to the Poha.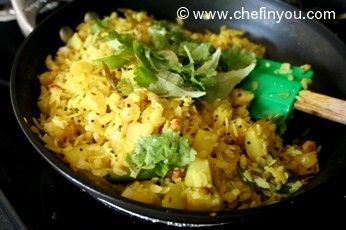 It makes a filling breakfast or even a light lunch/Dinner. At times I tend to add in some frozen vegetables to the mix to make it more hearty. Its best when served immediately. To make it special, throw in handful of Sev and/or toasted or plain grated coconut as garnish before serving.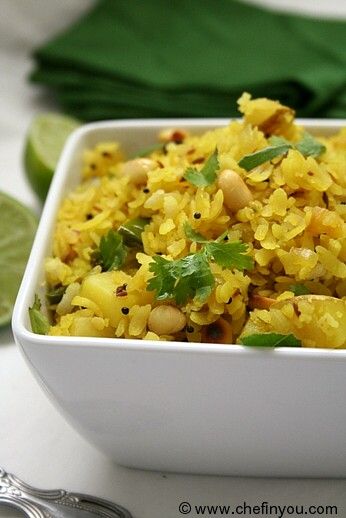 Related Recipes You May Like
Did you make this recipe?
Please click below to share your experiences while you were making this recipe. Thanks for your input!
Have a favorite recipe?
Know a family recipe your mom used to make? Or maybe a go to recipe that works everytime? Share it with your fellow foodies!