Watermelon Radish Raita (Yogurt sauce)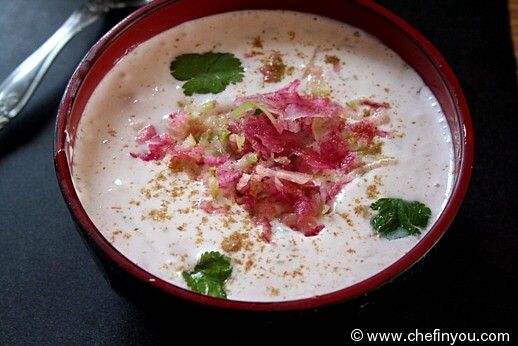 Given that
Raita (Indian Yogurt sauce)
forms a part of our regular meals, I tend to jazz it up with whatever is available in my fridge on that particular day. Its that versatile. Fruits, vegetables - name it, and a raita is ready for you. I make it a point to include this yogurt based condiment for another main reason - Protein. Since we use Greek yogurt, the amount of protein that it provides is immense.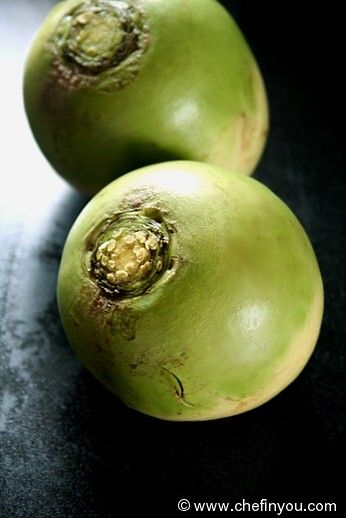 So on this particular day, I used a special variety of radish namely "Watermelon Radish".  Although I happened to know of it much earlier through a colleague, I did not come across it until recently at my Farmer's market. In our market, they had cut a section of the radish (wrapped in plastic wrap) to use as a display piece above the radishes to show how it looks inside.  For a good reason, given that it was immensely attractive and eye catchy. See how it looks below? Doesn't it look wonderful?
It tastes the best eaten raw, if you ask me. We enjoy it in salads and in raita , which is what today's post is all about. A simple condiment where Watermelon radish is the star ingredient.  That pink color makes the sauce look so beautiful when you garnish it with some grated radishes. The raita by itself tastes like a regular radish raita - slightly peppery with a mild sweetness to it.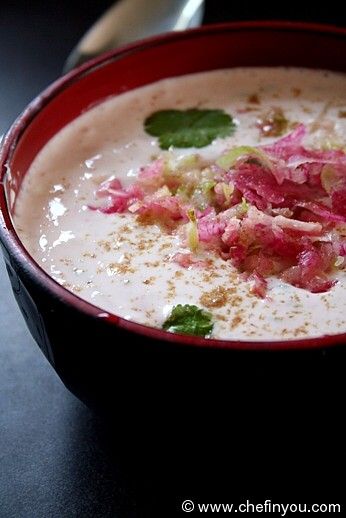 Enjoy it like you would with any other raita - with a nice spicy main course. :)
References
from my kitchen notes
Ingredients
1-1/2 cups 0% Greek Yogurt + 1/2 cup 2% Milk (see Tips)
1 cup Watermelon Radish, grated (see Tips)
1/2 – 1 tsp roasted cumin powder
Few sprigs of cilantro
Salt to taste (see Tips)
Chilli powder/ground pepper for garnish (optional)
Mint leaves for garnish (optional)
Tips
1. Greek Yogurt :
Since I use Fat Free variety of Greek Yogurt, I tend to use some milk/water to thin it out since it is extremely thick. If you are using regular plain yogurt, just use 2 whole cups of the yogurt without any additional water/milk. If your yogurt is little sour/tangy, then it would benefit with the addition of milk.
2. Radish:
If the skin of the radish seems very tough or if you are using it for the first time, then I would suggest peeling the radish first and then grating. For this post, I have not peeled the skin.
3.Salt:
Try the black salt that's available at your local Indian stores. More authentic and tastes delicious with a delicious aroma.
Method
1
Grate the watermelon radish.  Set aside.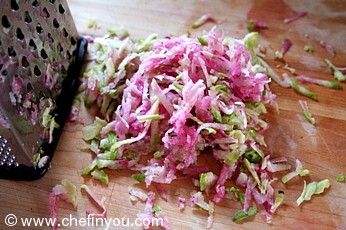 2
Take the yogurt (and milk/water, if using) along with roasted cumin powder and salt.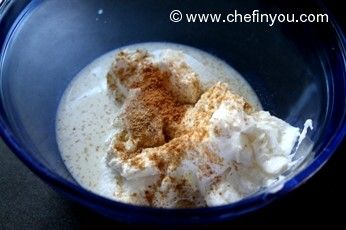 3
Beat it until smooth.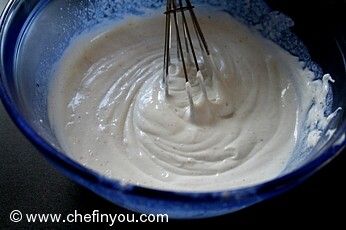 4
Add the watermelon radish (you can set aside a little for garnish if desired) along with mint leaves.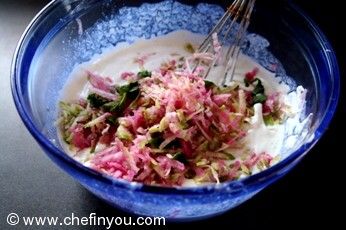 5
Mix until combined.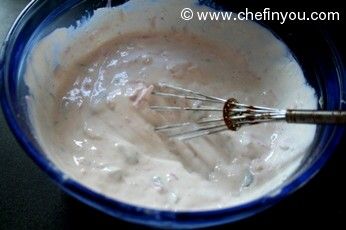 6
Cover and refrigerate for 1-2 hours. This step is optional but I personally think that the sitting time helps to mingle the flavors very well.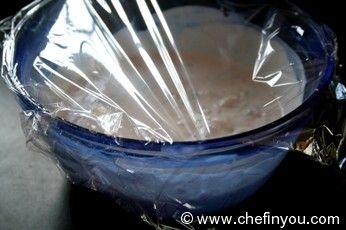 Serve garnished with the remaining grated radish along with cumin/chilli/pepper powder if you like.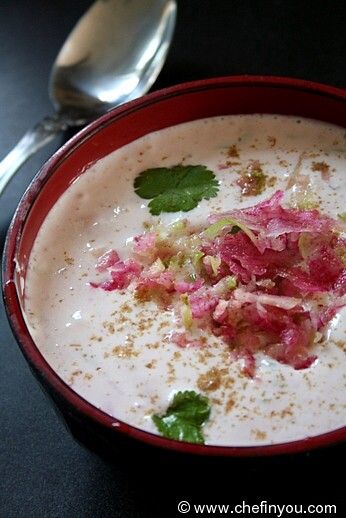 Related Recipes You May Like
Be the first to showcase this recipe!

Your Name
Did you make this recipe?
Please click below to share your experiences while you were making this recipe. Thanks for your input!
Have a favorite recipe?
Know a family recipe your mom used to make? Or maybe a go to recipe that works everytime? Share it with your fellow foodies!