Green Mango Rice (Mamidikaya Pulihora/Mavinakayi Chitranna)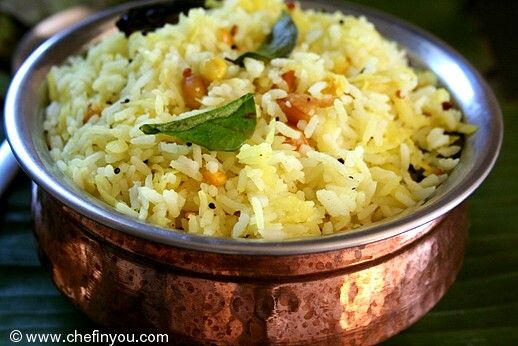 "How many variations of rice can you possibly make every day of the week? Seriously it gets so boring and mundane"
-  was what a friend of mine told me, eons ago. I readily agreed. I was no cook then and had really no interest in cooking. In the dining room? Yes. Kitchen - Absolutely no.  If someone told me that today, I would have laughed - not so politely - in their face. In  the last few years of my cooking expedition, one thing I have realized is that
Rice
has varieties galore. Or as a matter of fact - (vegetarian) food in general.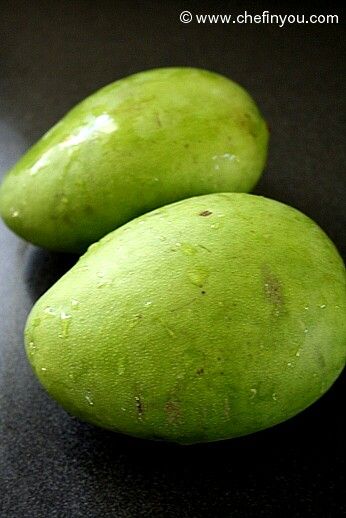 Quick variety rice is a commonplace in a South Indian's kitchen. These are opted for when there are leftover rice/ when you are short on time / during festivals. They are simple to make without any complicated ingredients or methods.  Temper, mix and serve and lunch is ready. I spotted some beautiful green mangoes during my last visit to the local Indian store. This is one of the dishes I made using some leftover rice.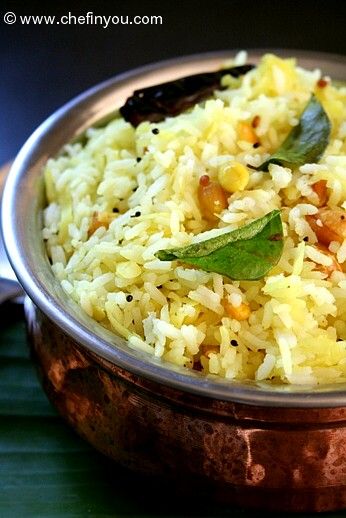 The recipe for this comes from several online resources and my own adaptations. I have been making this for more than 2 years and the original notes have undergone changes with every time I made these. If you love
South Indian Lemon Rice
, then you would love this one too. My husband always assumes I have made lemon rice the minute he takes few bites cos the taste is pretty similar - the same tanginess but the lemons replaced with raw mangoes in this case. Its a famous Andhra and Karnataka dish made during Ugadi festival. You can also make it on other days.
References
my kitchen notes
Ingredients
3 cups medium grain rice, cooked(leftover rice works great)
1-2 cups Green Mango, grated (see Tips)
1-2 Green Chillies, sliced  (or as per taste)
1-2 Dried Red Chilli
1 tsp Sesame oil (optional)
2 tbsp Cashews
2 tbsp Peanuts
1/4 tsp Turmeric
1 tbsp Bengal Gram (channa dal)
1/4 tsp Fenugreek seeds
1 tsp Mustard Seeds
2 tsp Split Black gram (Urad Dal)
1/2-1 cup fresh Coconut, grated - optional (see Tips)
Salt to taste
Curry leaves and Cilantro sprigs to garnish
Tips
1.Green Mango
: The tangiest of Mangoes works best for this rice. Use 1 cup if your mango is very tangy or 2 cups if less. I used one large mango which weighed about 400 grams.
2. Coconut
: Frozen coconut works too, but fresh is recommended. I tend to use Coconut if making the
Karnataka
version of this rice namely
Mavinakayi Chitranna
. While making the
Andhra version
-
Mamidikaya Pulihora
, I tend to skip it although it doesn't really matter. You can add coconut for additional flavor or leave it out esp. if you are concerned with cholesterol or other health issues. For today's post, I have not used coconut.
Method
1
Soak the Channa Dal (Bengal Gram) in warm water for 20-30 minutes.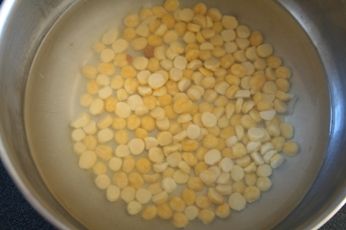 2
Peel the mangoes.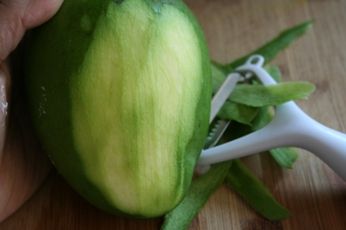 3
Grate it to make the required amount.
4
In a hot pan, add the sesame oil and another 1 tsp Ghee. You can skip using sesame and use only Ghee or vegetable oil (or a mix of both).  Then add mustard seeds along with red chilli (and green chilli - I have skipped it since we don't prefer too much heat in our food).
5
Now add the lentils (Bengal gram after draining and Urad dal)  along with fenugreek seeds.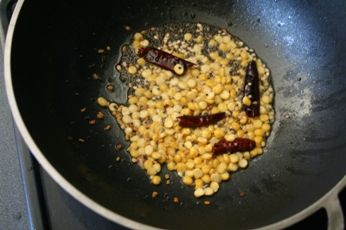 6
Add the peanuts and cashews next. Roast them for 1-2 minutes in medium heat.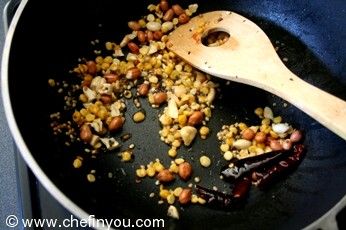 7
Then add the salt and turmeric. Give a good toss.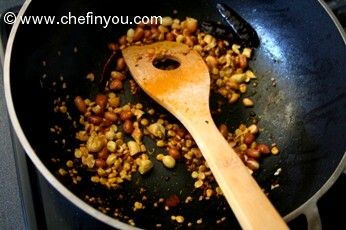 8
And last add the Grated Mango along with turmeric.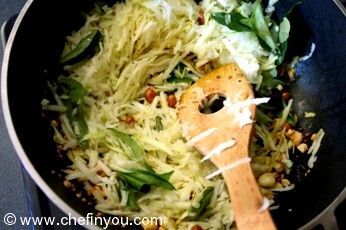 9
Give it a good mix until well combined. You don't really need to cook the mangoes.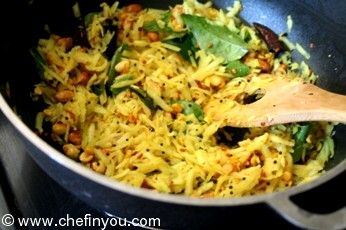 10
Add the cooked rice
11
and gently mix until combined.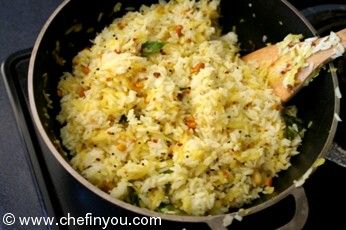 Serve garnished with cilantro.
Variation 1:
To make Mavinakayi Chitranna:
When making the Karnataka version, instead of grating the mango, simply chop them into small pieces and grind it along with coconut, green chillies and 1/2 tsp of mustard (use the remaining 1/2 for tempering) seeds into a paste. Make sure to add water only if necessary.  Follow the steps from 4 to 7 and then add the paste. Fry for 2-3 minutes and then add the rice to it. Serve hot garnished with cilantro and curry leaves.
Variation 2:
To make Mavinakayi Chitranna (2):
You can do half and half of both the Andhra and Karnataka methods. That is, grind half the mango into paste (and grating the remaining half) and repeat the procedure mentioned above but then adding the grated mango just before adding the rice.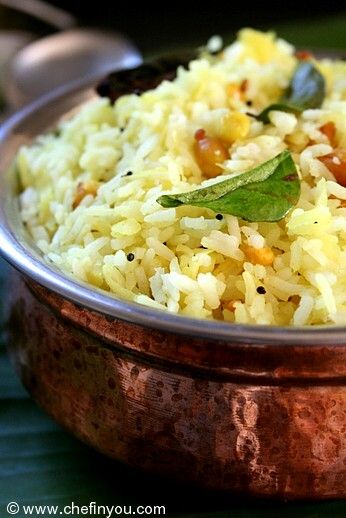 Related Recipes You May Like
Did you make this recipe?
Please click below to share your experiences while you were making this recipe. Thanks for your input!
Have a favorite recipe?
Know a family recipe your mom used to make? Or maybe a go to recipe that works everytime? Share it with your fellow foodies!