Maladu (Pottukadalai/Roasted Gram Laddu)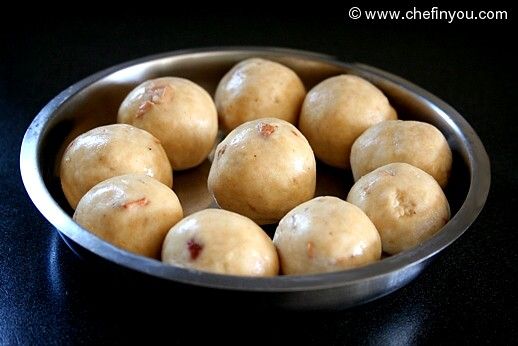 This post was long pending and when I say long, I really mean looooooong. How long? Err....to be exact 15 months long. This has been in my draft that long. (Ok without seeing, tell me how many "long"(s) did I use till now?  Did you say 6? wrong - its 7 ;)) My mom made them when she visited me but then I realized later on (after she left) that my photos of these sucked big time. I am not saying that otherwise my photos look like they come out of a magazine, but seriously, they did not make me "want" to eat those ladoos when I saw the pics. So I wanted to redo the post and that doing it again has taken its time.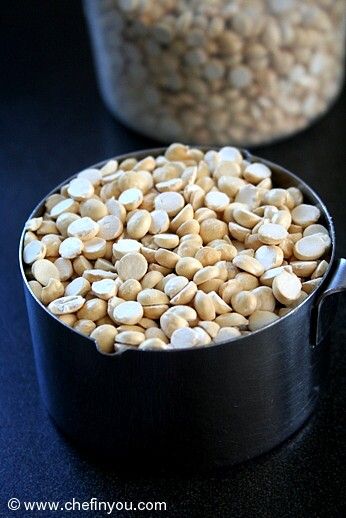 Ladoo/Laddu
form an integral part in Indian dictionary.  Trust us to make a
ladoo
out of anything and everything. We love it so much that some of us, even have nickname (endearing term, if you will) for our loved ones as "Ladoo". (The person given the name as such might not be pleased, but then that's a different matter altogether!) Among the myriad 
varieties of ladoos,
the one we are talking about today is one made with Roasted Gram. It is actually dried roasted chickpeas (Split roasted gram/Fried Bengal Gram) that is available in packets in Indian stores. Its edible in its raw state (and addictive if you ask me). I think its also called as "Buna channa" in Hindi.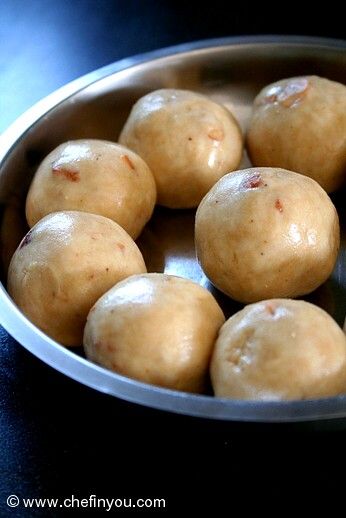 These are famous in Tirunelveli region in Tamil Nadu, Southern India where it is a must during wedding or any special/festive occasion. My mother tells me that the full form of Maladu is "Maavu Ladoo" where Maavu means flour. Protein rich roasted gram flour are used to make these.

Special Note: The binding for this ladoo is Ghee and though my mom used 3/4 cup (and it turned out to be generous making it hard to form ladoos), personally I made it with just 1/2. But here I think that weather and ingredients plays a huge role. My mom told me that she could make perfect ladoos with her proportion back in India while I have made this with my proportion 4 times already to perfect ladoos. So I am forced to think that there is much more than a perfect recipe for these ladoos. So, take care to read my tips section before making these ladoos.
References
slightly adapted from my mom's recipe
Basic Information
Yield
:
Makes around 10-12 small-medium sized laddus
Ingredients
1-1/2 cups (180 grams/abt 6 oz) Roasted Gram/Dalia/Pottukadalai
1/2 cup (100 grams/3.5 oz) white granulated Sugar (see Tips)
1/2 cup (100 grams/3.5 oz) melted Ghee (see Tips)
1-2 Cardamom pods
1-2 tbsp broken Cashews
Tips
1. Ghee :
Depending on the quality of ingredients and the weather, you might
need less or more Ghee
than what is mentioned here. In that case, you can warm the ghee separately and then add a little by little until you get the required consistency to make the ladoos. Don't think of skimping Ghee or using oil instead.
2. Sugar:
We all perceive sugar differently I guess, cos what I think to be over sweet might not be enough for you. Inspite of that let me add that this was moderately sweet for us. So for those with sweet tooth, you will need to use 3/4 cup to 1 cup instead of 1/2 cup (or more if you want it really sweet).
Method
1
Take the roasted gram in a blender/mixie,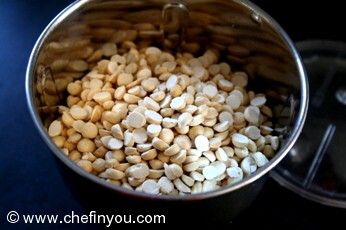 2
and grind it to fine powder.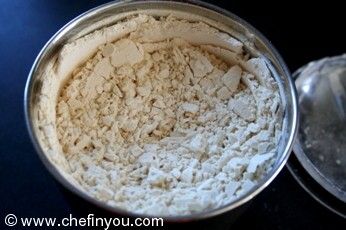 3
Sift this powder into a bowl.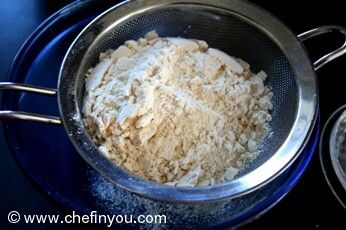 4
You might get some fine particles which you can mash up with your fingers (or grind again, if necessary) and add it along with the rest of the powder.
5
In the same grinder/processor (washing not necessary), add the sugar along with cardamom seeds removed from pods. Instead of discarding the outer pods, I use them in my tea leaves jar for the aromatics.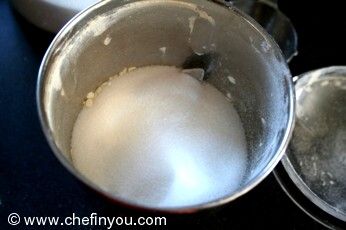 6
Grind them to fine powder. Set aside.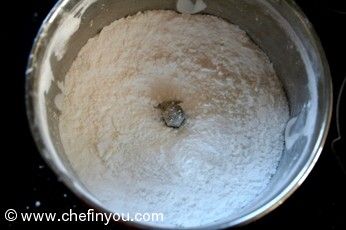 7
Meanwhile in a pan on low-med heat, add ghee. At this point see the "Tips" section for the disclaimer.
8
To that, add the cashew pieces.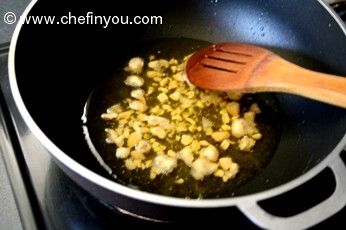 9
When the cashew pieces get golden brown/red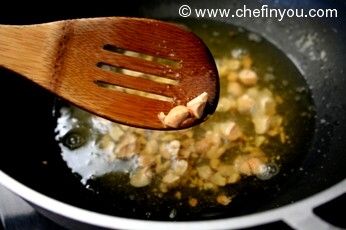 10
add the powdered roasted gram to it.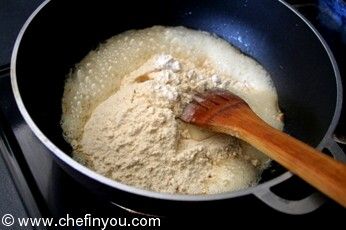 11
Keep stirring it for 1-2 minutes.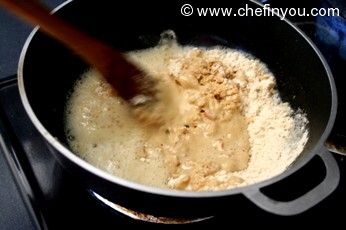 12
You will find it clumping up but keep stirring for few more seconds. The idea is to also toast the roasted gram.

Note: You can alternatively dry roast the roasted gram and then powder it. In that case, you can skip toasting it here. I find many recipes that do not roast the gram at all, but we (my mom and me that is) personally feel that this additional roasting gives these ladoos more flavor.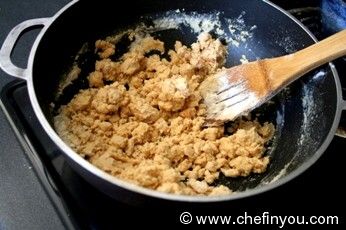 13
Remove from the pan from heat. I place it on my counter top on a place mat. Let it cool down a bit. You want the mixture to be quite warm but not hot.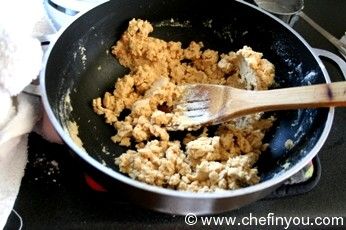 14
Now add the powdered sugar to the mixture.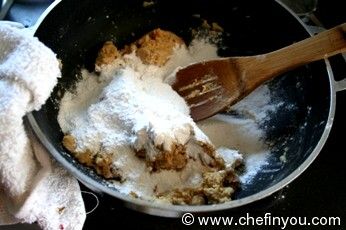 15
Mix it until well combined.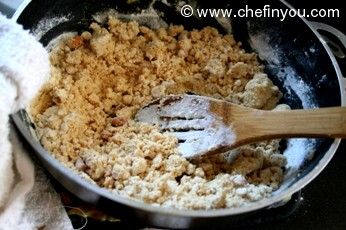 16
The heat from the ghee mixture will melt the powdered sugar a bit enabling you to form balls. The mixture will be little warm, so take care while you form ladoos cos you dont want to scald your fingers and palms.

Note: If the mixture cools down completely, you might have problems making ladoos. In that case, warm them up a bit (just a little bit) on the stove and try forming the ladoos again.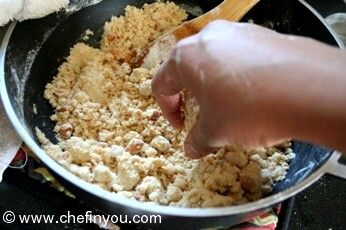 17
You know the mixture is perfect for making ladoos when you can take some mixture in your hands and when you press it, it clumps up to form balls.
18
Using both the hands, form small-medium sized  smooth and firm balls. Repeat with the rest of the mixture.
You will find that the ladoos harden up a bit when completely cooled.  My mom insists that these keep well in air tight container for about 10 days. But personally I think that the chances of them lasting that long is remote esp. if you have kids around :) These ladoos got over in my house in 2 days flat (and we are not your typical sweet loving family per se).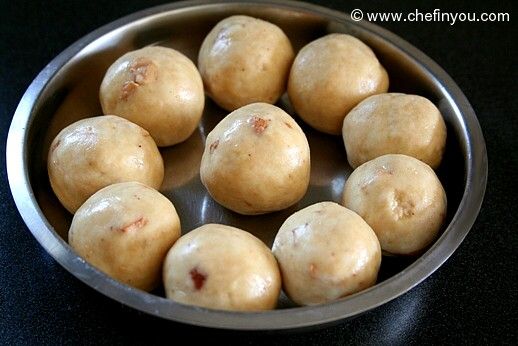 Related Recipes You May Like
Did you make this recipe?
Please click below to share your experiences while you were making this recipe. Thanks for your input!
Have a favorite recipe?
Know a family recipe your mom used to make? Or maybe a go to recipe that works everytime? Share it with your fellow foodies!