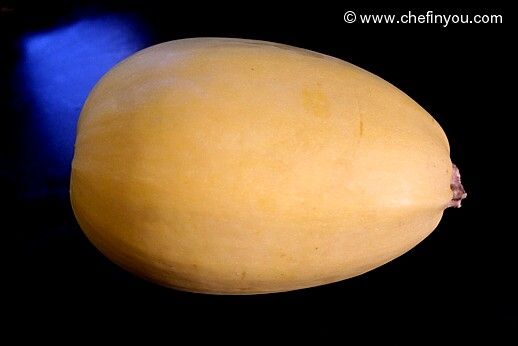 The other day while I was grocery shopping, I came across this beautiful Spaghetti squash. The squash is easy to prepare and is versatile. Its very famously used as a substitute for pasta. Yes, you heard me right. The flesh when cooked has this string like texture and looks pretty similar to spaghetti. Its very forgiving too - in the sense, add as little or as many seasoning as you like, it will still end more often delicious than not. For being so immensely low in calories, it is pretty high on nutrition. This squash can be baked, boiled, steamed, or microwaved.  I try as much as possible to avoid boiling vegetables, unless I am going to use the cooking liquid for the meal. Hence, I choose to steam them instead more often in my recipes. Here instead of boiling it, I have illustrated steaming.
Method -  Steaming
Cut the Squash into half. Yes, it takes little muscle and pressure. But it's worth it since the cooking process is faster.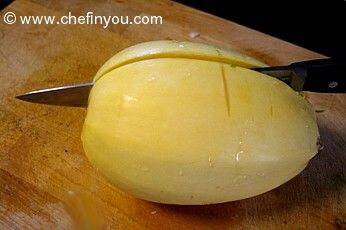 See all those seeds and fibers. They need cleaning up.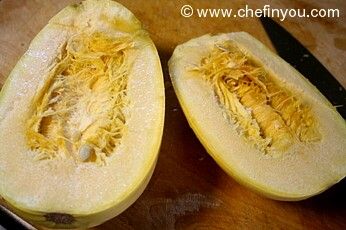 Scoop out the seeds and fibers. Don't throw away the seeds. You can toast them just like how you would for
Pumpkin seeds
.
Once cleaned, I further cut the pieces into quarters.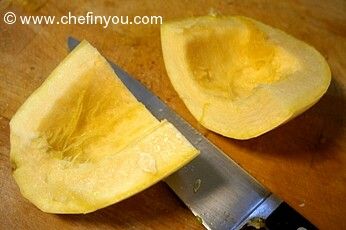 Boil water for steaming. Once your steamer is ready, add the pieces face down and steam for 10-15 minutes or until tender.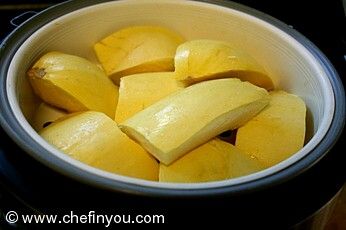 You know its ready when your knife cuts into the flesh very easily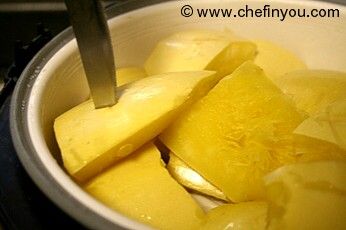 Cool for few minutes and then using a fork, scoop out the flesh. You will get these strands. You can now use them in your favorite recipes.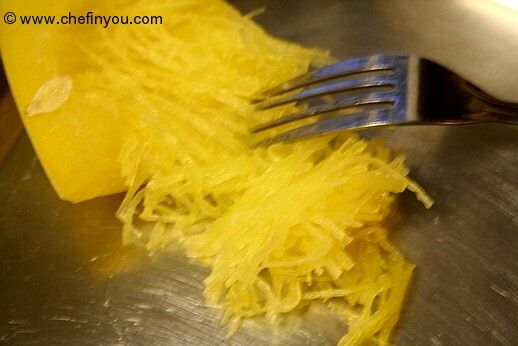 Method -  Baking
If baking whole squash, then pierce the flesh all over with a fork. Bake for 45min - 1 hour in a 375F oven. Once tender, cool for few minutes till you can handle it, chop it into half, scoop out the seeds and prepare just as above. If baking already cleaned and chopped pieces, place them rind side up and bake for 20-30 minutes (or until tender) in 375F oven.
Method - Microwave
You can cook the whole squash in a microwave. But make sure you pierce it with a fork to avoid it bursting inside the m/w. Placing smaller pieces is a better bet. Cut squash in half lengthwise; remove seeds. Place squash cut sides down on a microwave safe bowl. Cover it with a plastic wrap leaving little to create a steam vent. Cook for about 7-8 minutes (depends on m/w power and side of the squash). If you do not have carousel, then turn the dish every 3 minutes for even cooking.
Method - Boil
Cut the squash into smaller pieces. Bring enough water to a boil to cover the squash. Boil for 15-20 minutes or until it gets tender.