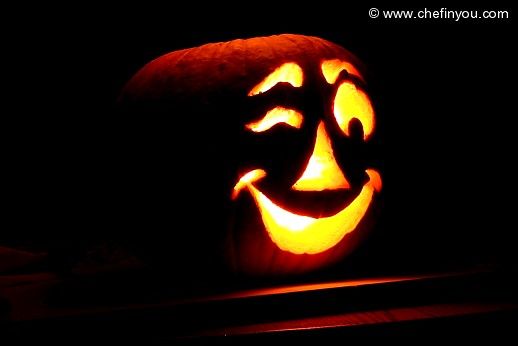 With the
Halloween spirit
all around us (shops brimming with Halloween costumes,skeletons decorating houses,plastic spiders crawling all over the place), we couldn't help but get ourselves a pumpkin to start carving and get into a festive mood.
You might also be interested in:
15 fabulous Pumpkin Carving ideas for Halloween (with free printable stencils)
Simple, Easy and Spooky Ideas for Pumpkin Carving
We got ourselves a 10 pounder and set about carving it with the template supplied along with a pumpkin carving kit. If you have never carved a pumpkin before, then this following step by step pictures will show you how simple it is to get started. You can either choose to use free hand or like us use a template. We chose a cheeky smiling template for our pumpkin. Tear it out from the book (or if you have downloaded from net, simply take a print out and set it aside)
The very first step would be to draw and cut the lid off the pumpkin. We used the following tools which we got for pumpkin carving. But if you follow the pictures, you will find that they are doable with stuff from your house itself.
Prick holes around the lid - draw a circle - to help you to cut out the top easily.
Then slowly using the Saw tool, saw along the holes that you just marked.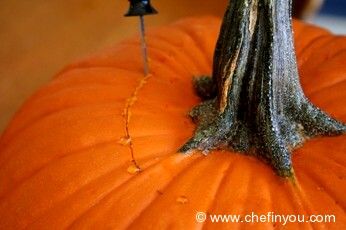 As shown below, you can do the same, using your kitchen knife too.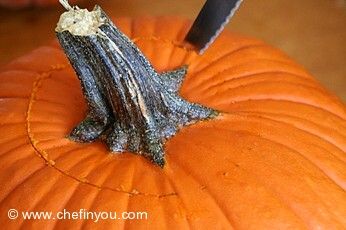 Once you finish, this is how it looks like. You can make a larger lid if you please ( or as per your requirement)
Now slowly using the top stem, pull the lid out. A little force will be needed.
Once you pull, you will find yourself witnessing what looks like one of those million sea creatures you see in Blue Planet - Don't panic. Its the pumpkin fibers :)
You will see the fibers sticking with the pumpkin seeds - and boy! The seeds are abundant! This is where we have some real work to do!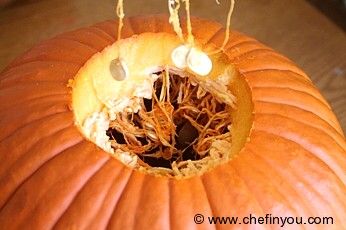 Yes, you guessed right. Clean all those yucky looking membranes along with the seeds. The toolkit had something called as Scraper scoop to help us scrape the membranes and scoop them out of the pumpkin. You can use a metal spoon. Its a little back bending work and takes patience!!!
Once you scoop out the fibers and seeds - WAIT - DON'T THROW THE SEEDS AWAY! - We have something interesting we can do with those yummy seeds - yes, they are edible and nutritious. So keep it aside. Throw the membranes away.
You might want to check my: Roasted Pumpkin Seeds (Pepitas)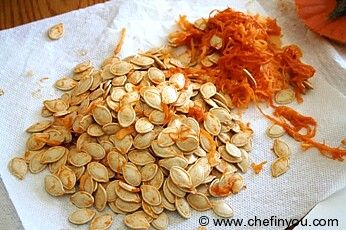 And yeah, clean out the bottom of the lid out too - see how clean the one below looks :)
Now remember the template which you set aside for later?  Time to put it into action is now. Take the template - attach that pattern to the pumpkin making sure to choose the side without too many bumps - using cello tape to the edges. Also take care to avoid too many crease. A little here and there is fine.
We now used what is called as Pounce wheel to transfer the pattern to the pumpkin. You can use a fork to poke holes along the pattern, or a needle and I think a small fluted pizza cutter ( which is what this instrument resembled ) would also work. The purpose is so that when you remove the pattern from the pumpkin, you should be able to see the pattern on the pumpkin's surface too.
Once you finish, remove the pattern and dust some all purpose flour on top to enable the pattern to show for carving. Can you see our pattern on the surface?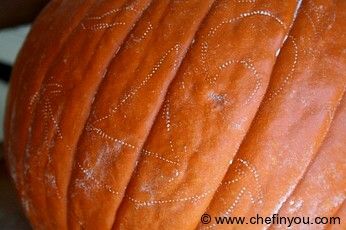 Then we used something called as a drill and a saw to puncture the surface along the dotted lines and carve the pumpkin.. You can use a small kitchen knife or a screw driver to do the same. I was in the middle of carving when i suddenly remembered that I forgot to take a picture. I left the tool pronto to take a picture and look what I saw! Doesn't my pumpkin look like its holding a cigar on its mouth!!!!! Looks more cheekier than ever!!!! ;)
Here we used the saw to cut out along the pattern that we carved. Make sure that you cut it deep enough so that you can remove that slab completely from the pattern. So saw it deep.
You can also use your fingers to poke its eye out !!!! ;) I mean push out the slab of the pumpkin once cut. If you find that it does not yield to the pressure then using a knife cut it a little more so that it gives in easily. The whole process takes little patience, a little back pain and some effort. But yes, totally worth it!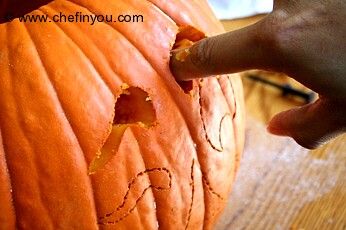 If you find that your Pumpkin does not sit well, you can cut a piece out at the bottom to help it to sit. Our pumpkin made itself comfortable without it! Admire the handiwork - there all done :) Look at the fella give you a smile ;)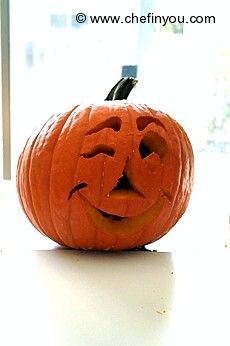 And oh yes - not completely done until the sun has set and you have placed a candle inside the hollow ( remove the lid before that!), place the lid back and let it sit in your porch or wherever you decide to make it feel at home!
It was an amazing experience. Here's to amazing sculptors  ( That's us by the way - if you were looking around wondering who I was talking about!!!!) and also to
Halloween tradition.
And here are some templates or pattern for you to try. They are all available in the net and I thought it would help fellow pumpkin carvers to try some out from this list.
Download Flying Witch Pattern
Download Galaxy of stars
Download Boo the ghost
(source for the above stencils is Taste Of Home Website. Click to see more Free stencils)
Download Grim Creeper
Download Flack Jack Pattern
(source for the above free pumpkin patterns is Pumpkin Masters. Click to see more such free patterns)
There are million other sites like these which give you free templates. Here are few more which I found interesting:
Enjoy Carving Pumpkins :)  This post finds its way to
ITB:October with theme: Halloween