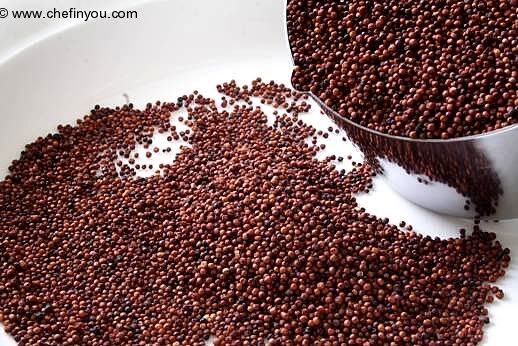 What would a painting by Vincent Van Gogh be to an art collector? What would an archaeologist feel if he chances upon an instrument of man supposedly 500 yrs ago? How would a Philatelic feel if he chances upon 'Black on Magenta'? Astounded? Shocked? Ecstatic? Won't he/she cherish that moment? Why all these question you might ask me - well though I fall under none of the above category, I am immensely passionate about whole grains. The number of trips to different stores, few hours hunting grocery stores in all the vacation spots that we have been to, reading on what's available where, has been a unmistakable sign about me and my love for finding new grains. This cacoethes started ever since I got to know more and more about the benefits of including whole grains and reducing refined food in day to day diet.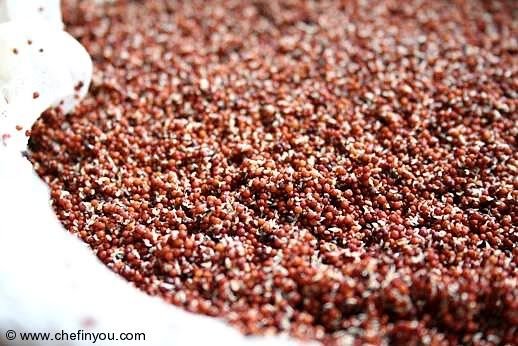 I cannot for the life of me remove any food from my diet - the foodie that I am. Its just that I include the good ones more and the other 'not so good' ones a little less. Having said so much, imagine my limitless joy when my ex-neighbor Vineela, (from our old house) gave me this treasure called Ragi (Finger Millet). It so happens in our lives that when you get somethings, you don't realize their value but in the absence of which you wish for them the most. She had them "imported" fresh from India and gave me bountiful of this nutritious grain. Its a known knowledge that sprouting improvises the benefits of grains and I do the same as and when time/energy permits. If you have never tried to sprout them, then you should. Its not a difficult science and if you rely on the store bought flour even when you get the grain, then its time to re-think that option. Here is a step by step pictorial to show you this extremely satisfying process of sprouting.
I have used
1 cup of Ragi (finger millet)
here. You can use as much or as little to suit your needs and preferences.
Wash and clean the finger millet in cold water till the water runs clean
Soak the grain overnight. If you enjoy a warmer climate, soaking time can be shorter but if on the colder side, you  need to soak for more time.
Now for the sprouting you can use any one of the following methods.
1.You can use wide-mouthed Jars - you will often find canning jars made of glass in almost all your hardware stores. Use mesh screen to top it off - like say cheesecloth.
2. You can use cloth.
3. Trays with small holes to let excess water drain is also excellent sprouting instrument.
4. I use clay saucers when sprout wheat groats. That works well too
5. Commercially available sprouters - which are designed keeping the sprouting methods in mind like Plastic tubes with two open ends, sprouting bags mostly made of cotton, or wooden boxes with mesh lids.
I have a bamboo steamer which I put to sprouting use too and it works very well for me. Since it has a wide mouth, and a proper 'draining' system I use it to sprout my grains. You can use whatever you may have in mind. Just keep note of basic needs. I will explain how I do it with my steamer.
After soaking overnight, next day drain off the excess water, place a cheesecloth on top of the steamer and place the ragi on top of it. The holes help to drain any excess moisture from ragi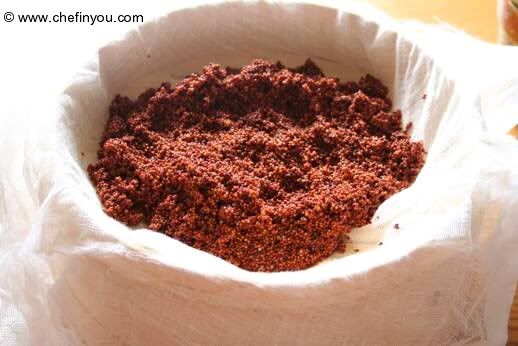 Spread it around with your hands so that they are not sticking to each other.
Just bring the ends of the cheesecloth together and close it on top of it. Let it sit for 8-9 hours.
Note:
If you enjoy a warm/sunny weather then the germination process is faster, otherwise it takes more time. I enjoyed a decent sunny climate so my ragi sprouted in about 8 hours.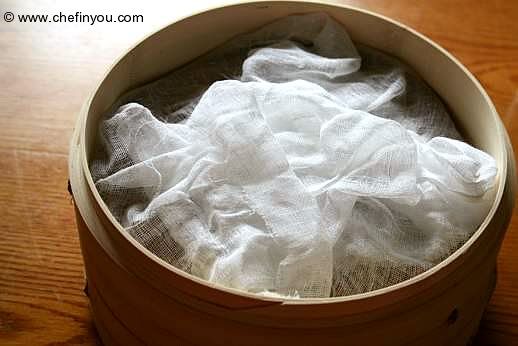 Small sprouts will start appearing on Ragi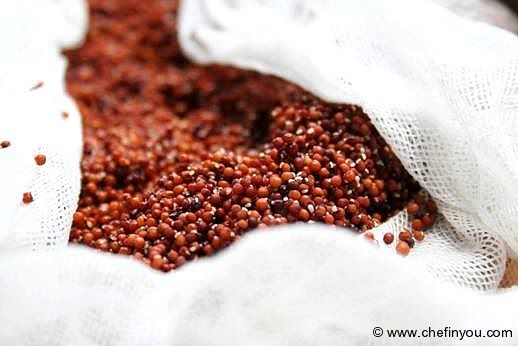 Give it another 8 hours and you see longer sprouts.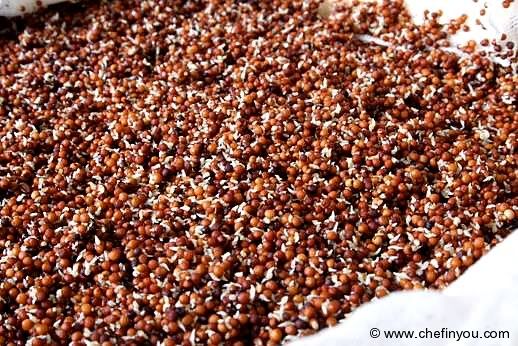 Now spread it around in a cotton cloth. Let it dry completely and use it as per your requirement. Don't forget to refrigerate them.
Simple wasn't it?  Anyways the joy of seeing the germination happening is something to felt by each and everyone. Its boundless. I dedicate this post to my friend Vineela, for giving me this grain. Thank you :)