One of the biggest challenges one faces while substituting eggs is know why they are there in the first place. It sure was for me. Yes, I compiled a bunch of Tips to Successful Egg substitution and also a big chart on various Egg Substitutes.
You might also find these helpful: 1. Common Egg Substitutes in Cooking and Baking 2. Tips to Successful Egg Substitution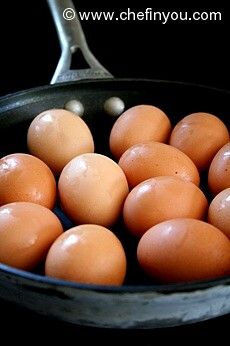 But how to find out what ingredient goes where and when? Here's how:
For moisture and/or richness
If you notice that there is little other liquid, then egg is used for additional moisture. In some cases, it would also be for adding richness along with providing moisture.
For leavening
If there are no other leavening agents in the recipe (Example:. Baking Powder or Baking Soda) but you find that it has acidic ingredients in it (Example: Buttermilk, vinegar, citrus juice like lemon/orange), then Egg in this particular recipe is used as an leavening agent.
As a Binder
There is enough liquid and also leavening (if its needed/necessary depending upon the recipe) agent but no "glue" (Example: Flour, Breadcrumbs, Nuts etc) then Egg is being used as a binder. Also keep in mind that some recipes tend to use flour and breadcrumbs along with eggs to provide the food like burgers, patties more texture. In such cases, you will find that eggs would be used to give it more moisture along with its binding properties. In that case you can use a another substitute for egg but add in more liquid to provide moisture – if needed.