Kasi halwa or posanikai halwa - with sugar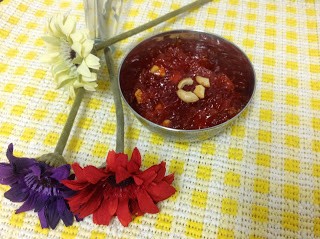 Kasi halwa/posanikai halwa/white pumpkin halwa is a popular south indian traditional sweet served during weddings. Simple yet delicious halwa made with just white pumpkin. You can make this halwa with milk or without milk. But the advantage if you are making this halwa without milk is that you can store this for few days. This halwa is delicious & it just melts in your mouth.
Ingredients
White pumpkin grated - 1 cup
Sugar - 1/2 cup
Elachi powder - 1/2 tsp
Edible campor - a pinch
Food color - a pinch
Ghee - 3 tsp
Method
1
Method :
1. Peel off the skin of white pumpkin & grate the inner fleshly part. Measure & keep aside.
2. Take a wide pan. Heat 1/2 tsp of ghee in a pan & roast the cashews till golden brown.
3. In the same pan add 1/2 tsp of ghee & add the grated pumpkin. Saute well it the raw smell goes off.
4. Cover with a lid & cook till they are soft.
5. Then add sugar,food color & mix well.
6. When once the pumkin is cooked it will turn transparent & glossy. Stir well continously. The next stage it will start forming mass & leave the sides.
7. At this stage add 2 tsp of ghee,roasted cashews,edible camphor & elachi powder. Mix well.
Serve hot or warm. Both taste delicious.
Note :
White pumkin has lots of water content. Dnt throw the water.
Add very less edible camphor. If you add more it will overpower the halwa.
If you want to add milk then add when the veggie is half cooked. If you are adding milk then add saffron.
I added only little ghee so can make this low- fat /guiltfree halwa anytime. If you need the richer version then for this proportion you can add almost 5-6 tsp of ghee.
This recipe was contributed by a ChefInYou member.
Related Recipes You May Like
Be the first to showcase this recipe!

Your Name
Did you make this recipe?
Please click below to share your experiences while you were making this recipe. Thanks for your input!
Have a favorite recipe?
Know a family recipe your mom used to make? Or maybe a go to recipe that works everytime? Share it with your fellow foodies!