Sautéed Kale 'Caesar' Salad with Conchiglie Croutons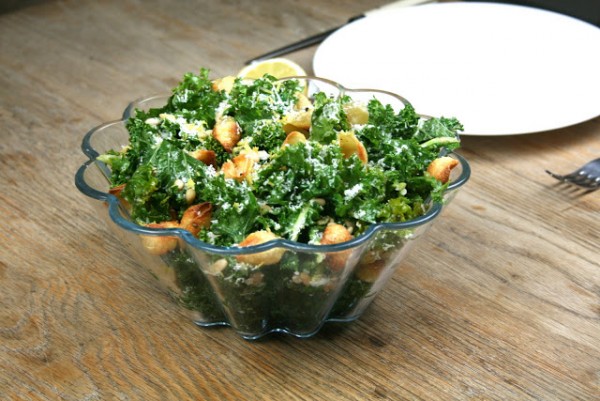 A delicious, hearty salad with lemon, parmesan, pine nuts and crunch pasta croutons
Ingredients
1 CUP CONCHIGLIE OR PASTA OF YOUR CHOICE
1 LARGE PACK KALE
1 CLOVE GARLIC, CRUSHED
3 TBSP LEMON JUICE
ZEST FROM 1 LEMON
2 TBSP TOASTED PINE NUTS
25G GRATED PARMESAN
OLIVE OIL
SALT AND PEPPER
Method
1
Pre-heat oven to 250 Degrees C or 400 F while washing kale. (Make sure it's thoroughly dried).
Boil the pasta with the instructed time on the packet.
Drain the pasta and add 1 tablespoon of olive oil, approximately 2 tablespoons of grated parmesan and a pinch of salt and pepper. Spread evenly on a baking tray and bake for 10 minutes and then grill for 2 more minutes. Keep a close eye on them so they don't burn.
In a large pot, sauté the crushed garlic on a low heat in 2 tablespoons of olive oil. Make sure the garlic does not brown but gets softer. Add the kale and toss the olive oil and garlic until it's evenly covered.
Remove from heat and continue to toss. The kale should get slightly softer but should still be in leaf form. Add lemon juice, more lemon zest and more of the grated cheese. (Leave a little bit for the end to sprinkle on top.
Toss in the toasted pine nuts, conchiglie croutons and sprinkle with some more lemon zest and parmesan. Sprinkle with a pinch of salt and pepper.
This recipe was contributed by a ChefInYou member.
Related Recipes You May Like
Be the first to showcase this recipe!

Your Name
Did you make this recipe?
Please click below to share your experiences while you were making this recipe. Thanks for your input!
Have a favorite recipe?
Know a family recipe your mom used to make? Or maybe a go to recipe that works everytime? Share it with your fellow foodies!