My parents have been planning to visit this "Paradise On Earth" for ages. Every vacation, my father would with the excited look in the eye would longingly graze through the map, but the news seeping in through the Idiot's box would always spew in "terrorizing" words, abouts wars, about bloodshed whenever talking about Jammu and Kashmir. Its such a paradox to have gory war fare going on in one of the most beautiful, serene and wondorous place like Kashmir. My only wish is that my father's dream of visiting this place does not remain - just that! Lets keep our finger's crossed- shall we?
So while we are dreaming away about strolling Kashmir's sand, the next best thing we can do is sample its rich cuisine. While its not that kind to a vegetarian needs,more like non-vegetarian's turf, there are quite a few "not-so-famously" famous dishes and one among them is Kashmiri Pulao. Its funny how its not that popular in Kashmir while it is everywhere else! From what I have known, this rice compromises of 3 components - fragnant basmati rice sauted and cooked with cream and rich spices, various nuts drenched in Ghee and succulent fruits.
Ingredients
1 cup basmati rice, soaked in water for at least 1 hour
few tbsp of ghee
2-3 cloves
2-3 green cardamom
1 tsp cumin
1 bay leaf
1 onion, finely chopped and fried for garnish
1 green chilli, sliced thinly
1 tsp ginger-garlic paste
approx 2/3 cups of mixed nuts ( pistas,almonds,cashews, walnuts and raisin)
1 cyp milk + light cream + few strands of saffron
1/2 tsp nutmeg
pinch of turmeric
1/2 tsp rose water
approx 1 cup of mixed fruits of your choice (eg:apple,grapes,cherries..)
salt to taste
Method
1
Saute the spices in some ghee and then add the drained rice. Stir until it gets aromatic and turns golden.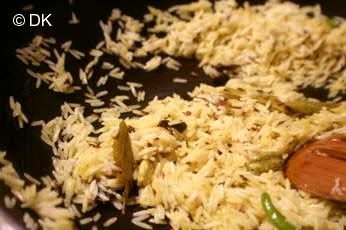 2
Add the milk ,salt and water if needed and let it cook.
3
In another pan.saute the nuts in ghee until golden.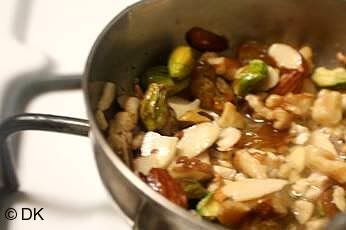 4
When the rice is almost done, add the nuts and chopped fruits and stir lightly until blended.
Serve, hot garnished with some fried onions. They are mostly standalone and dont need any side dishes to go with it. If needed, you can add some Raita to with it.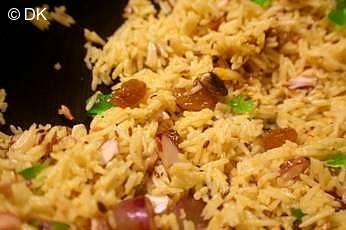 Related Recipes You May Like
Did you make this recipe?
Please click below to share your experiences while you were making this recipe. Thanks for your input!
Have a favorite recipe?
Know a family recipe your mom used to make? Or maybe a go to recipe that works everytime? Share it with your fellow foodies!