Healthy Wheat Berry and Pinto bean Soup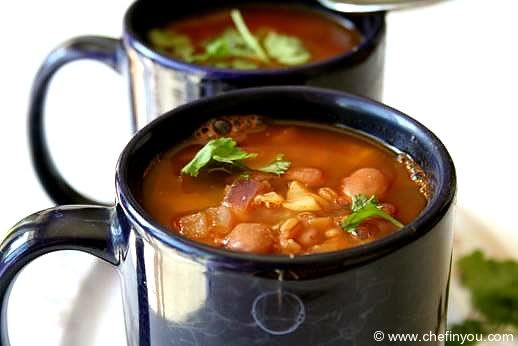 I have some weird habits/likings. For today's discussion I would reveal one of those. I hate eating alone in a public place ! You will rarely (make it almost none) see me in a restaurant sitting alone and eating. I. HATE. THAT. I have no clue why, but that's how I am. If I am out, say for a meeting/appointment and I cant come back home on time for lunch/dinner - I would rather go hungry than go to a restaurant to either take out/eat! :) And one more - I love eating in a bowl! I don't care so much for sitting properly on a table with a plate. Gimme a bowl with food mixed in, one spoon and you will see me light up! So when I am not expected to sit and humor this 'god-knows-who-made-this' etiquette, you will find me happily doing some work with a small bowl and spoon by the side.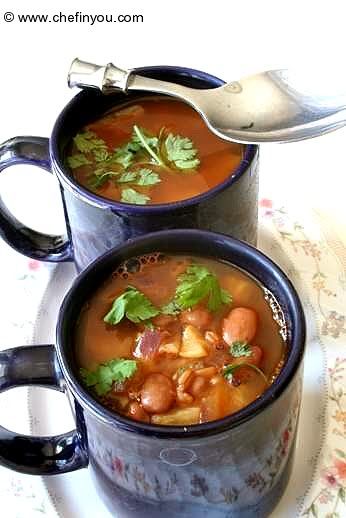 Hence I find salad's (hearty one - no 'all the leaf you can eat' type salads for me!) and soups easily suited for this purpose. No wonder I am into soups a lot now. My mother is miles away to indulge me by cooking and I think I am too lazy to do indulging myself for myself(!!) Now that's lazy for you people! Last few days with lots of work and meetings going on, I hardly had time to cook a proper meal and we ended up eating quite a lot outside. I was pretty fed up. Thats when this soup came in handy. Wheat Berry takes care of the fiber and heartiness factor while Pinto beans gives massive protein to see me through the day without getting hungry soon. I have one of the best kitchen gadgets which is a boon for me and is something which is pretty commonplace in an Indian kitchen. Yes - Pressure Cooker. The best way to keep the nutrition intact and also cook in a jiffy. Ideally you have to soak wheat berry and Pinto bean separately and cook them for about 40 minutes for this soup. But I spent only about 20 minutes to cook them both. How? I will show you how :)
Basic Information
Prep Time
:
30 min to 1 hour
Ingredients
1/4 cup wheat berry (preferably soaked overnight) See How to cook Wheat Berry Here
1/4 cup pinto beans (ditto as above. You can also use kidney beans,chickpeas etc)
1 onion,chopped
1 fennel, chopped
2-3 garlic cloves
1 large potato, chopped with skin
about 2 tbsp tomato paste (or you can use chopped 1-2 tomatoes)
1/4 tsp turmeric powder
1 bay leaf
salt and pepper to taste
fresh cilantro to garnish
Method
1
As I mentioned above, ideally you should have soaked the berries and beans and cooked seperately. You can cook wheat berries in any of the methods mentioned here. But since this soup was a sudden brainwave and I needed lunch in less than 30 minutes I placed them together in about 2-3 cups water and pressure cooked them together.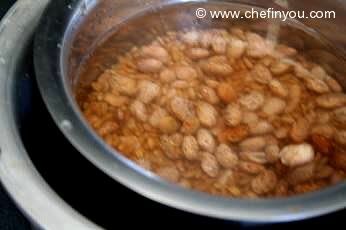 2
Yes together and it dint hurt at all. It took me about 20 minutes and I did the rest of the cooking simultaneously. At the end of it, all I had to do is to mix both together. Easy does it :) Dont drain the cooking liquid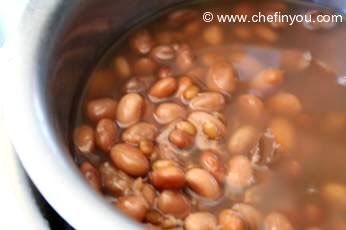 3
Alternatively take a saucepan, heat 1 tsp of butter/oil, saute the onion, garlic, turmeric powder, bay leaf and fennel together with salt until soft.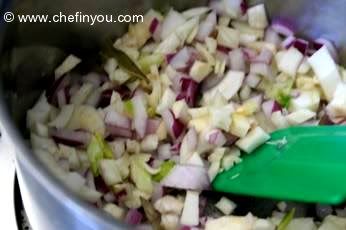 4
Next add potatoes and cook for 3-4 minutes until slightly soft. Add the tomato paste and give it a quick stir.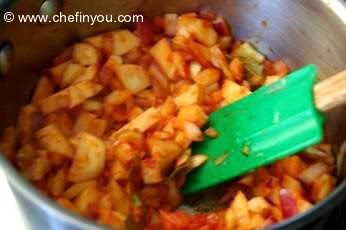 5
Add about 1 to 1 1/2 cups of vegetable stock/water, cover and cook for 10 minutes. Add more if you dont have any cooking liquid left over from pinto and wheat berries.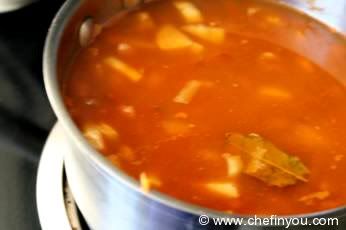 Once it starts boiling, add the wheat berry and pinto beans - season to taste. Garnish with cilantro and serve hot all by itself or with a chunk of wheat bread. Heaven in a cup - This is what I call as an out and out my kind of lunch! Yum!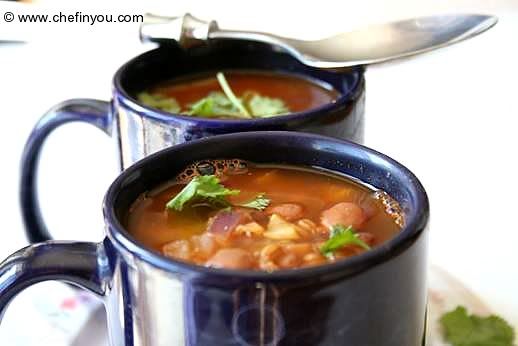 Related Recipes You May Like
Be the first to showcase this recipe!

Your Name
Did you make this recipe?
Please click below to share your experiences while you were making this recipe. Thanks for your input!
Have a favorite recipe?
Know a family recipe your mom used to make? Or maybe a go to recipe that works everytime? Share it with your fellow foodies!