If someone asked us to move our house pronto, all hell would sure break out. And no - it would surely not be cos of all our possessions in the whole of our house (well except one). The number of items in my kitchen alone would be enough to cause us all the headache! And if you thought, I am talking about kitchen appliances, you would be wrong again! Its my pantry and food items that would pose a problem! My husband challenges me that he can pack the rest of the house in half the time than it would take me to pack my kitchen items alone. I am not even talking about fastness or energy here! Having  had enough of the taunts , I decided not to buy any major items until I emptied out my pantry.
So cleaning and finishing of the umpteenth half and quarter packets of unused ingredients has been the mantra for a while now and one small leftover packet which consisted of exactly 1/4 cup (!!) of green lentils was the meal's highlight. Its inevitable that the minute I mention green lentil quite a few foodies would have thought of Moroccan Harira. Its a traditional soup where it is mostly prepared during Ramadan as a meal to break the fast. This lentil and tomato soup is so hearty that I have survived most of my lunches just on this soup. The legumes (chickpeas and green lentils) along with vermicelli (or you can add rice) is protein rich and keeps you full all day long. Its immensely simple to make. I have tried quite a few variations of this soup and  finally have come to like this version from Vegetarian Times magazine with few changes from my end. The editor writes " This traditional soup is thickened with a tadouira - a mixture of flour,tomato paste and cilantro - and served with lemon wedges."  Now to the recipe-
Basic Information
Cook Time
:
30 min to 1 hour
Yield
:
Serves 4 as an appetizer or 2 as main course
Ingredients
For the Base
1/4 cup green lentils
1/4 cup cooked chickpeas (soaked overnight and cooked. Or simply use canned chickpeas)
1 onion,chopped
1/4 ground ginger
1/2 '' cinnamon stick
2 large tomatoes, chopped (or you can use canned chopped tomatoes)
1/4 cup Vermicelli
generous sprigs of parsley and cilantro
few lemon wedges for garnish
salt to taste (if needed)
Tadouira
1 tbsp all-purpose flour
1 tbsp lemon juice
1/2 tbsp tomato paste
few sprigs of cilantro,chopped
Method
1
In a skillet, add 1/4 tsp oil, add the onions and little of cilantro and cook until soft.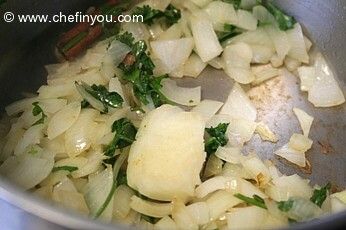 2
Add the chopped tomatoes along with other seasoning like ginger,cinnamon stick etc and cook until soft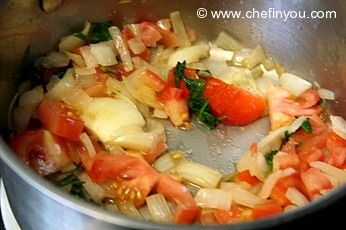 3
Add about 2 to 2-1/2 cups of water along with lentils, close the lid and cook until lentils turn soft - anywhere between 15-25 minutes.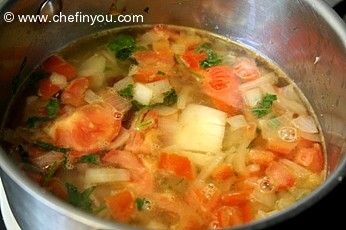 4
Add vermicelli ( more water/stock if needed - the vermicelli will thicken the soup). Season with little salt. Cook until vermicelli is soft . Add cooked/canned chickpeas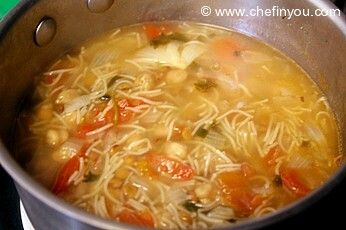 5
Alternatively make the tadouira. Combine all the ingredients given under it to make a paste.
6
Add it to the soup and cook for another 5 minutes. Serve hot garnished with the herbs.
You can squeeze some lemon juice on top or else simply serve them as wedges for your guests.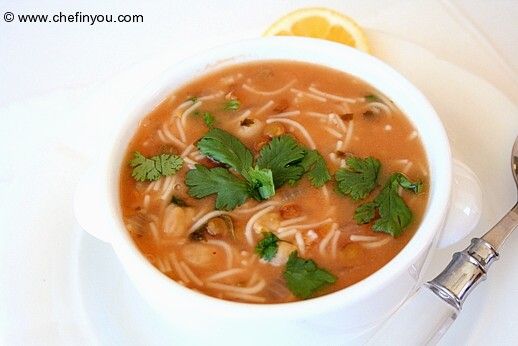 Related Recipes You May Like
Did you make this recipe?
Please click below to share your experiences while you were making this recipe. Thanks for your input!
Have a favorite recipe?
Know a family recipe your mom used to make? Or maybe a go to recipe that works everytime? Share it with your fellow foodies!