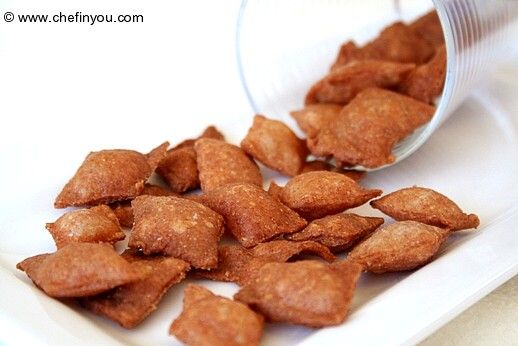 For the
Navarathri
, each day is significant to the recipe prepared and goddess prayed. Like I mentioned in
my previous Sundal Post
, different varieties of this salad is prepared on different days. My mother actually recently gave me the order which we follow for each of the days. For the first 3 days of Navaratri, we pray
Goddess Durga
. On day 1, my mother told me that we usually prepare something with Wheat. She gave me this Wheat Diamond Biscuit recipe which is ridiculously simple. If you know of
Maida Diamond Biscuits
, then you are sure to like this one too. The only difference is that the dough is similar to that of Indian Poori and is not sweet. It takes less than 15 minutes to prepare and also has less than 5 ingredients - in fact it has exactly 3 ingredients :) (with a possibility of making it to only 2!!). This is a fried version and since I was preparing it as an offering, I didn't feel like Baking it - may be some other time when I make it more for snacking and not as offering.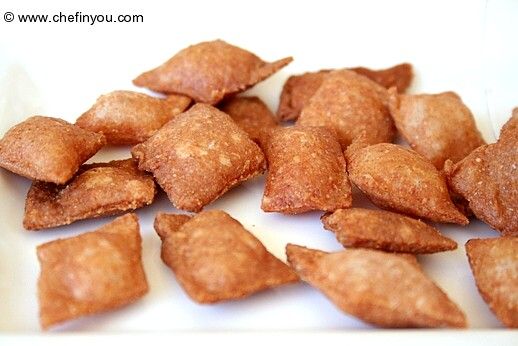 See the recipe to know how simple it really is. One thing is for certain and I give it as a warning beforehand - You can't stop eating this biscuit. I don't believe in using someone else's terms that much - but I have to use Ray Ray's words here - Its totally YUMMO!
Basic Information
Yield
:
Makes around 3 cups
Ingredients
1 cup wheat flour
1-2 tsp Ghee (optional - substitute with vegetable oil to make it Vegan)
salt to taste
Method
1
Add all the ingredients together.
2
Slowly spoon enough water to form into a dough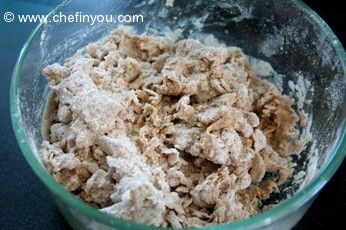 3
The dough should of a rolling consistency. Not too sticky nor too dry.
4
On a slightly floured surface, roll out the dough into thin flat bread - not papery thin but not too thick either.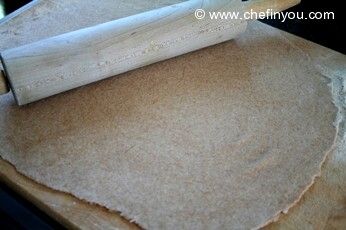 5
Slowly using a sharp knife, draw slanted lines, cutting into the dough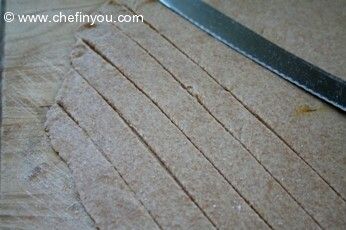 6
Now again cross it on the other side to form diamond shapes. This is not necessary. You can use a cookie cutter if you like to form your own patterns.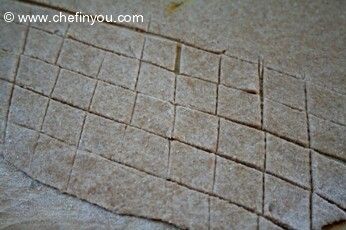 7
Drop these in hot oil and fry them in batches until reddish brown in color. The oil will stop bubbling once these get done.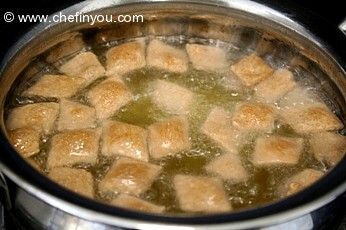 8
Remove using a slotted spoon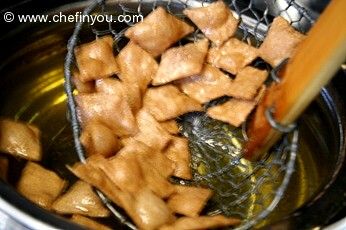 9
and drop them on a paper towel to drain excess oil.
Let them sit for a while and enjoy. They are very addictive. Store them in an air tight container. They are excellent as traveling snacks and keep well for a long time although I guarantee that once you start eating them, they wont last too long.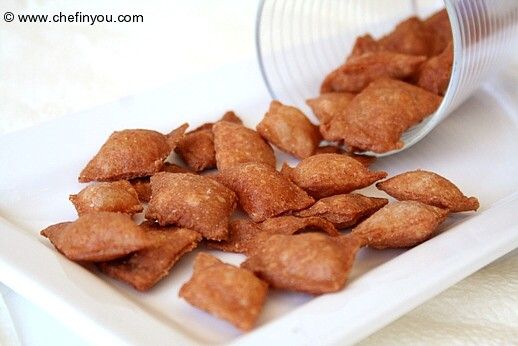 Related Recipes You May Like
Did you make this recipe?
Please click below to share your experiences while you were making this recipe. Thanks for your input!
Have a favorite recipe?
Know a family recipe your mom used to make? Or maybe a go to recipe that works everytime? Share it with your fellow foodies!