Spiced Pumpkin Bran Muffins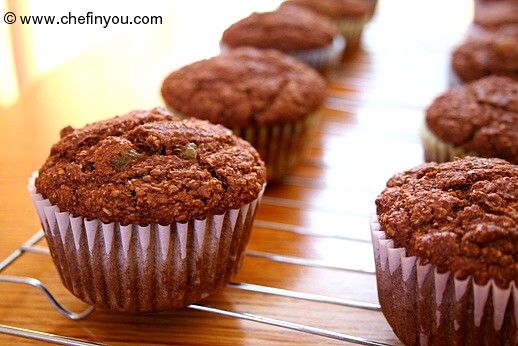 Its hard not to like Muffins. I especially dig the types which are healthy and low fat yet don't feel like one. For some reason, low fat baked goods seem to have such a bland and earthy taste sometimes that it completely throws me off! I mean, wanting to make people eat healthy should be encouraged isn't it? Why make it this way then? A friend of mine recently told me if it was not for "such" health foods how would the 'market' make us buy all those 'diet pills' and god knows what else! Valid point there :) With all this technology and the rapid advancement that Man seems to be making, one would assume that we are getting stronger - only that it does not seem to work that way!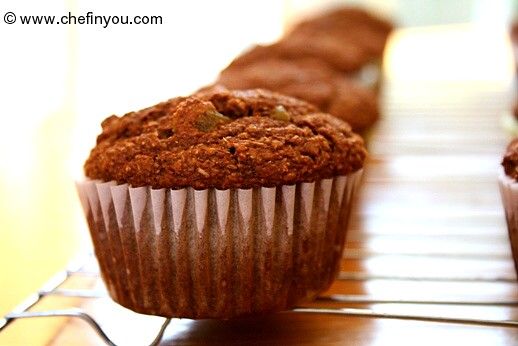 You might be wondering why all this fuss for something as simple as a muffin :). Rightfully so - lets go into enjoying the muffins shall we? It was great that I made
Pumpkin Puree at home
and feeling mighty pleased about it. But had to use them didn't I ;). After the
Spiced Pumpkin Bread
, I made these bran muffins. I love adding bran to my baked goods not only because they are healthy, but they give this spongy texture to the baked goods also making them delightfully chewy. It helps to fill me up and also stops my hand from reaching out to that inviting chips packet in my pantry shelf during those dreaded evening hours.
The egg whites provide the protein without the fat (avoid the yellow - lets say NO to cholesterol!), bran - more protein, fiber and iron (actually 1 cup of wheat bran satisfies 99% of the recommended daily amount of these nutrients!), buttermilk - provides calcium, and finally - molasses and raisins together provide Iron and that much needed evening time sugar high ;). Where is the vegetable? Of course there is Pumpkin in it too (duh!) I love this recipe from cookbook author Diana Shaw and I have not changed anything from her recipe. I like it as it is! It may not win a beauty contest - but one bite into its crusty surface and the tender chewiness of the center hits you - you know it just won the 'foods that our bodies love' contest!
Basic Information
Yield
:
Makes around 12 large muffins
Ingredients
1 cup pumpkin puree (no pumpkin? try sweet potato puree instead)
1 cup wheat bran
3 large egg whites
3/4 cup buttermilk (low fat yogurt/fat free buttermilk work too)
1/3 cup molasses
1/3 cup brown sugar (or granulated sugar)
1-1/4 cups whole wheat flour
2 tsp baking powder
1/2 tsp baking soda
1 tsp ground cinnamon
1 tsp ground ginger
1 cup raisins
Method
1
Preheat your oven to 400F. In a large bowl, combine the puree along with bran, egg whites, buttermilk,molasses and the sugar.
2
Give it a good stir until smooth and without any lumps.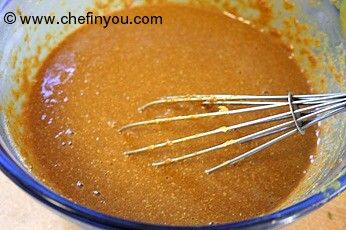 3
In another add the flour, baking powder,baking soda, cinnamon and the ginger.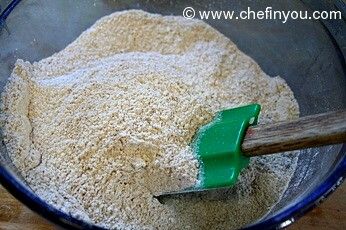 4
Slowly stir in the dry ingredients into the wet, very gently mixing it. Don't over beat the mixture.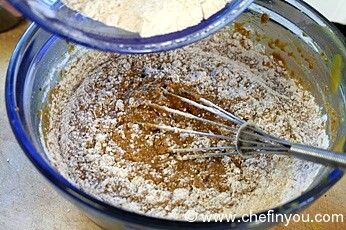 5
Fold in the raisins.
6
Fill the cups of muffin tins 2/3rds full. If yours is not a non stick type, line the cups with baking cups and grease them lightly.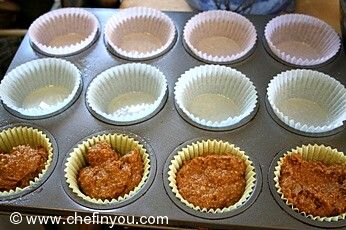 7
Bake the muffins in the oven for 20-30 minutes or until a skewer inserted in the center of a muffin comes out clean.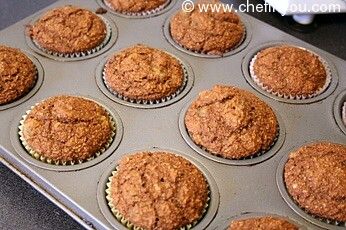 Cool them on a wire rack for about 10 minutes and enjoy!
Related Recipes You May Like
Did you make this recipe?
Please click below to share your experiences while you were making this recipe. Thanks for your input!
Have a favorite recipe?
Know a family recipe your mom used to make? Or maybe a go to recipe that works everytime? Share it with your fellow foodies!