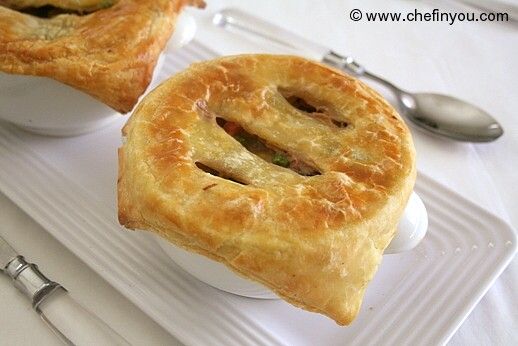 Sometimes the simplest of dishes make an outstanding centerpiece in your dinner table. It need not be elaborate or gourmet, but simply few dishes put together and showcased in an elegant manner - just like this pot pie. Its such a no fuss dish. Easy,pretty quick and an impressive dinner for guests or for any special occasion. Its so grand that it can be your meal to this Holiday season - be it
Thanksgiving dinner
or
Christmas
get together.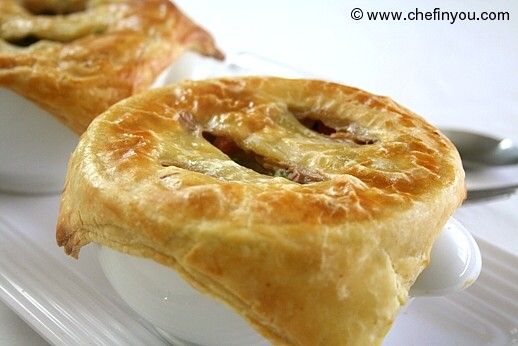 The other day, I had some guests for dinner. I had had a long day and was not really upto making anything elaborate. But one cannot just serve the guests anything now, can we? My husband suggested that we can as well go out and eat. I just went into the fridge to see how well it was stocked. Umm - carrots, celery and few spring onions - not bad. Freezer section housed peas, beans and PUFF PASTRY! Oh yes! Pot Pies :) Having Puff pastry is always a boon. Its so versatile to allow almost any kind of dishes at short notice. With the menu decided - it took about 1-1/2 hours total to prepare these. Most of the time was on the skillet and oven. Not much work on prep work.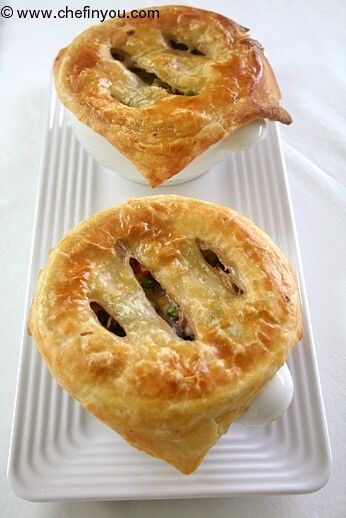 Just because Chicken or Turkey Pot pies are famous doesn't mean that there shouldn't be a Vegetarian one, now is there? Why deprive no-meat eaters a scrumptious treat? Any vegetables would work. Want to add Tofu? Seitan? What about Tempeh? My answer to all of them is YES! Anything goes. Try out your favorite mix of vegetables or fillings. Let your imaginations soar. I have adapted this recipe from Vegetarian Times Magazine and used ingredients and proportions suited to our needs.
But what are
Pot pies
? Usually Pot pies are flaky pastry crusts enclosing a savory filling. There are variations to the effect that the pastry crusts can be used only to cover the top and not the bottom which is what I have done for this recipe. I have added a mix of legumes namely chickpeas and kidney beans along with vegetables and egg pappardelle pasta. You can use egg noodles instead. Since its for a festive occasion, some cheese doesn't hurt. If you are still conscious about keeping it low fat, then use fat free cream cheese and low fat Cheddar. Now to the recipe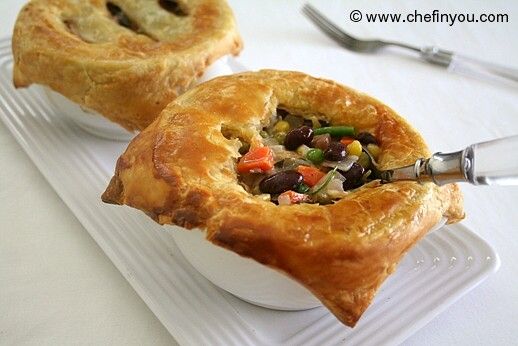 Basic Information
Prep Time
:
30 min to 1 hour
Cook Time
:
30 min to 1 hour
Ingredients
1 tbsp butter (or olive oil)
1/2 cup chickpeas, cooked
1/2 cup kidney beans, cooked (or use canned beans instead to save time)
1 onion,chopped
3 spring onions, whites and greens chopped
2-3 cloves of garlic, minced
2 celery sticks,chopped
1 large carrot (or 2 medium), diced
1 cup frozen corn
1 cup frozen peas
1 cup frozen beans
About 8 Oz of Egg Pappardelle pasta ( or use egg/plain noodles instead)
1/2 tbsp dried rosemary and dried marjoram ( or use 1 tbsp Italian seasoning mix - has more herbs )
1 bay leaf
few sprigs of cilantro,chopped (optional)
4 cups of Vegetable broth or water
1 tbsp cornstarch
1 tbsp whole wheat flour
3 tbsp fat free cream cheese
1/4 cup cubed low fat cheddar cheese ( or vegetarian parmesan)
1 sheet Puff Pastry sheet, thawed at room temperature
salt and pepper to taste
Method
1
Preheat oven to 350F. Heat butter/oil in a large saucepan. Saute the onion, spring onion until browned. Add garlic.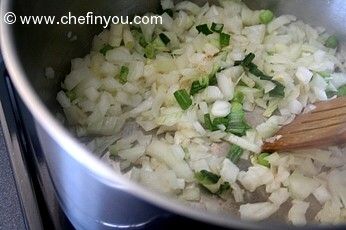 2
Add celery and carrot and saute for another 5 minutes.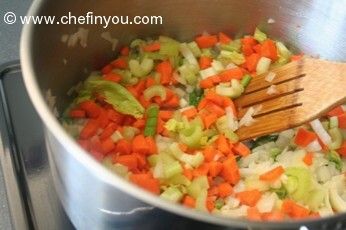 3
Stir in the broth along with corn, chickpeas, kidney beans, dried herbs, bay leaf along with salt and pepper.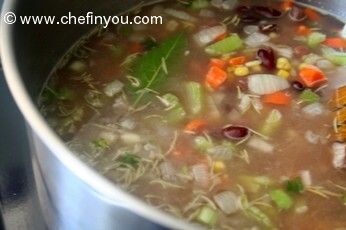 4
Let it come to a slight boil, then add the pasta. Cook until it turns soft. Remove the bay leaf.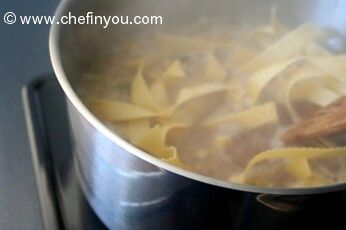 5
Whisk together the cornstarch, flour along with 1/2 cup cold water.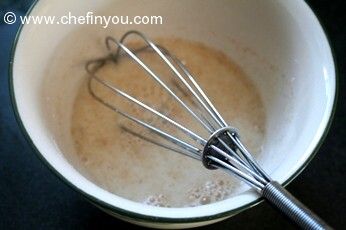 6
Stir this into the vegetables along with cream cheese and cheddar. Add more salt/pepper if required.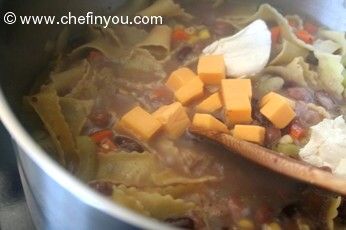 7
Remove from heat and add the peas and beans along with chopped cilantro. Give it a mix until well combined.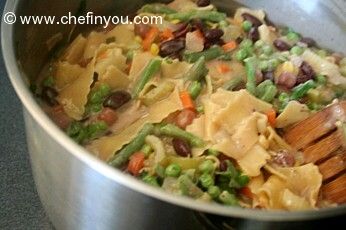 8
Spread the thawed pastry on a lightly floured surface.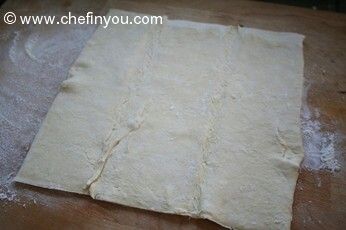 9
Roll it using a rolling pin to cut 4 or 6 squares (as per need).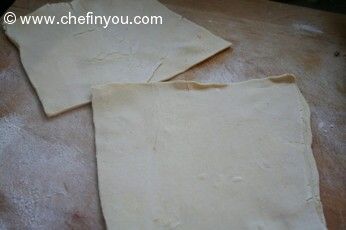 10
Take small pie dish and stir in the vegetable mixture into it.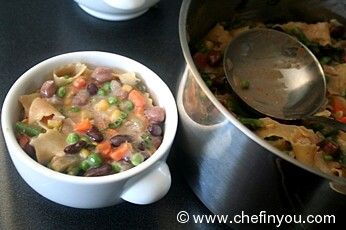 11
Place the cut puff pastry square and drape it over the filling, tucking in the sides.
12
Pierce the tops in several places with knife to allow steam to escape.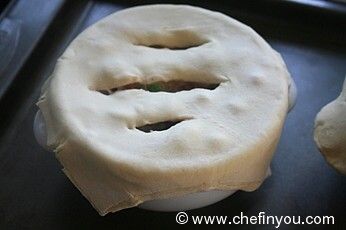 13
Bake for 30-40 minutes or until the crust is flaky and brown.
Serve hot.
Very filling and simple dish yet so elegant.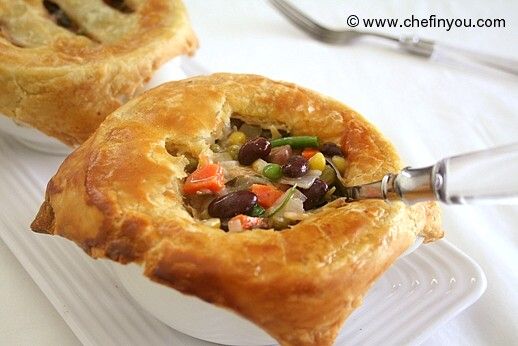 Related Recipes You May Like
Did you make this recipe?
Please click below to share your experiences while you were making this recipe. Thanks for your input!
Have a favorite recipe?
Know a family recipe your mom used to make? Or maybe a go to recipe that works everytime? Share it with your fellow foodies!