Low fat Marble Chocolate Cheesecake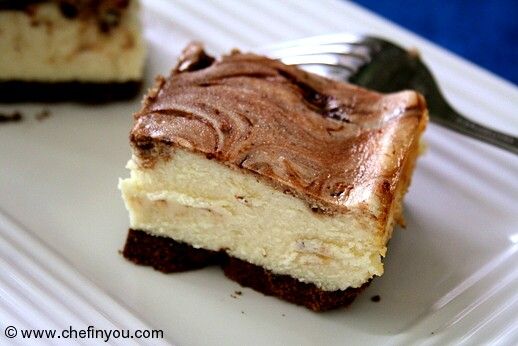 Recently when one of my
Facebook readers - Pauline Heart
asked me for Marble Cheesecake recipe for the upcoming Chinese New Year, I was reminded of this low calorie recipe from Cooking Light magazine which I had been meaning to try for a long time. Of course, it was not a microwave version which was what Pauline asked for. But I read through several online sources and they all seem pretty straightforward to make using a microwave. Of course my version is Oven based but I have given a small note at the end of each of the steps which may help when you are making in a microwave instead of Oven.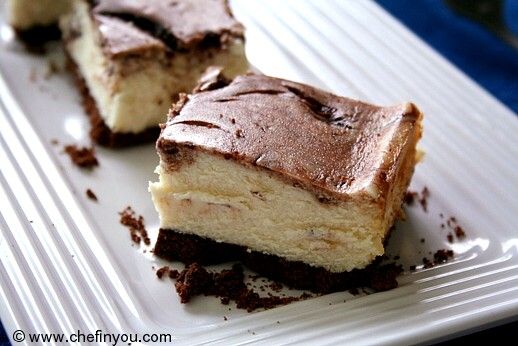 Disclaimer :
These microwave notes are meant to be used as a guidance since I haven't personally followed this method. These notes have been included from various sources on the net with the intention of helping you to make the cheesecake in your microwave if you don't have the oven.
I have hardly come across anyone who does not like cheesecake (with of course, the exception of Yours truly and her husband - Really, from which planet did we both land up here, I wouldn't know!). Recently a friend of mine got herself a job here after trying for 2 long years and so she was ecstatic! So was I! She is a cheesecake fanatic and since she was in this everlasting diet - she was torturing herself by simply staring at cheesecakes at stores but not buying one to eat! I thought this happy occasion earned her a cheesecake and to make her feel less guilty,I thought I will make this low fat version and treat her.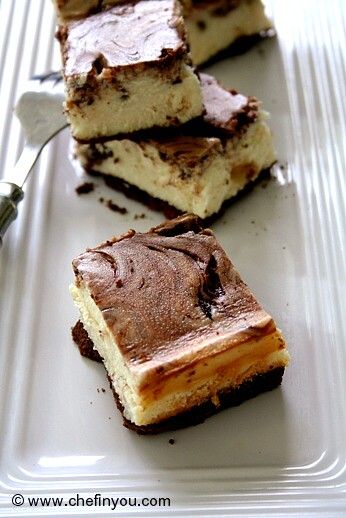 I made it more low fat than the "already reduced fat" cheesecake recipe from Cooking Light. They had used 2 packets of fat free cream cheese and 1 packet of 1/3 rd less fat cream cheese. Also they used 3 egg whites and 1 whole egg. I used only fat free cream cheese and egg whites. I thought may be it would not taste good - but I was surprised at the result. Unless you are a cheesecake pro, you wouldn't know the difference. Though my friend did say this tasted little less rich than the usual , it sure did not stop her from gobbling up 6 pieces before I could say - Congratulations!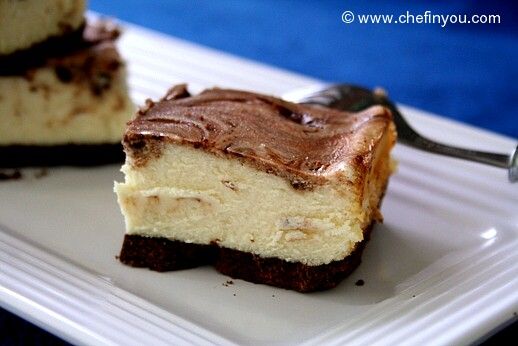 Next time you want to treat yourself with some cheesecake - make this one! Its better than not having any! You know you want a cheesecake now ;)
Ingredients
1 cup chocolate graham cracker crumbs (about 9 cookie sheets) or make this gluten free by using these gluten free crackers.
1 tablespoon butter, melted
3 (8-ounce) blocks fat-free cream cheese, softened (or use 2 blocks fat free and 1 block 1/3 less fat)
1 cup sugar
3 tablespoons all-purpose flour (or gluten free all purpose flour)
1 tablespoon vanilla extract
4 large egg whites (or use 3 egg whites and 1 whole egg)
1 ounce semisweet chocolate
Method
1
Preheat oven to 325°. Place crumbs in a 9-inch square baking pan coated with cooking spray; drizzle with butter. Toss with a fork until moist. Press into bottom of pan. Bake at 325° for 8 minutes; cool on a wire rack.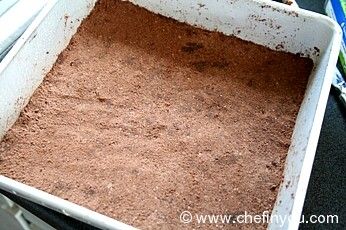 2
Microwave option: Press the crumbs on side and bottom of 9″glass pie plate. Microwave on high for 1-1/2 to 2 minutes. Cool for few minutes. Place cheeses in a large bowl; beat with a mixer at high speed until smooth.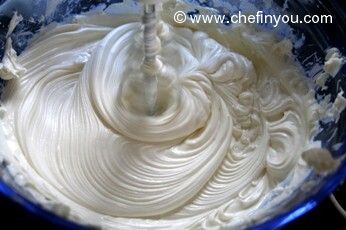 3
Add sugar and flour; beat well.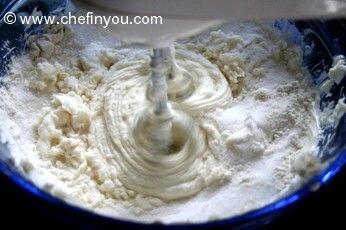 4
Add vanilla, egg whites,  (and a whole egg, if using;) in a separate bowl. Whisk until well blended.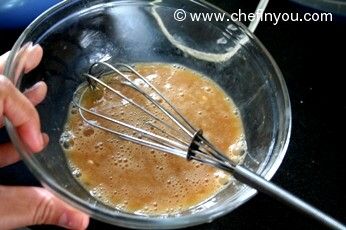 5
Add this mixture to the cheese and beat until well blended.
6
Pour cheese mixture into prepared pan.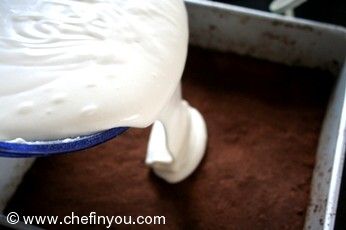 7
Microwave option: If you have forgotten to soften your cream cheese, simply arrange the unwrapped blocks in a single layer in a large bowl, and microwave at HIGH a minute or until slightly soft. Beat the cheeses and follow the same procedure as mentioned above. Then pour this mixture on the cooled graham crust in the pan. Place chocolate in a small microwave-safe bowl; microwave at high 1 1/2 minutes or until soft, stirring after 45 seconds (chocolate should not completely melt). Stir until smooth. Drop melted chocolate onto cheese mixture to form 9 mounds. Swirl chocolate into batter using the tip of a knife.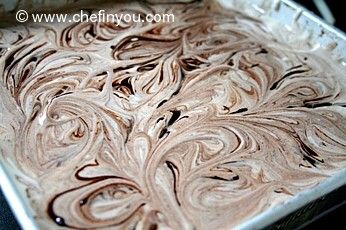 8
Bake at 325° for 35 minutes or until almost set. You know it is set when the cheesecake leaves the side a little.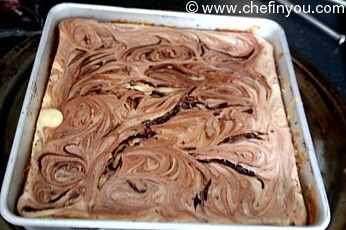 9
Microwave option: If your microwave has a carousel, use it. Otherwise, turn cake every 3 minutes during cooking. Cook on medium-high (70% power) for 10 to 12 minutes. The center should jiggle slightly when done and it will look set. Cool on a wire rack. Cover and chill at least 4 hours. I refrigerated overnight. Cut it into squares the next day.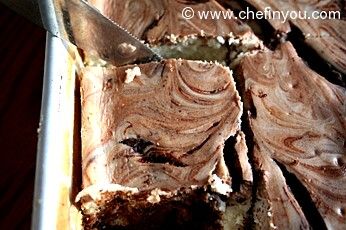 I had a little trouble cutting them and retaining their shape - I dont know if fat free cream cheese has anything to do with it. But it tasted delicious otherwise.
The little chocolate flavor on the surface and that chocolate crumb completed the chewy gooey cheese in the middle. The vanilla extract added a hint of flavor and aroma to the cheesecake.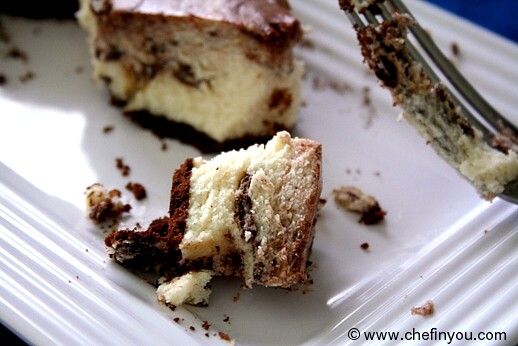 Related Recipes You May Like
Did you make this recipe?
Please click below to share your experiences while you were making this recipe. Thanks for your input!
Have a favorite recipe?
Know a family recipe your mom used to make? Or maybe a go to recipe that works everytime? Share it with your fellow foodies!