Patates sto Fourno (Garlic Lemon Potatoes)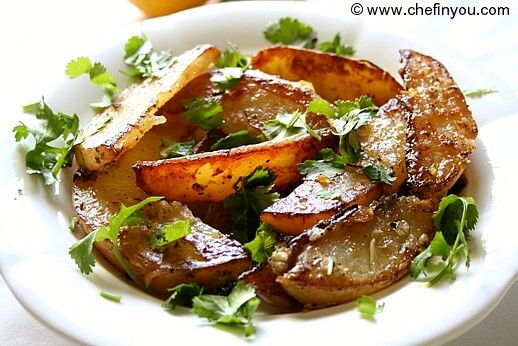 About a month back, a dear reader Sudha asked me for a Potato recipe which is my all time fav. She said she loved roast potatoes and that which makes it often. She asked me if I had a twist to regular roast potatoes. This recipe "Patates sto Fourno" is a Greek recipe for Garlic and Lemon Potatoes. It is a staple in taverna menus and I read that it is usually served with roasted chicken/grilled fish dishes. The potatoes are mostly cubed and browned. Once its done, lemon juice and garlic is added towards the end. For me personally, cubing always for some reason more often ends up as soggy dish. That's bad news! So I usually cut them into wedges (tip suggested by a friend who gave me this recipe)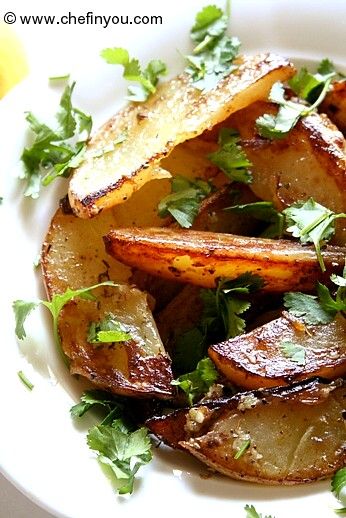 It is also usually Oven Roasted and I have done that too when I have the time but most of the times I just want to do it fast. So I apologize to anyone out there who is on a carb-free, fat free, low calorie or no calorie diet!!! I will post the other method some other time. But for now enjoy this amazingly crusty and crunchy dish where after the initial bite, a blast of freshness hits thanks to lemon and light garlicky touch reminds you of Garlic fries. In short - if you like garlic and roasted potatoes, this is perfect for you.
Ingredients
4 medium gold potatoes, scrubbed
2 tbsp extra virgin olive oil
1/2 tbsp butter(skip and add more oil to make it vegan)
2 tbsp lemon juice and 1 tsp lemon zest
2 tbsp fresh oregano leaves (or halve it if using dried)
4 medium garlic cloves, minced (abt 4 tsp)
salt and pepper to taste
1-2 tbsp minced fresh parsley leaves - optional (I used cilantro)
Method
1
You can either cube the potatoes or chop it like wedges. Usually the potatoes are peeled but I cringe to think of throwing away the nutrient filled skin hence I use it in my cooking and don't peel them.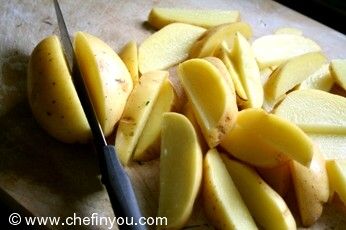 2
Heat 1 tbsp oil and butter in a large skillet over med-high heat. Once the butter has melted,
3
brown the potatoes on both the cut sides, each side about 5-6 minutes.
4
Reduce the heat to med-low, cover and cook the potatoes until tender.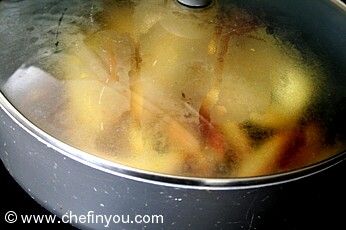 5
Meanwhile mix together oil, lemon juice, zest, oregano, minced garlic, salt and pepper in a small bowl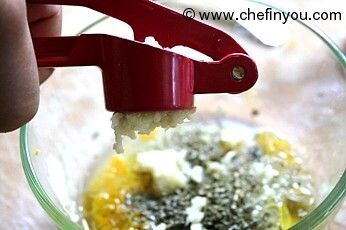 6
When the potatoes are tender, add the garlic-lemon mixture and stir v v gently. The potatoes will break otherwise.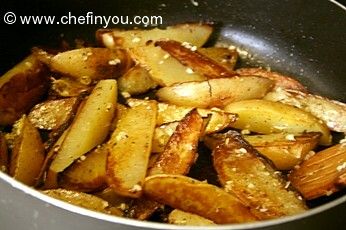 Continue to cook, uncovered for 3-4 minutes. The best part is once the garlic mixture is added, after 1 minute, the blast of aroma that hits your nose is absolutely delicious :) Can you see the crusty surface on the potatoes?  Garnish with parsley or cilantro if using.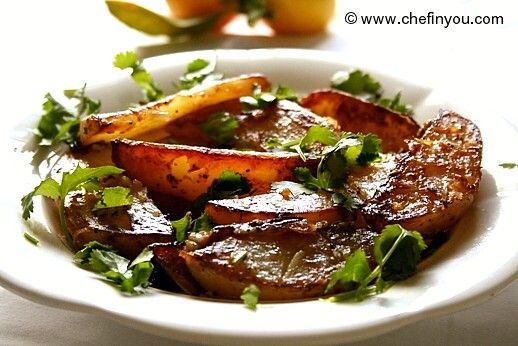 Related Recipes You May Like
Did you make this recipe?
Please click below to share your experiences while you were making this recipe. Thanks for your input!
Have a favorite recipe?
Know a family recipe your mom used to make? Or maybe a go to recipe that works everytime? Share it with your fellow foodies!