Paneer Makhani (Paneer Butter Masala)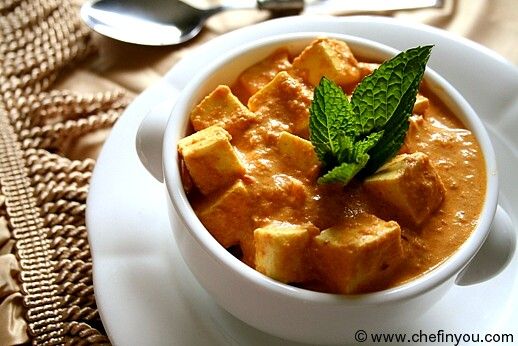 Here on one hand, I was practically behind dear Sig for giving ideas for
Vegetarian South Beach Diet
and on the other end, here I am with Paneer Butter Masala! Sig - Dont look at me like that. I will sure do the diet - promise!  But few things at my end are preventing it and am waiting for the 'right time'. If your eyebrows are still mile high on your forehead - cough - trust me ok ;) But on a more sadistic tone - if any of you are on a diet and can't eat, at least enjoy these pictures :) For those skinny and slim ppl out there (@#$$) , enjoy this rich feast from heaven. From my research and taste testing around in many restaurants, I personally feel that "
Paneer Makhani
", "
Paneer Butter Masala"
and "
Shahi Paneer
" taste more or less the same!
The difference is in the prominence of spices added by different chefs although I know that adding cashew paste (and sometimes few raisins) to this recipe below will give you Shahi Paneer. Call it whatever you please at the end of the day it is still a very rich Indian side dish made with Paneer. Lets elaborate on the names now shall we? "
Paneer Butter Masala
" is pretty self explanatory -
Masala
denotes
spices,
cooked with
butter
and
Paneer
(Indian cheese). "
Paneer Makhani"
- where
Makhani
means
cream
and in cooking, generally denotes any rich gravy made with
onions
(optionally),
tomatoes
,
butter
and
cream
. And
"Shahi Paneer"
- where
Shahi
denotes
Royalty
, something fit for kings! And can there be anything less than cream, butter and rich nuts which can be served for a king? So now do you see the similarity in the three names?  All of them have the same base and for me, I use them interchangeably! At the end of the day all these sound the same to me with 'oops- blink - and - you- might- miss" changes.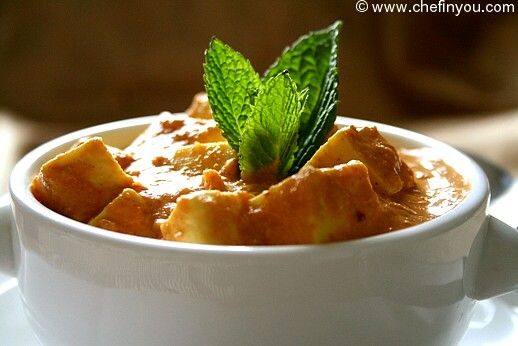 Of course variations abound where spices are thrown in as per fancy and preference of the cook, but can anything cooked with such ingredients be any less delicious? I don't know from where I got this recipe and why I make it this way - but this is how I have been making it ever since I can remember. Along the way, I have learnt few trips and tricks which might help you too, the way it did for me. Now lemme stop my blah's and go to the recipe :)
Ingredients
2 generous cups Paneer cubes
1 large onion,chopped coarsely
3 tbsp butter
1/2 - 3/4 cups tomato puree *
2-3 green chillies, as per taste **
3-4 cloves garlic
2 inch ginger, peeled and chopped
1 tsp turmeric powder
1 tsp cumin-coriander powder
1 tsp Tandoori masala
1/2 tsp cardamom powder
1 tsp sugar
1/4 cup cashew paste and 8-9 raisins ( optional. Use them if making Shahi Paneer - soak few cashew pieces in boiling water and grind)
1/4-1/2 cup heavy cream (as needed for consistency)
salt to taste
Mint and cilantro to garnish ***
Tips
* I find that home made Puree is the best. But if going for store bought ones go for low sodium variety. If that's not available then use only about 1/2 cup of the puree and carefully add salt only if required. Sometimes the store bought ones give a deep tangy taste to this dish if not careful with the salt since the puree by itself has lots of sodium ** You can instead use cayenne/red chilli powder. Sometimes when I don't have green chillies on hand I use dried red chillies like in this dish. Doesn't hurt the taste. *** I personally find that Mint goes very well with rich dishes and gives it that fresh taste and reducing the rich after taste in the mouth. A combination of the herbs is my personal favorite where it helps to mellow down the richness.
Method
1
Here is another tip which you might find useful. When buying store bought Paneer, I mostly place them in a bowl filled with boiling water for 10-15 minutes.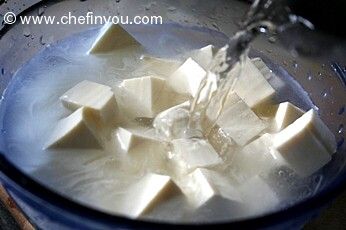 2
It helps to make it soft and also get rid of any impurities, if any. Drain it the water from the paneer and set aside.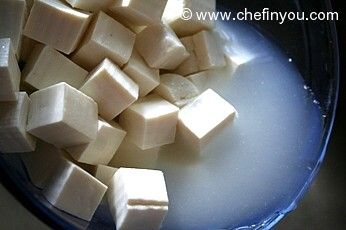 3
In a skillet in 1/2 tsp oil, add the onion, chillies, garlic and ginger with a little salt. Saute until soft.
4
Transfer this mixture to the blender and blend it into a paste.
5
In the same skillet, add 3 tbsp of butter and then add the onion paste. Cook until butter/oil separates. If using cashew Paste add it along with this mixture now. or you can soak the cashew pieces in hot water and grind it along with the onion mixture.
6
Add the tomato puree and all the spices. Stir well and cook for another 5-10 minutes or until the raw smell of the puree disappears. Add sugar and cook for another 5 minutes. You can at this point taste and see if you require additional salt. If yes, add more.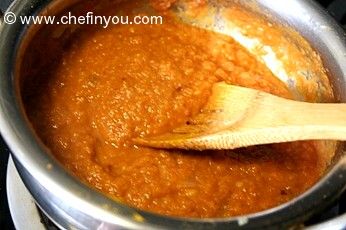 7
Drop in the paneer gently and give it a toss. Cook for another 2-3 minutes for the paneer to absorb the flavors.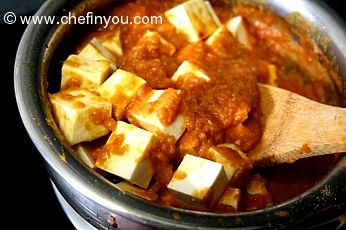 8
Lower the heat to a simmer. Then add the heavy cream. Mix well.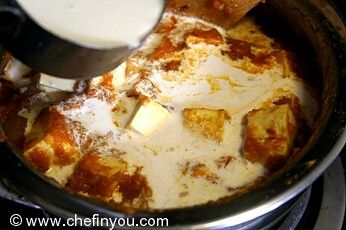 9
If you want to use raisins, fry them lightly in ghee/butter separately and add it to this gravy. You can set some aside for garnish. I don't like sweet things in savory dishes and hence don't use them. Be careful to cook this in simmer before adding cream. Otherwise the heat will give it a curdle appearance!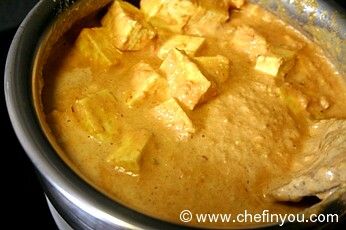 You can garnish it with mint and cilantro if desired.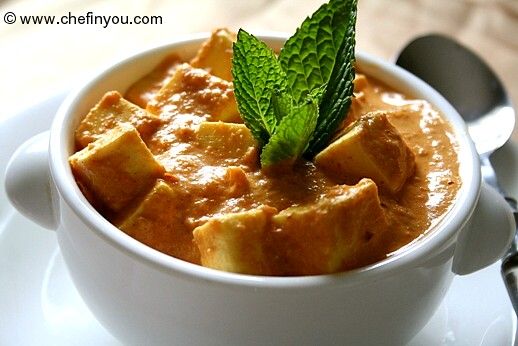 20 members have made this recipe!
Did you make this recipe?
Please click below to share your experiences while you were making this recipe. Thanks for your input!
Have a favorite recipe?
Know a family recipe your mom used to make? Or maybe a go to recipe that works everytime? Share it with your fellow foodies!