Few ready made ingredients from the local store can make it possible for you to prepare one right in the comfort of your home and in less that those dratted 60 minutes of the delivery time! (of course, if you have a pizza place right nearby, then this argument does not hold for you!) . Another reason why I like to make my own pizza is having control over the ingredients and cheese I put into it. I go crazy over various toppings and if that was not enough, when I asked my wonderful
Facebook readers for topping ideas
- I got
galore of them
!!! I feel like making pizzas just to enjoy all those yummy topping!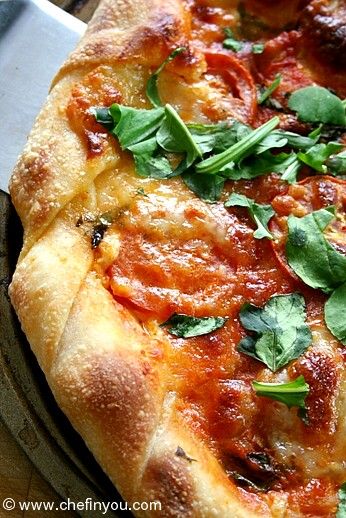 But since I hadn't gone shopping, I had very few ingredients on hand. So I used a simple topping of fresh tomatoes, basil, healthy arugula leaves and cheese (of course!). It was immensely aromatic and fresh. The arugula leaves not only added nutrition to the pizza but also color. The basil and tomato combination is a winner, as always! And, do I even need to talk about what a sprinkling of fresh mozzarella could do to a Pizza (not to talk about that stuffed cheesy crust)? In a word - heaven!
You can use any topping of your own. The purpose of this post is
to show you how to make a stuffed crust
. I am just giving a topping of what I used that day. Lets go to the recipe now shall we?