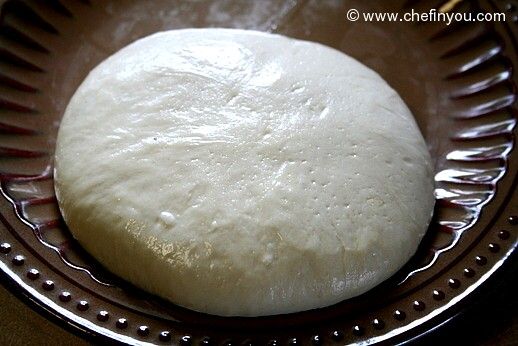 The above picture looks like fresh homemade Mozzarella cheese, doesn't it? Yummy though it sounds (Love that stuff!), its sadly not. But what I have is something which when baked with assorted topping can make everyone's taste buds go into excited frenzy! Yup - Its Pizza dough. Easy, homemade, Italian Yeast Pizza dough. Crafted and molded right by your hands. Its not only satisfactory but something about making stuff on your own for your family adds a special touch to the pizza - and guess what? Its tastes additionally delicious. If you said - Yeah! Right, trust me - make it and tell me :) There are zillion versions of making pizza dough, but for today lets go into making this easy to follow recipe for "Pizza Dough" taken from Peter Reinhart's famous cookbook It yields a beautifully tasty, thin, crispy, delicate yet chewy pizza crust matching the ones which your local pizzaioli makes and rotates so flamboyantly in the air. Will post the more easier ones later. Lets go into this recipe now shall we?
Basic Information
Prep Time
:
8 hours to 1 day
Yield
:
6 pizza crusts (about 9-12 inches/23-30 cm in diameter)
Ingredients
4 1/2 Cups (20 1/4 ounces/607.5 g) Unbleached high-gluten (%14) bread flour or all purpose flour, chilled
1 3/4 Tsp Salt
1 Tsp Instant yeast (fast rising/Rapid rise yeast)
1/4 Cup (2 ounces/60g) Olive oil or vegetable oil (both optional, but it's better with)
1 3/4 Cups (14 ounces/420g or 420ml) Water, ice cold (40° F/4.5° C)
1 Tb sugar
Semolina/durum flour or cornmeal for dusting
Method
1
Method - DAY ONE Mix together the flour, salt and instant yeast in a big bowl (or in the bowl of your stand mixer).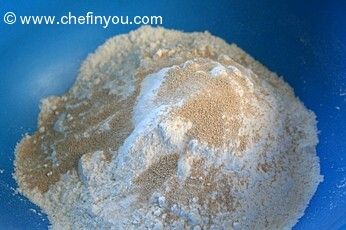 2
Add the oil, sugar and cold water and mix well (with the help of a large wooden spoon or with the paddle attachment, on low speed)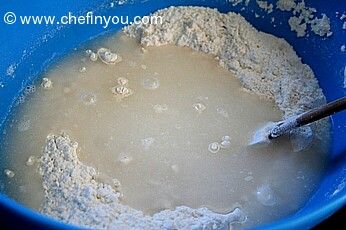 3
in order to form a sticky ball of dough.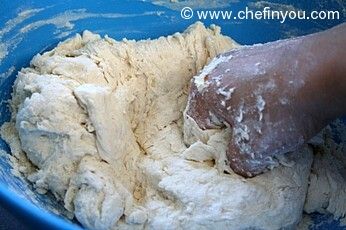 4
On a clean surface, knead for about 5-7 minutes, until the dough is smooth and the ingredients are homogeneously distributed. If it is too wet, add a little flour (not too much, though) and if it is too dry add 1 or 2 teaspoons extra water.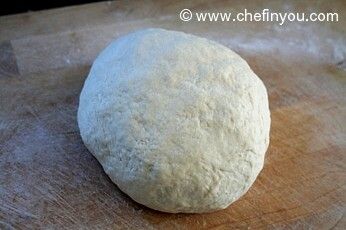 5
NOTE: If you are using an electric mixer, switch to the dough hook and mix on medium speed for the same amount of time.The dough should clear the sides of the bowl but stick to the bottom of the bowl. If the dough is too wet, sprinkle in a little more flour, so that it clears the sides. If, on the contrary, it clears the bottom of the bowl, dribble in a teaspoon or two of cold water. The finished dough should be springy, elastic, and sticky, not just tacky, and register 50°-55° F/10°-13° C. Flour a work surface or counter. Line a jelly pan with baking paper/parchment. Lightly oil the paper. With the help of a metal or plastic dough scraper, cut the dough into 6 equal pieces (or larger if you want to make larger pizzas). I cut it into 4 equal sizes. NOTE: To avoid the dough from sticking to the scraper, dip the scraper into water between cuts.
6
Sprinkle some flour over the dough. Make sure your hands are dry and then flour them. Gently round each piece into a ball. NOTE: If the dough sticks to your hands, then dip your hands into the flour again.
7
Transfer the dough balls to the lined jelly pan and mist them generously with spray oil.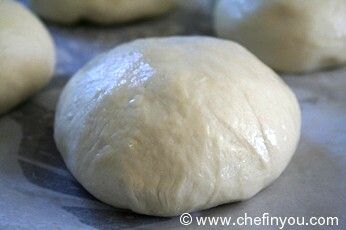 8
Slip the pan into plastic bag or enclose in plastic food wrap.  Put the pan into the refrigerator and let the dough rest overnight or for up to thee days.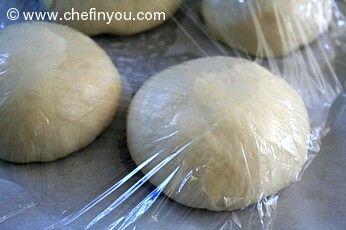 NOTE
:
You can store the dough balls in a zippered freezer bag if you want to save some of the dough for any future baking. In that case, pour some oil (a few tablespooons only) in a medium bowl and dip each dough ball into the oil, so that it is completely covered in oil. Then put each ball into a separate bag. Store the bags in the freezer for no longer than 3 months. The day before you plan to make pizza, remember to transfer the dough balls from the freezer to the refrigerator.
Day 2 -
On the day you plan to eat pizza, exactly 2 hours before you make it, remove the desired number of dough balls from the refrigerator. Dust the counter with flour and spray lightly with oil. Place the dough balls on a floured surface and sprinkle them with flour. Dust your hands with flour and delicately press the dough into disks about 1/2 inch/1.3 cm thick and 5 inches/12.7 cm in diameter. Sprinkle with flour and mist with oil. Loosely cover the dough rounds with plastic wrap and then allow to rest for 2 hours.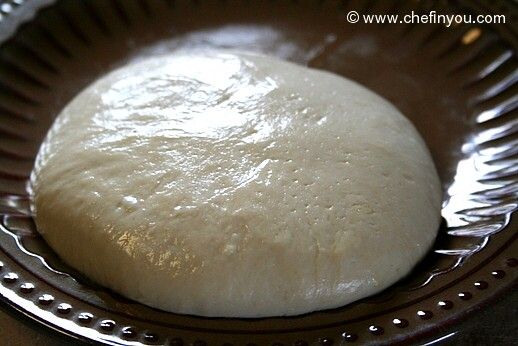 Related Recipes You May Like
Did you make this recipe?
Please click below to share your experiences while you were making this recipe. Thanks for your input!
Have a favorite recipe?
Know a family recipe your mom used to make? Or maybe a go to recipe that works everytime? Share it with your fellow foodies!