Badam Kheer (Sweet Almond pudding)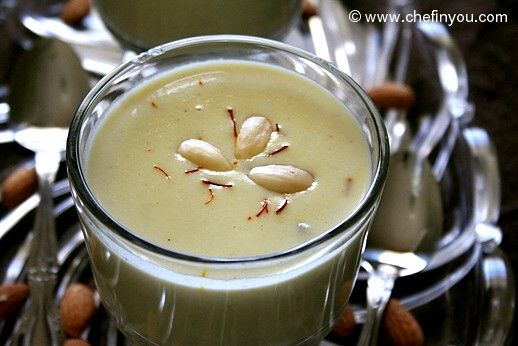 Some dishes are like teleporting device - which take you back home. Home where you spent your childhood along with all those memories. Even the thought of making it, relishing it would never fail to put a smile in your face and bring back all that nostalgia. I have quite a few dishes which do that to me, among which is this dish that we fondly called as "Badam Kheer" (in hindi) where Badam means "Almond" and Kheer is "Pudding". It is also known as Badam Ka Sheera.This is a rich and sweet pudding enjoyed almost everywhere in India. It is rich on its own, thanks to all those almonds, but a little additional ghee helps to take it the next level. You can make this as much low fat as possible or rich, as the occasion and palate demands it :)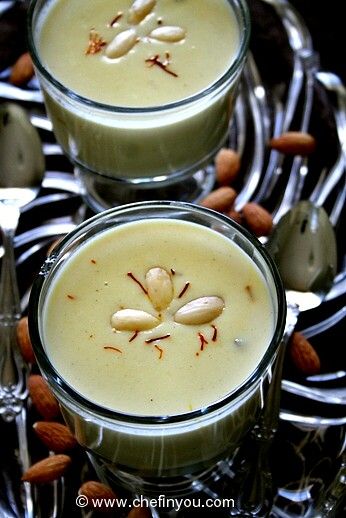 This is one of those dishes which does not have many variations. Very minor ones as per taste and preference but much less than many other traditional Indian sweets that vary from family to family. My mother used to make it rarely but after marriage realized that this was one of the most favorite sweets of my better half. Royal taste indeed! Of course he preferred it minimal sweet and so I make it once in a while with v less sugar which practically disqualifies it from the Indian standards of sweets ;) So pardon my measurement of sugar if it seems wayware! I have no idea what amount would be the "perfect" amount!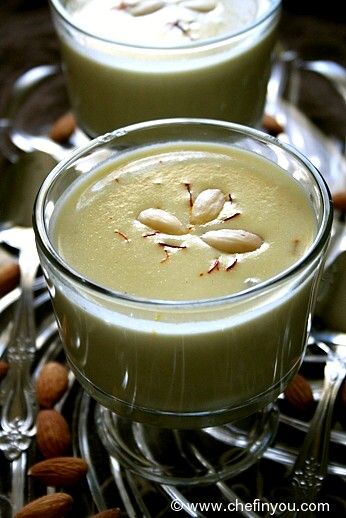 Make it with as less sweet or more, as your taste requires. I made it for a special occasion, hence added little ghee but this can be made with none too. Lets go to the recipe now shall we?
Basic Information
Cook Time
:
30 min to 1 hour
Ingredients
2 cups Blanched Almonds
1/4 -1/2 cup sugar (sugar substitute works too)
1-1/2 -2 cups milk, as needed for consistency (use low fat for lower calories)
1/4 cup ghee (you can use less or none to suit your needs)
1 tsp cardamom powder
few strands of saffron
few blanched almonds for garnish (optional)
Method
2
Take the almonds in batches in a food processor and along with little milk enough to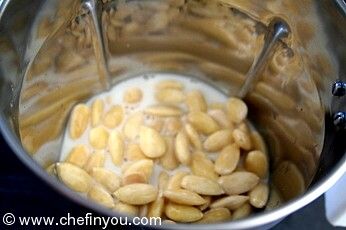 3
grind them into a smooth paste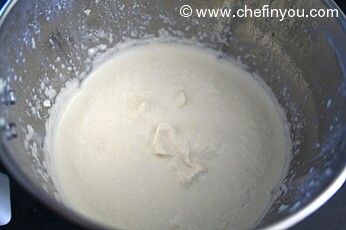 4
Take a non stick pan and add ghee (if using) and add the almond paste. Cook it in low heat for 20-30 minutes (depending on whether it is gas stove or electric)
5
until it gets thick and turns lightly golden
6
Heat rest of the milk until hot and then slowly add it to the almond paste. Stir and cook for 2-3 minutes and then add sugar. Stir well.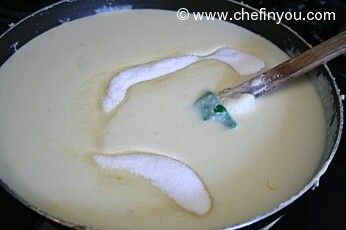 7
Add the cardamom powder and the saffron.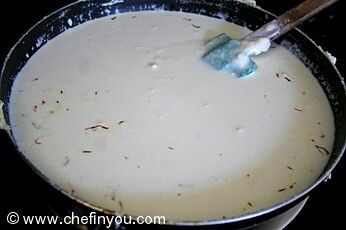 8
Cook for another few minutes until everything is well dissolved.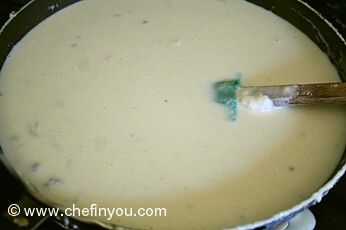 I prefer to serve it chilled, garnished with blanched almonds which I set aside earlier.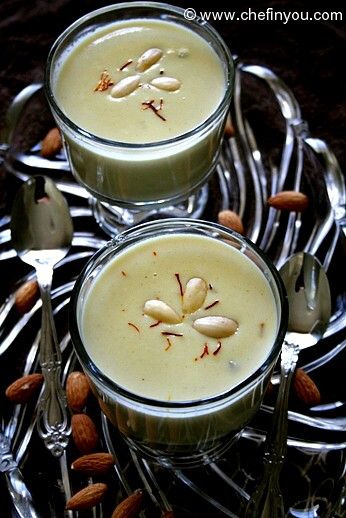 If it becomes thickened with time, add little more warm milk to the almond mixture. Can you see in this picture below how creamy it is? Heaven in a glass :)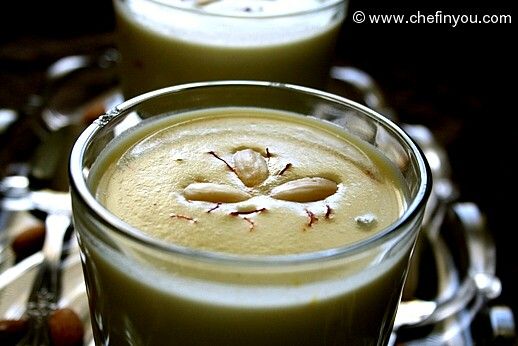 Related Recipes You May Like
Did you make this recipe?
Please click below to share your experiences while you were making this recipe. Thanks for your input!
Have a favorite recipe?
Know a family recipe your mom used to make? Or maybe a go to recipe that works everytime? Share it with your fellow foodies!