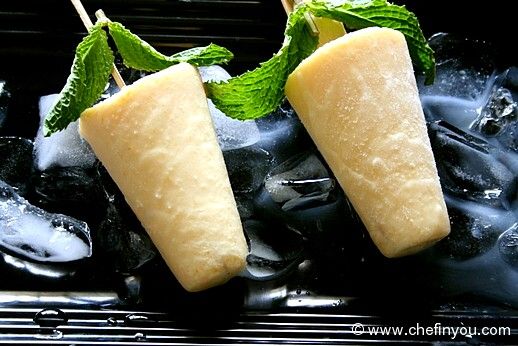 One of the rarest advantages among the many not-so-good ones during summer is the ice cream. Especially, in the scorching heat of Indian summer, the one relief that I always used to look forward are these frozen treats! Among the many yummy cold desserts this variation of the Indian icecream is called as Kulfi or Qulfi. Its very similar to the traditional icecream having the same taste and creamy texture but is ridiculously simple to make. Its the type I dig. The other advantage is, it takes so long to melt that I had time to take a photo without fear of  it melting soon ;).
Wikipedia says the following
"Unlike Western ice creams, kulfi is not whipped, resulting in a solid, dense frozen dessert similar to traditional custard based ice-cream. Thus, it is usually considered a distinct category of frozen dairy-based dessert."
I cannot help but remember with a nostalgic smile at the
Kulfi wala
outside the house and we, the colony kids, troubling our parents to buy us some. There used to be this Kulfi man carrying this huge basket on his head and then there was this man with a cart full of Kulfi screaming "
Kulfi Ice",
"
Kulfi Ice"
. The cart was the upgraded version of the basket ;) and such sights used to be common during the heat of the summer days! Made sense to sell these since as mentioned before these were not that easy to melt.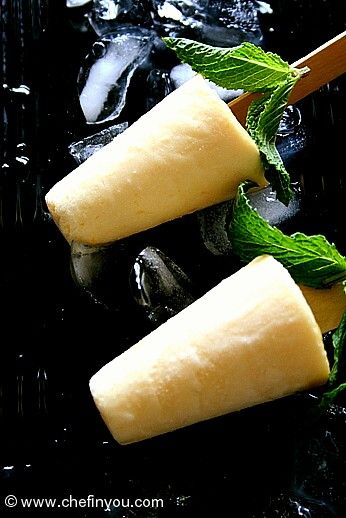 Anyways coming to today's post. I know many people start with malai (cream) kulfi or Pista Kesar (Pistachio Saffron Kulfi) Kulfi. But not me. I started off my very first kulfi making experience with the fruit and flavor I love. Yes, Mangoes. I still remember how few years back, I suddenly remembered those days of eating Kulfi back home and wondered if I could make it at home. Searching for which I landed on Tarla Dalal's recipe for Mango Kulfi and my joy knew no bounds.To cap it all, the ingredients were so basic that I had them all on hand that day! The minute those beauties came out of the fridge, I was ecstatic and started jumping around the house as though I climbed Mt. Everest!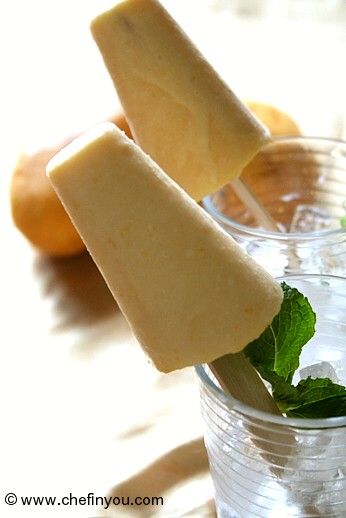 That first creamy bite of Kulfi was such a pleasure then and remains such a thing of joy till date. Now with so many mangoes making an appearance in the market, I thought why not make this again. And yes, I still jump around the house when I have Kulfi! There is something about Kulfi that brings out the child in you. Go ahead, enjoy those moments :)