Tomato Basil Arugula Stuffed Crust Pizza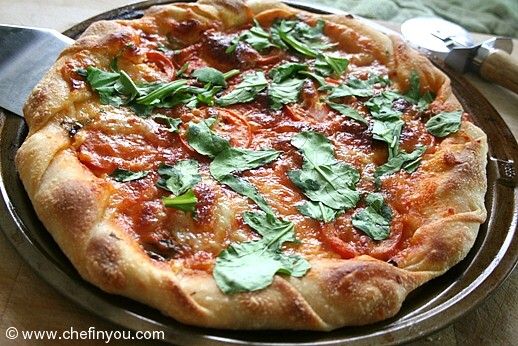 I think there are very few who can vouch and say that they DON'T like Pizza! Its not the healthiest thing to be munching around all the time, but then on occasion when you enjoy it, nothing competes the heartiness and deliciousness of a yummy pizza! I have had my share of pizzas and am at a stage when I can look at a Pizza and not go Ga-ga over it. There is no more salivating or uncontrollable drooling over a dominoes pizza crust. But sometimes on those rare occasions that it does - I need to devour a pizza right then and there. I cannot wait for those 45-60 minutes for the pizza man to arrive!  So, I make my own. I love thin crust, but there is something about that stuffed crust pizza that has my heart racing! Its not as hard as you might think - in fact it is ridiculously simple to make your own stuffed pizza crust.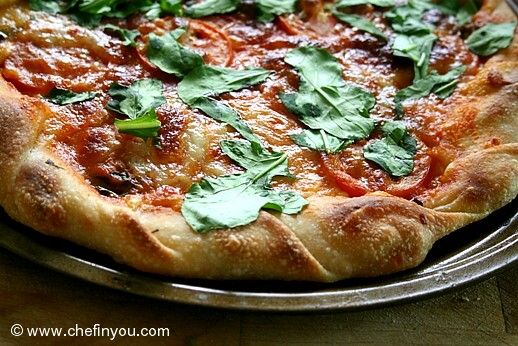 Few ready made ingredients from the local store can make it possible for you to prepare one right in the comfort of your home and in less that those dratted 60 minutes of the delivery time! (of course, if you have a pizza place right nearby, then this argument does not hold for you!) . Another reason why I like to make my own pizza is having control over the ingredients and cheese I put into it. I go crazy over various toppings and if that was not enough, when I asked my wonderful
Facebook readers for topping ideas
- I got
galore of them
!!! I feel like making pizzas just to enjoy all those yummy topping!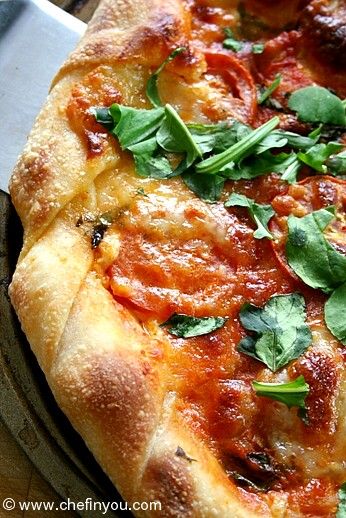 But since I hadn't gone shopping, I had very few ingredients on hand. So I used a simple topping of fresh tomatoes, basil, healthy arugula leaves and cheese (of course!). It was immensely aromatic and fresh. The arugula leaves not only added nutrition to the pizza but also color. The basil and tomato combination is a winner, as always! And, do I even need to talk about what a sprinkling of fresh mozzarella could do to a Pizza (not to talk about that stuffed cheesy crust)? In a word - heaven!
You can use any topping of your own. The purpose of this post is
to show you how to make a stuffed crust
. I am just giving a topping of what I used that day. Lets go to the recipe now shall we?
Basic Information
Yield
:
Makes one 12 inch stuffed crust pizza
Ingredients
1 Pizza crust - make your own or get a ready made store bought crust
6-8 string cheese (depending on the size of your pizza)
topping of your choice (I used tomato sauce/marinara, fresh tomatoes sliced thinly, few chopped basil leaves, few springs of arugula leaves and fresh mozzarella cheese)
Method
1
Roll out the pizza on a well floured surface.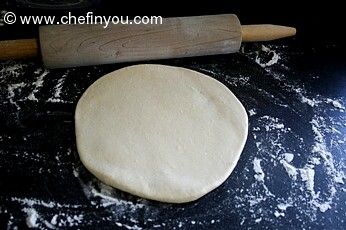 2
Using a rolling pin, roll the dough over the pin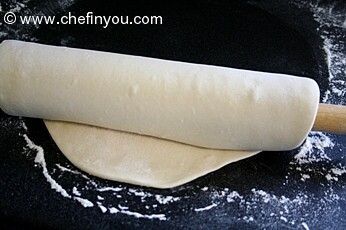 3
to transfer it to your pizza pan which has been dusted with little cornmeal or slightly greased with oil (this is to avoid the pizza from sticking)
4
Slowly stretch the dough using your hands so that it extends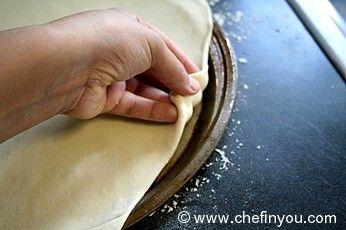 5
a little beyond the rim of the pan. You don't have to stretch it as much as shown in the Picture. A little less than this is sufficient. I want to try some patterns on my stuffed crust hence extended it a little more.
6
Place the string cheese with a little gap around the edges of the pan. I wanted to cut down some cheese hence gave it more space - but you can keep it more closer.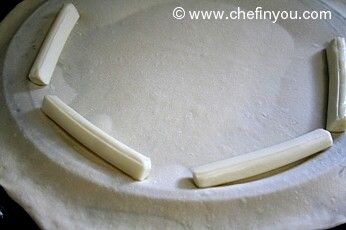 7
Now bring the ends of the dough over the cheese and press it down well until it encloses the cheese well. Make sure its a tight fit. You don't have to crimp/curl it my way, just folding over the cheese should work perfectly fine. Do all around.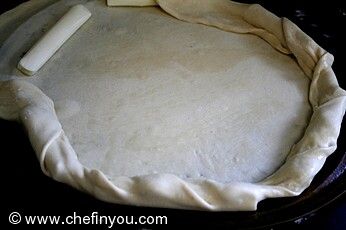 8
Now for some topping. I used some tomato sauce and spread it around till the edges.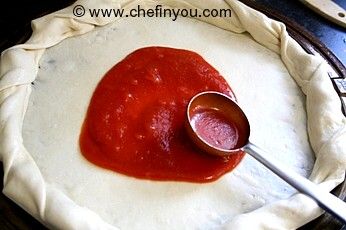 9
Sprinkled the chopped basil leaves on top of the sauce. Chopped some fresh tomatoes, thinly sliced. Spread them all around. Placed some sliced fresh mozzarella cheese and sprinkled some on top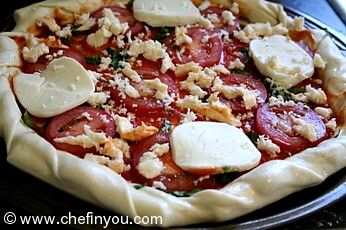 10
Bake in a preheated oven 450-500F. Mostly it is advised to keep at your maximum oven heat but personally I found that my Oven gets hot too fast too soon which does not enable even cooking. For me 400F worked.  If you have pizza stone, you can place the pizza directly on the stone or use a baking sheet to bake it. Whatever works for you. At 400F it took me 15-20 minutes to bake evenly. At higher heat it might take even less. Make sure to keep a look at it.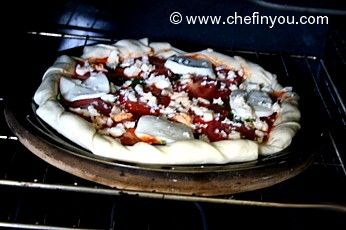 11
Once done, remove the pizza and then sprinkle the chopped arugula leaves on top. The heat from the pizza and all those bubbling cheese will wilt the leaves.
12
Cut them into slices.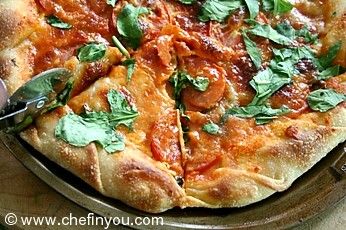 13
Smaller or bigger your choice ;)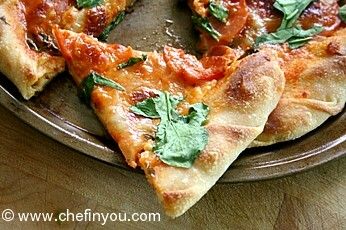 And then serve them HOT. You can sprinkle some more vegetarian Parmesan and pepper flakes if you like.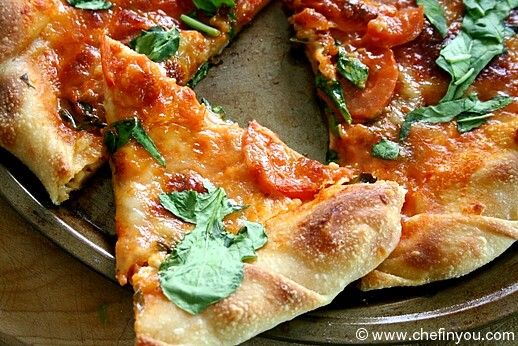 Related Recipes You May Like
Did you make this recipe?
Please click below to share your experiences while you were making this recipe. Thanks for your input!
Have a favorite recipe?
Know a family recipe your mom used to make? Or maybe a go to recipe that works everytime? Share it with your fellow foodies!