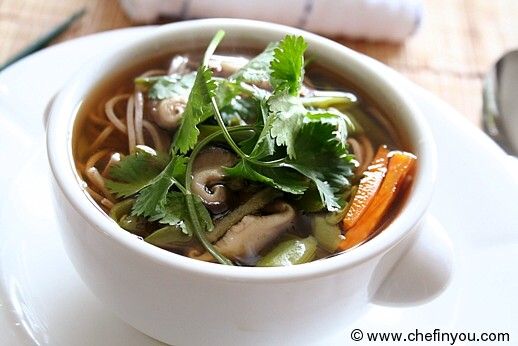 Its amazing how from being an total soup hater, I have now become a total soup'o'holic! ;). Most of my lunches when I am forced to cook for me alone consists of a bowl of a soup and some wholegrain bread. Also for a person working from home, it can be sometimes irritating to break my attention to go cook. But a grumbling tummy is never a great companion when you have deadlines in mind. Such cases also make lots of room for burning in my kitchen cos I try to cook and work at the same time. Most of the times it works, but in certain cases, I get too involved and forget that I had something on the stove. Hence such fool proof dishes ;)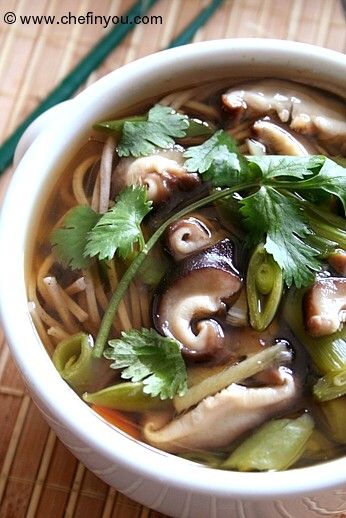 Last week, when I was in no mood to cook, I went to my old standby - Soup. I have a well stocked pantry with whole grains this and that. I sometimes resent that it totally lacks the good stuff - those crunchy chips, that velvety and nutty Kit Kat or chilling vanilla ice cream. Sigh! I have no one but me to blame - no waitta minute. Can't be so selfish, lemme be generous and share some with my better half. I have this principle of going shopping full. Never hungry which makes sure that I never indulge.Yeah - all that self control sh*t never works! I have to cheat my system. Of course, later on I am busy cursing my resolve and not have any "good stuff" in the pantry - but got to make do with what I have right?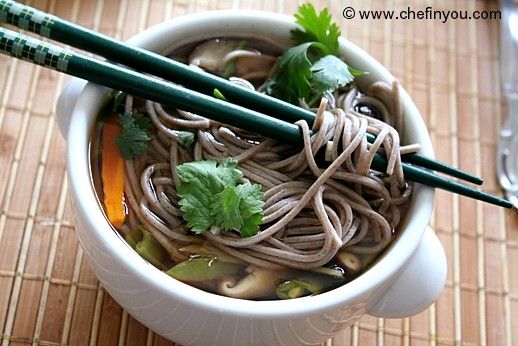 Anyways, coming back to the recipe. This takes like 10-15 min to make, is a breeze to prepare and you dont have slave over the stove as such. Multitasking - totally OK! :) This recipe is from "Complete Vegetarian Cookbook" and has gone into my repertoire. I have adapted it to suit my pantry and tastes.
Ingredients
Around 4 Oz packet of Buckwheat Soba Noodles, cooked as per packet instructions
3-4 shiitake mushrooms, stems removed and sliced
1 liter of water or vegetable stock
1 cup snow peas, cut into thin strips
1 large carrot, cut into thin strips
1-2 cloves of garlic, minced
3-4 spring onions, sliced
less than 1 inch piece of ginger, cut into julienne strips
2-3 tbsp low sodium soy sauce (or as per taste)
few cilantro sprigs for garnish
salt if needed, to taste
Method
1
Once the noodles are cooked, drain and rinse it lightly with cold water. set aside.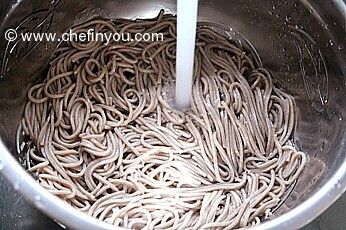 2
Meanwhile, combine the water/stock, mushrooms, snow peas, carrot, garlic,onions and ginger in a saucepan. bring it to a boil and then simmer in low heat for few more minutes until vegetables are tender.
3
Add the soy sauce and cook for another 3-4 minutes.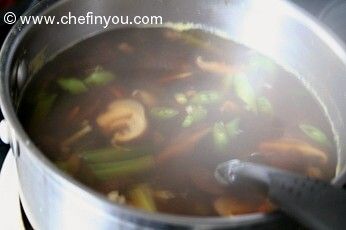 4
Divide the noodles among soup bowls.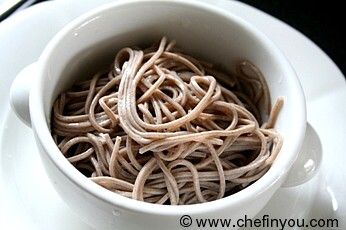 5
Ladle the hot liquid on top of the noodles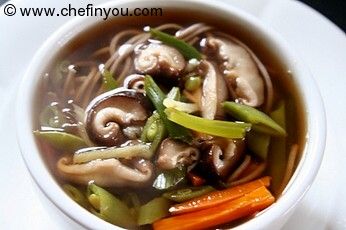 and Serve Hot garnished with cilantro. You can add few tbsp of mirin or sake  along the soy sauce if using.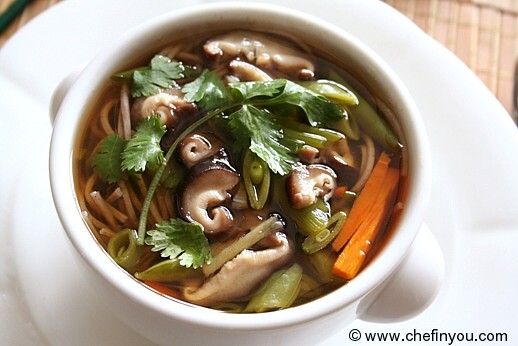 Related Recipes You May Like
Did you make this recipe?
Please click below to share your experiences while you were making this recipe. Thanks for your input!
Have a favorite recipe?
Know a family recipe your mom used to make? Or maybe a go to recipe that works everytime? Share it with your fellow foodies!