Vella Kozhukattai (Sweet Modak)
I have always maintained that when it comes to the language of Food, the borders of various countries start thinning considerably. There is always some kind of connection to some food you can relate to from another region. The ingredient might differ a little, the look sort of and taste a wee bit myriad. But in the heart of it, the basic technique and the concept might be so much the same - enough to point a finger at it and say -"Hey this sounds like our recipe for (so and so)". So if you are aware of the Japanese Mochi (esp. Japanese Daifuku )- then this Indian Sweet referred to as "Modak" in Hindi , "Kozhukattai/Kolukattai" in Tamil, 'Kadubu" in Kannada which is a dumpling with assorted fillings will ring a bell. While the Mochi uses a glutinous sweet rice flour to make this, Indians use regular rice flour. Rest of the process is also quite similar - while red bean paste is used a filling (along with few others depending on the type), the Indian version also has a traditional sweet filling (with jaggery-coconut being prominent) . The cover is then stuffed with this filling and steamed.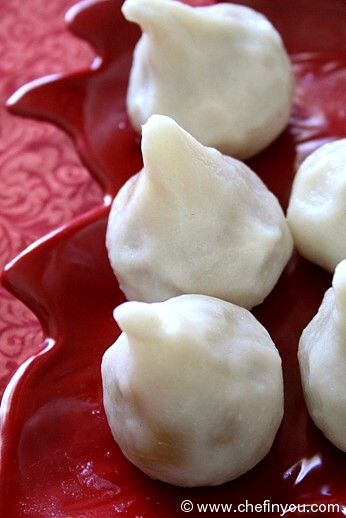 The Indian version though quite enjoyed on and oft during the year (depends on how much that particular family LOVES this - like mine;))  is especially a
MUST
during the festival of
Ganesh Chaturthi
(also called as
Vinayaka Chaturthi
) which is considered to be
Lord Ganesha's (the Hindu Elephant God)
birthday. This sweet Modak is his favorite hence its prepared with much fun fare on his day. Though paradoxically (i never was a sweet lover), I would always choose to reach out for this sweet version than the savory ones. It was mildly sweet , may be that's why! My mother would end up making the sweet version more than the savory ones since it had more takers in the house. Just like any other (make it - most)
Indian Sweet Recipes
, this can be little tricky to make.
The Outer cover is one that's likely to pose an issue. Once that's done with, the filling(s) are a breeze. I have come across quite many methods for making the cover- some simple, some complex, some seemingly simple but never come out right for me etc etc. This method is followed by my mom and now by me which I find convenient. My mother is excellent when it comes to making adjustments even when something goes wrong with the traditional sweets where even small error is so unforgiving. While I am no way even quarter of her league, her tips usually save me from
utter disasters
. I have given few of them below for this recipe which
might help
you until you get comfortable without it.
Basic Information
Prep Time
:
30 min to 1 hour
Cook Time
:
30 min to 1 hour
Yield
:
About 6-10 kozhukattai (modak) depending on the size
Ingredients
For the Cover
1 cup rice flour
1-1/4 cups water
pinch of salt
1-2 tsp vegetable oil or Ghee (I use ghee)
For the Jaggery Coconut filling (Vella poornam)
1 cup fresh coconut, grated (fresh is recommended, though you can use frozen too)
3/4 cup Jaggery, powdered
pinch of cardamom powder (or as per taste)
Method
1
Lets prepare the filling first. Add jaggery and coconut together in a skillet.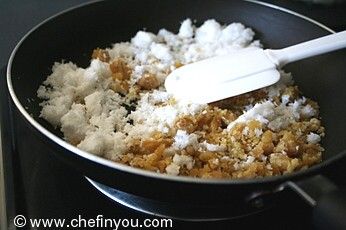 2
In low heat, saute until the jaggery melts and the mixture thickens. Add the cardamom to the mix and toss well.
3
Tip: If it does not thicken well, add a little rice flour along with little drops of ghee and cook further for few seconds until it thickens. While still warm, take a small piece of this filling (it will be sticky, you can grease your palms with ghee) and make a small ball.
4
Repeat for all the filling. (Its hard not to take a ball and put it in your mouth. Its addictive!!!)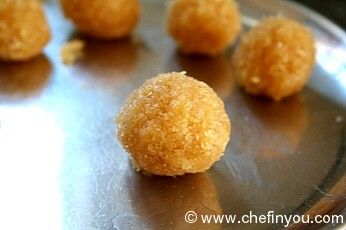 5
Alternatively lets prepare the cover. There are two ways to go about this.
Method 1:
Traditionally raw rice is soaked for few hours, the water is drained very well and then ground into flour. This flour is used to make this recipe. For those short on time and looking for easier/quicker version, next method is for you.
Method 2:
I most often end up using this method since I find myself short on time to go about grinding the rice flour at home. So I resort to buying ready made store bought ones. If you are using Rice flour from the stores, you have to take care about few points. Sift the rice flour well - even two to 3 times. This is to remove debris etc. Set aside.
6
The quality of rice flour will vary and hence the amount of water used (instead of 1-1/4 cups) will vary. It might need more or less. So try this trick to find out what works best. Bring the recommended amount of water to boil along with salt and Ghee.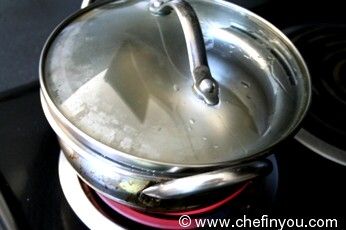 7
When its boiled, remove 1/4 cup of water and set aside. You can otherwise heat only 1 cup to boil in one skillet and another 1/4 cup or so in another skillet. Take this skillet off heat and set it in a counter.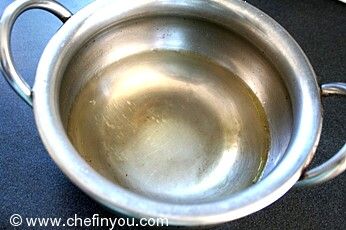 8
Add the rice flour to the 1 cup of boiled water.
9
Using a wooden spoon give it a stir. It will be hot. It should come together into a mass all clumped together.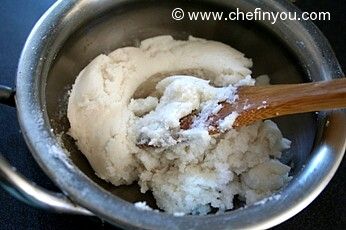 10
Tip 1: If you find that this is too dry and not sticky, then add the additional boiled water you set aside, drop by drop, until it comes together.
Tip 2: If you find this too sticky and not pliable, you can use additional few sprinkling of rice flour/maida (all purpose flour) until it does. Make sure too much flour is NOT added. The taste might get affected. That's why its preferable to go with less water and then added if needed than vice versa.

Let it sit for few minutes until its cool enough to handle. It should still be hot - only just enough to enable you to handle the dough. Dont let it get cold. Set aside two small bowls - one with oil/ghee, another with warm water. Grease your hands with Ghee and start kneading the dough. The idea is to make it pliable - into a smooth consistency like that of chapathi dough. The difference is that while chapathi dough has gluten and will stretch, rice flour lacks the gluten and will not be stretchy. The dough will be smooth but yet slightly sticky. Can you see my fingers coated with sticky dough? Yet it looks smooth.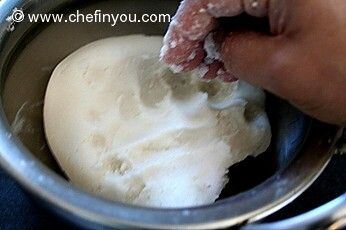 11
Grease your palms well and break off a small piece from the dough. You should be able to rotate the dough into an extremely smooth ball - see like below?
12
Alternate now between dipping your fingers  and greasing it with ghee and warm water for preparing the rest of the steps. Using your thumb and other fingers , make a small crater in the ball you made. Like an inverted cone. You should be using both your hands for this one ( I needed the other hand to take a shot of this step, hence you see my right hand is missing but I used it nevertheless to make that depression;)).
13
Slowly rotate  and go around making this crater until it looks little bigger like this one. You are need to make sufficiently big enough to be able to drop in the rounds of filling you made earlier.
14
Drop the sweet filling you made into the depression.
15
Very slowly brings the ends together over the top of the filling. Be gentle.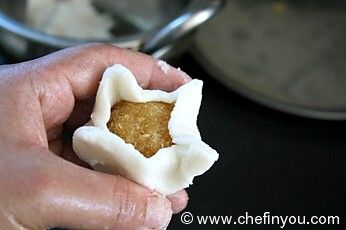 16
Bring it together so that you can pinch the top, sealing the filling.  Pinch to make a small horn.
17
You can always pinch off excess dough.
18
19
Repeat with rest of the dough. Now steam them for about 10-15 minutes. You know its done when the color slightly changes and the cover becomes little translucent.
Once done, remove and drizzle some ghee on top of it (this is optional, of course) and enjoy it warm/hot.
See the cross section of this yummy dumplings? Chewy sweet morsels from  heaven - no wonder its
Lord Ganesha's favorite!
Related Recipes You May Like
Did you make this recipe?
Please click below to share your experiences while you were making this recipe. Thanks for your input!
Have a favorite recipe?
Know a family recipe your mom used to make? Or maybe a go to recipe that works everytime? Share it with your fellow foodies!