Vella Seedai (Sweet Cheedai)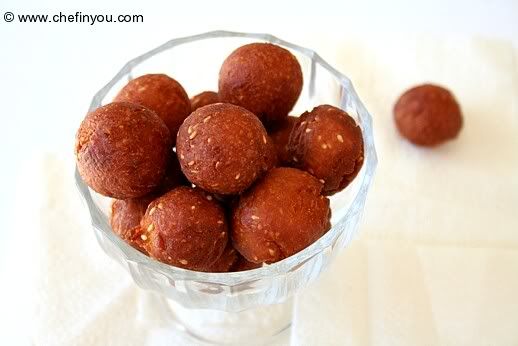 After eating my mother's ears off to get this recipe with lots of tips and tricks (can't help but love her!), I sat down to bribe Lord Krishna for this
Janmashtami ( Krishna's Bday )
with something sweet after all those delicious
savory
.
snacks
. 
Uppu cheedai
has a sweet counterpart which is this Vella Cheedai. The word "vella" in tamil denotes Vellam which means Jaggery. This recipe which is almost same as Salt cheedai uses jaggery syrup to add to its sweetness which going by Indian sweets is not that sweet.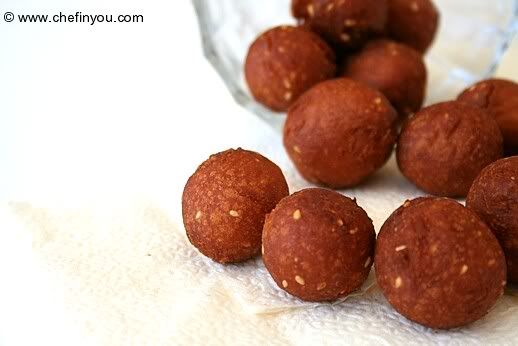 I still remember the days of Krishna Jayanthi back home when my mom used to end up eating Vella Seedai all alone since rest of us (my dad, my sis and me) would eat (and finish) the rest of the savories!!!!  Its a good thing that my mom has sweet tooth (no..I should say teeth or mouth!) since the rest of us dint seem to share her sugary palate. I hear things have changed a bit back home - my father has a sudden fascination for sweets nowadays ( or to be more precise ever since he was advised against eating them thanks to diabetes) and my sister also seems to have taken fancy to sweets (ever since she became 'figure' conscious!) Go Figure ;)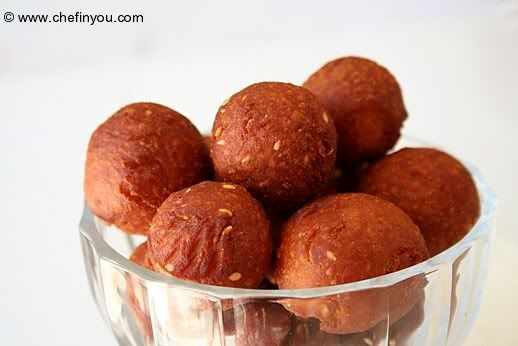 As for me, I haven't changed much on that end and I have a partner who is just like me! So for those who wonder what I end up doing with all cakes and sweet nothings that I make at Chef In You - well all I will tell you is that "I make a great neighbor" ;) Now lets go and make this Vella Cheedai and give it to Lord Krishna shall we?
Basic Information
Yield
:
Makes around 20-25 depending on the size
Ingredients
1 cup sifted Rice Flour
2 tsp Urad Dal flour / Ullathamaavu (See how to make here)
1 tbsp freshly grated coconut ( or if you can, cut small thinly chopped coconut pieces)
1 cup Jaggery
pinch of cardamom powder
1/4 tsp white Sesame seeds ( I personally like sesame seeds, hence added a little more)
Method
1
If you have those thick slabs/chunks of jaggery, then using some heavy stone, skillet or mortar base - break them into small pieces. Or if you have the patience, grate the jaggery.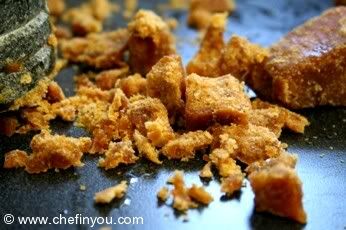 2
Pour down 1 cup of hot water to the jaggery and let it sit for at least 40 minutes.
3
This is to help the jaggery get soft making it easier to break it down easily. If you are using grated jaggery, then few minutes with water should do to make it come together like a syrup.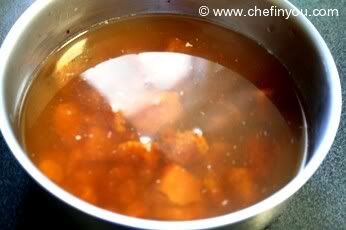 4
Meanwhile, in a skillet dry roast the rice flour until aromatic - about a minute or so. Do it in low heat - don't burn the flour. Set aside to cool it down.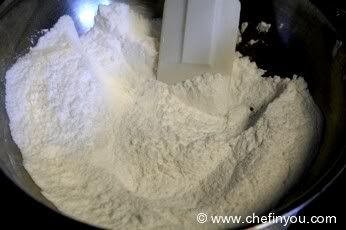 5
In the same skillet, dry toast the sesame seeds - less than 30 seconds or so. Set aside.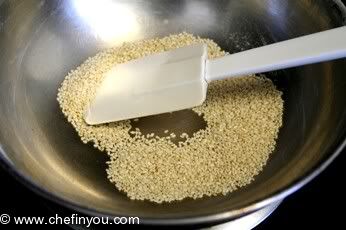 6
Add 1/2 tsp Ghee, and the coconut pieces and give it a stir until the raw smell of the coconut is replaced by toasted coconut - about 30-50 sec. Set aside.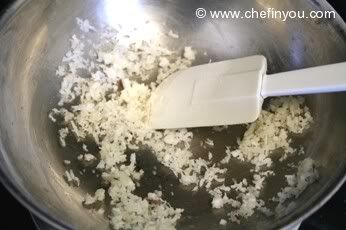 7
Now using a strainer, strain the jaggery water mixture. It will remove all big pieces and debris if any.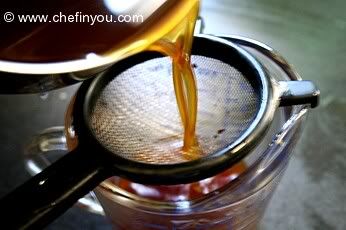 8
Warm this jaggery syrup in the same skillet. Add cardamom powder. Give it one quick stir and take off the stove. This is only to warm it a bit.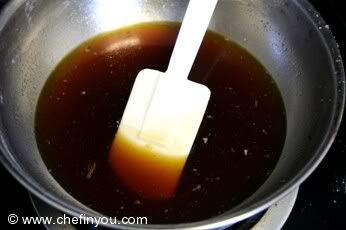 9
Add all the dry ingredients together along with coconut.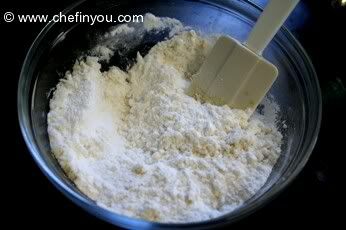 10
Now slowly spoon by spoon add the jaggery syrup to form one tight dough. Too much liquid will spoil the recipe.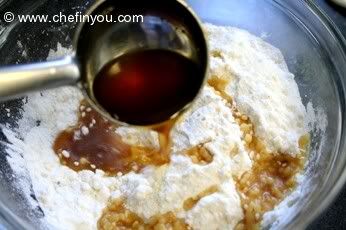 11
Sometimes depending on the quality of the flour, you may require the full jaggery syrup or just half of it. So take care of the liquid addition.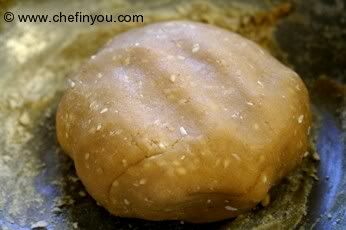 12
Set aside for at least 30 min. This enables the flour to absorb all the flavors. Place a damp cloth/paper towel. Take a small piece of the dough and using a greased palm, roll it out into small balls. These are usually a little bigger than
Uppu seedai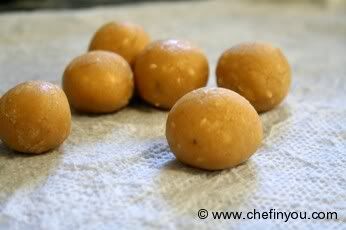 13
Drop few at a time in oil and deep fry.
14
Lots of bubbles will appear in the beginning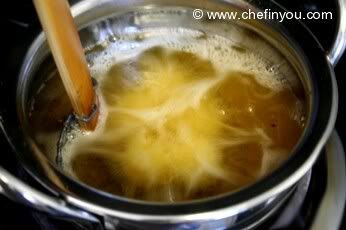 15
Slowly move it around to prevent it from sticking to one another.
16
Fry to deep brown. A few cracks here and there on the surface of these Seedai's are perfectly normal. Just make sure that they don't come apart - then something is surely wrong!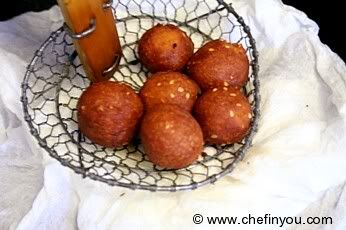 17
Make sure the oil is med-high hot - too hot, the outer will blacken faster but the inside wont get done. Drain in paper towels to remove excess oil.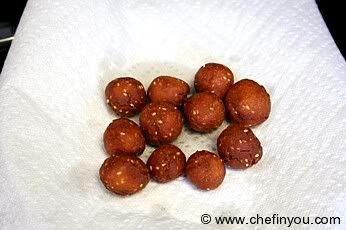 Enjoy, of course after praying and making an offering to Lord Krishna - remember it was for him in the first place(!!)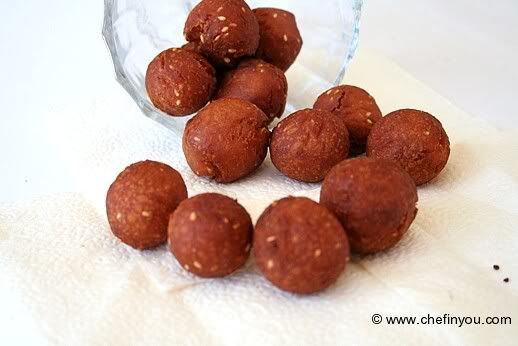 Related Recipes You May Like
Did you make this recipe?
Please click below to share your experiences while you were making this recipe. Thanks for your input!
Have a favorite recipe?
Know a family recipe your mom used to make? Or maybe a go to recipe that works everytime? Share it with your fellow foodies!