I.Hate.Cheesecake. There - I said it and now you can give me all the dirty looks you want.
(If you have come over here already, you would know I dont like chocolate either!
). You hate me already dont you? Or you think I am miserable old goat who is too deep in life's misery to appreciate the good things about it. Oh well that's for people who actually know me to clarify it for you :) So coming back to my first line. I am sure now that it makes more sense to you. If you asked - "
Then why in the hell did you make cheesecake icecream?
", I am glad to know, that you were actually reading this passage. :). I tried it cos of the novelty. Just curious. (
I heard you say "Sheeeesh!". I know!
). But I have to say this " I LIKED IT". Who knew when the two most unlikely things in my life got together, they did a good job ganging up to create something I like. Me and my husband actually had a whole cup each after dinner. (
Did I say he is also like me with respect to ice creams and cheesecake...and...err...chocolate?
) The tart homemade Raspberry sauce (just pureed fresh raspberries with little sugar, strained and served) on top of these made it delicious.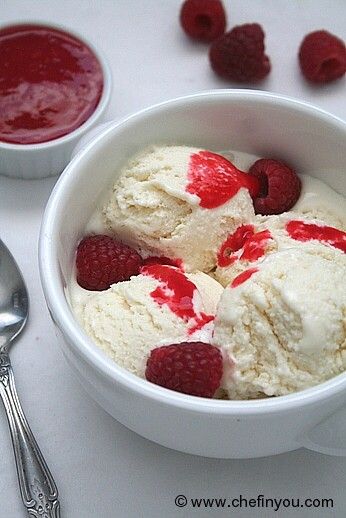 My friend G who LOVES cheesecake went totally bonkers over these. She in fact finished more than half the bowl herself and till today insists on blaming me for her 10 pounds gain (s
he had 8 of those way before I gave her these. But "Shhhhhhh", dont tell her I said that ;)
) I wanted to make this verbatim but I had only 2% milk on hand and did not want to go the shop. The rest are as the recipe asked for. This recipe makes about 5 cups (ten 1/2-cup servings)