Eggless Cheesecake Icecream
Sometimes I astound myself! Really. May be shock is the word. Dunno what it exactly is but I do things that I would normally think very unlikely me. Like make an ice cream or rather enjoy something that has a word "cheesecake" in it! Let me explain - I am not a ice cream fan. I like it but I wont say I get all excited over an ice cream. It took me many months of practically living next door to
coldstone
to actually go and finally get some ice cream (for the novelty of it) and that too threw half of it away cos it was "too much".  What? Are you staring at me already? Wait for the next one.
I.Hate.Cheesecake. There - I said it and now you can give me all the dirty looks you want.
(If you have come over here already, you would know I dont like chocolate either!
). You hate me already dont you? Or you think I am miserable old goat who is too deep in life's misery to appreciate the good things about it. Oh well that's for people who actually know me to clarify it for you :) So coming back to my first line. I am sure now that it makes more sense to you. If you asked - "
Then why in the hell did you make cheesecake icecream?
", I am glad to know, that you were actually reading this passage. :). I tried it cos of the novelty. Just curious. (
I heard you say "Sheeeesh!". I know!
). But I have to say this " I LIKED IT". Who knew when the two most unlikely things in my life got together, they did a good job ganging up to create something I like. Me and my husband actually had a whole cup each after dinner. (
Did I say he is also like me with respect to ice creams and cheesecake...and...err...chocolate?
) The tart homemade Raspberry sauce (just pureed fresh raspberries with little sugar, strained and served) on top of these made it delicious.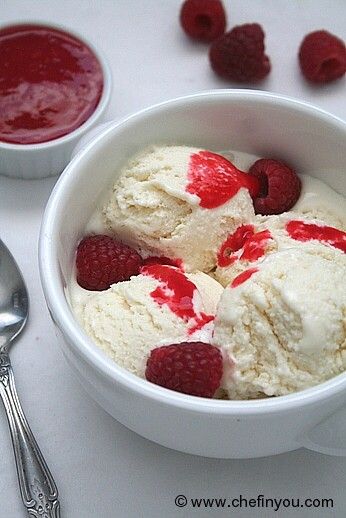 My friend G who LOVES cheesecake went totally bonkers over these. She in fact finished more than half the bowl herself and till today insists on blaming me for her 10 pounds gain (s
he had 8 of those way before I gave her these. But "Shhhhhhh", dont tell her I said that ;)
) I wanted to make this verbatim but I had only 2% milk on hand and did not want to go the shop. The rest are as the recipe asked for. This recipe makes about 5 cups (ten 1/2-cup servings)
Basic Information
Yield
:
Makes about 5 cups (ten 1/2 cup servings)
Ingredients
12 ounces cream cheese, room temperature, cut into 2-inch pieces
1 cup granulated sugar
1/2 tsp salt
1/4 cup mascarpone, room temperature
1 cup 2% milk, room temperature (or use whole milk)
2 tsp pure vanilla extract
1/4 cup sour cream, room temperature
Method
1
With a hand mixer (or a stand mixer) , mix the cream cheese until very smooth.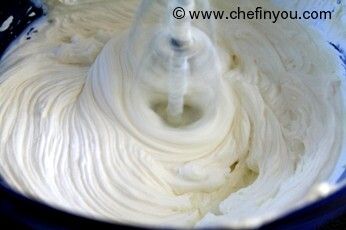 2
With the mixer running, gradually add the sugar and the salt.
3
Mix until homogenous.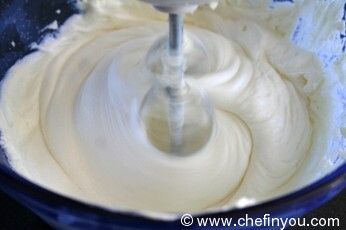 4
Next comes the mascarpone. Mix until its well combined into the cream cheese mixture.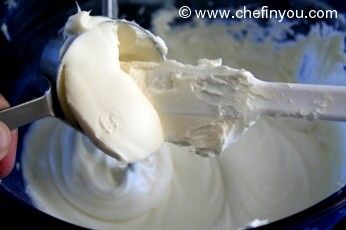 5
Slowly add in the milk and the vanilla.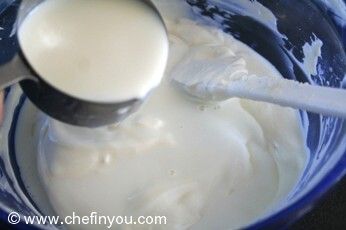 6
Mix until its smooth.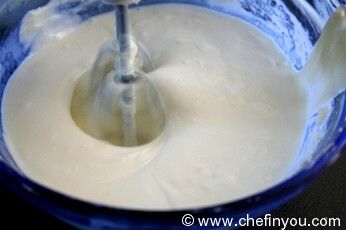 7
Next fold in the sour cream. If you are using the stand mixer then use the "Fold" function to blend the sour cream in along with the rest of the ingredients.
8
Now cover this mixture and refrigerate it for 1-2 hours or at overnight. I kept it for 2 hours. I used a plastic wrap to cover it up,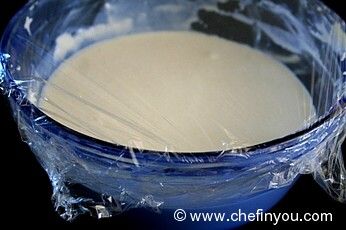 9
Turn on your icecream maker and then pour the mixture in to the bowl.
Note:
If you don't own an icecream maker, pls refer my
Mango Coconut Ice cream Recipe
on how to make this without Ice cream maker.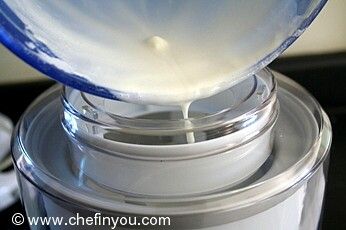 10
Now prepare the ice cream as per your manufacturer's instruction.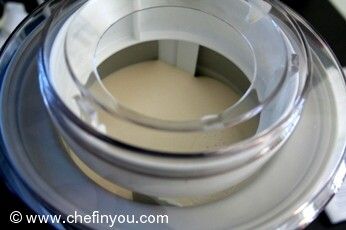 11
As for mine, I let it churn for 20 minutes until it was all thick. See the thickness? But it was still creamy and soft (as already specified by the booklet).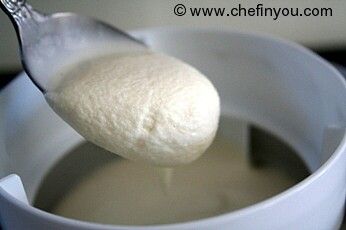 12
As suggested by the book, for a more firm consistency, I transferred this mixture into an air tight container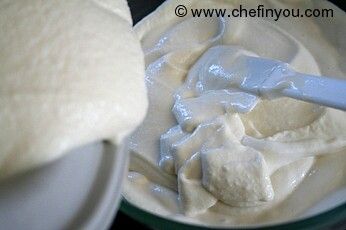 13
and then placed it in the freezer overnight with the lid tightly sealed in. Actually even 2 hours should do it, but it was already late in the evening, hence I kept it overnight.
14
The next morning, yummy creamy cheesecake Icecream all ready. Remove it from the freezer about 15 minutes before serving (although mine was perfect for scooping right out of the freezer).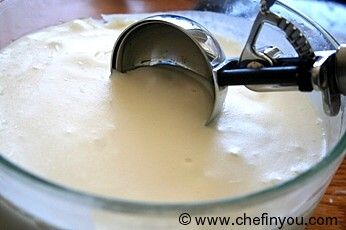 What was left was to pour in some homemade raspberry sauce on top of it along with some fresh berries for garnish. I kept the sauce on the tart side so that we could actually enjoy the cheesecake!
Related Recipes You May Like
Did you make this recipe?
Please click below to share your experiences while you were making this recipe. Thanks for your input!
Have a favorite recipe?
Know a family recipe your mom used to make? Or maybe a go to recipe that works everytime? Share it with your fellow foodies!