Omapodi ( South Indian Sev)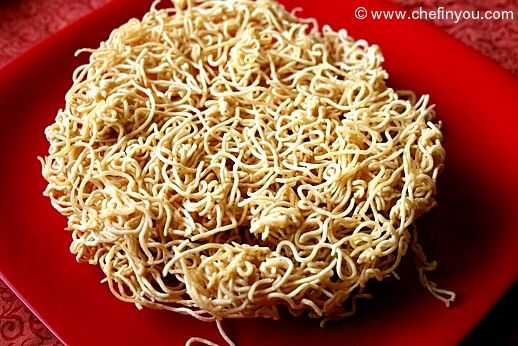 This is another one among the recipes that my mother made during her visit to my place. I have always been a "savory" kinda girl with not too much interest in sweets. So was my father (note the "was". My father has gone over the other side thanks to my mom now!) My mom has a sweet tooth ( and 32 of them!) but since there weren't any takers, she made lots of savory stuff and used to fill a big carton with the idea of it lasting a month. Needless to say her calculations always fell short by at least 15 days :). When she was here, she was very surprised that I had not blogged these goodies till now owing to the fact that I always loved them to death.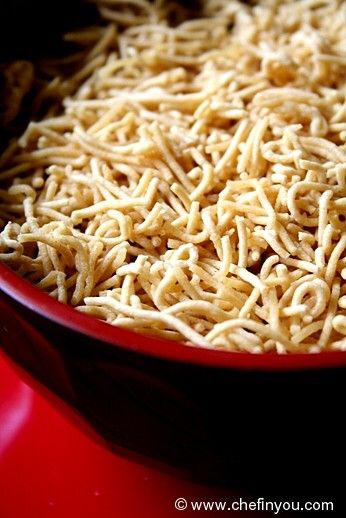 But only after her arrival, I realized that I had for some reason kept myself away from such snacks. May be I was practicing "will power" (my husband calls it "laziness") or may be the lack of time/interest - I wouldn't know. Agreed, she made it for her son-in-law and not for me, but for such things I do not see my husband and me as separate individuals and in all generosity I might have hogged his share too ;) This is among my favorites right from my childhood and remains so until today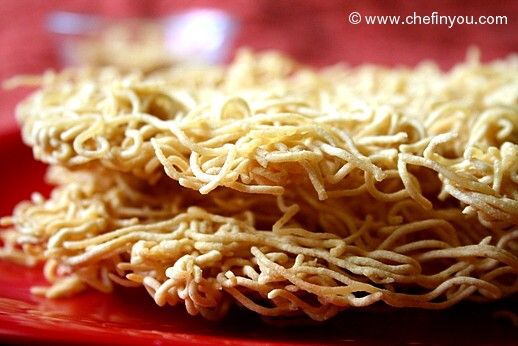 These spiced fried "noodles" are made from Gram flour (goes by the name "besan" in Indian stores) with a little rice flour to make it crispy. Its enjoyed all over India where its referred to as "Sev" in the North and "Oma podi" in the South. The word "Oma" is in fact "Omam" referring to the essential spice (which is not used in the North Indian version) - Carom Seeds. It imparts a dominating flavor to these snacks which makes them addictive. You need a special equipment, a kind of noodle maker that you would find in almost all the South Indian kitchens. It has various attachments ( similar to Deluxe Cookie Press) among which is one that has small holes in it. That is used to make these noodles. So if you don't have the traditional one, you can use the Cookie press to make these (probably not as thin, but you might come close depending on the attachment). This is a classic recipe and is made for festivals in Southern India, especially Diwali, although many households enjoy it all year round for snacks.
Basic Information
Yield
:
About 2-3 generous cups
Ingredients
1 cup Gram Flour (besan)
1/4 cup Rice Flour
1 tbsp hot oil
1/2 tsp Carom Seeds (ajwain,omam)
Salt to taste
Method
1
Heat oil for deep frying in a wide heavy bottomed vessel.Take 1/4 cup water, salt and carom seeds in a blender.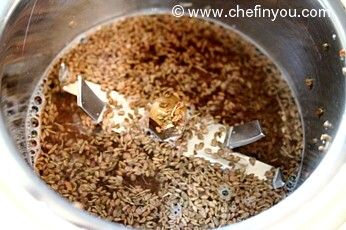 2
Grind until it gets a smooth consistency.
3
Take the rest of ingredients in a bowl. You can add the hot oil from the deep fryer.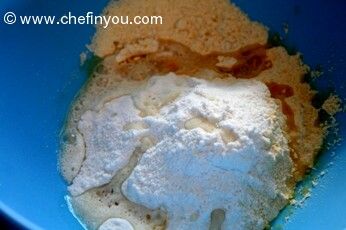 4
Strain the carom seed mixture and pour it along with the other ingredients.
5
Knead until smooth and comes together into a pliable dough. Shouldn't be too tight nor too loose. If tight, then use tablespoon of water at a time and add it until it reaches a pliable consistency. Better err on the side of less water than more.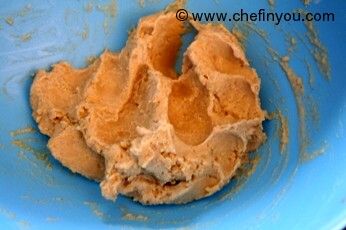 6
Use the Om podi maker - this one has tiny holes in it like in the pictures.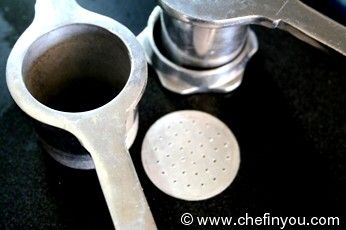 7
Add some of the mixture to the maker.
8
Reduce the heat in the oil from hot to med-high. Place the top over the mixture and press it over hot oil in a circular motion.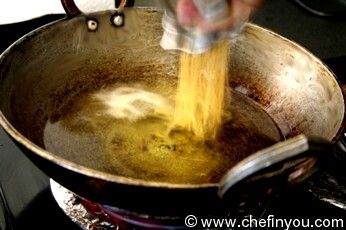 9
You will find that there is lot of bubble action in the oil while the noodles/sev gets cooked. Let it fry for few minutes. The minute the bubbles subside (that is it stops sizzling) and noodle becomes yellowish red, its done. Turn it over the other side for few seconds.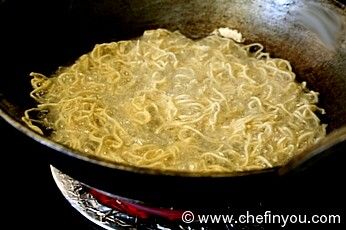 10
Remove and place it on a paper towel.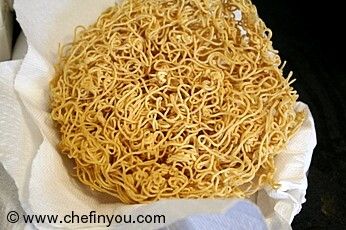 You can keep it as it is or break into smaller pieces like small vermicelli. Store in air tight containers and enjoy.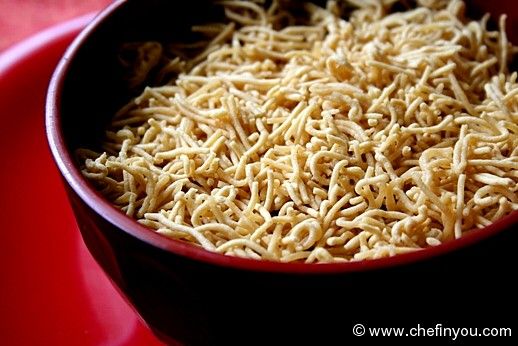 Related Recipes You May Like
Did you make this recipe?
Please click below to share your experiences while you were making this recipe. Thanks for your input!
Have a favorite recipe?
Know a family recipe your mom used to make? Or maybe a go to recipe that works everytime? Share it with your fellow foodies!