Strawberries & Creme Frappuccino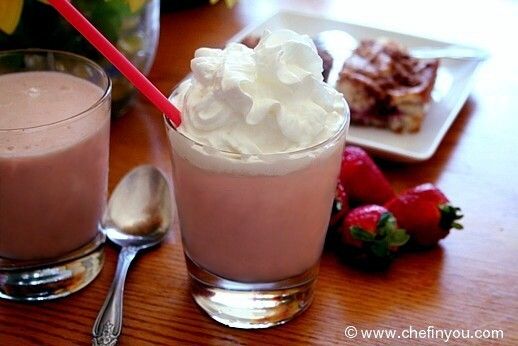 You know what sucks big time? When you do not have a wonderful photo to showcase your most favorite drink. Of course I have LOTS of excuses for this sad picture but I am not going to revel in it. Instead I am going to elaborate on my journey to this splurge of mine. Any South Indian worth his/her salt will tell you what a pathetic lame of an excuse is Starbucks coffee.
(err....Those who are looking daggers at me, you can say the same about our coffee - I am generous that way - see?)
So after 2 years of making weird faces that was a caricature in itself, my husband (
probably cos he has had enough!
) suggested that I try the
Strawberry Frappucino
. Since I was busy sulking, I did not care to think about what really went into this new drink that I was sure to dislike. Me - such a positive ray of sunshine..!
Image Courtesy
. But one sip later I was in love. Crazy in love. For the first time EVER in my life, something pink really bought out the girl in me. It had me floored so much so that the next few times had me ordering the same again and again...and again. Like an eager cook (yes, I like to claim that...) I searched the whole Internet for a recipe to ape at home. Nada! Nothing! Nyet! Zilt! Yes, I got scores of information about the calories in it which I think is the only reason I have been content about my failure to find an original recipe. Agreed, I do not have it with the whipped cream but still.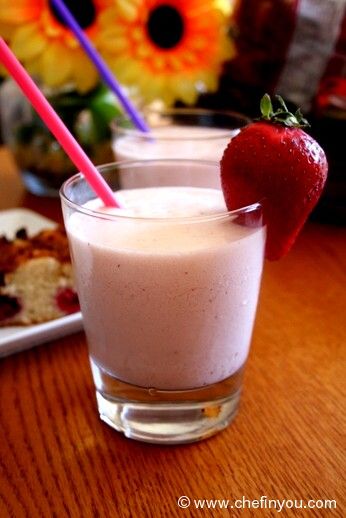 But when
Deepti
went ahead and chose this month's theme for
Free Spirit Bloggers (FSB)
that turned to be - any guesses? - yes our favorite Starbucks drink, I was back to square one. Yet again! No recipes anywhere and from the extensive research I did, things came to light that Starbucks had a secret base that they used to make their Strawberry Frappucino. I did not want to buy random powders just to make it once or so hence started working around it. Turns out our simple Strawberry Milkshake is the closest match. At least that's how it felt to my palate. I played around with various combinations and this according to me is the winner. I made my own strawberry syrup and the amount for each element will depend on your taste buds. With or without the Whipped Cream this one is a delicious drink for everyone to enjoy. I paired it with our favorite (homemade)
Starbucks styled
-
Very Berry Coffee Cake
Ingredients
For the Strawberry Syrup
16 oz Strawberries, hulled
Sugar to taste (See Tips)
For the Frappucino (Approximate Measurements - Use as a guideline to cater to your preferences)
1 cup Whole Milk (See Tips)
3/4 cups softened Vanilla Icecream
1/4 cup Strawberry Syrup (See Tips)
5-6 Whole Strawberries, chopped finely
2-3 ice cubes
Whipped Cream (optional)
Tips
1.
Sugar
- The Syrup must be very sweet. You can use anywhere between 1/4-1/2 cup. The amount of sugar will depend on the strawberries. For a version closer to the real deal, the end syrup must be very sweet. For a healthier version use natural sweeteners. Keep in mind that it might alter the taste of the final drink (example: Using Sucanat will give it a molasses flavor)
2.
Whole Milk
- You can use 2% or fat free milk for a reduced fat version.
3.
Strawberry Syrup
- Instead of making your own at home, you can buy the shop brought ones.
Method
1
Make the Strawberry Syrup in the same fashion as my
Stewed Strawberries post
. Boil it until the fruit has turned into mush. Then strain it into another bowl pressing the fruit well to give more syrup. You can use the fruit pulp in another recipe (like a pancake, in waffles, in cakes/ muffins etc)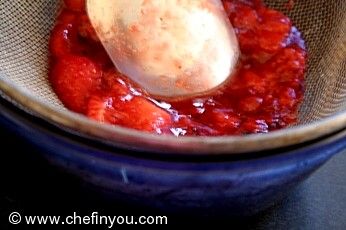 2
Bring the syrup to room temperature. Or better still chill it for an hour.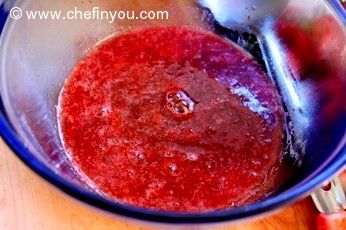 3
Now add rest of the ingredients (other than the whipped cream and chopped strawberries) in a blender.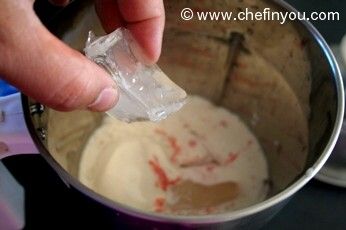 4
Give it a whirl until blended. The proportions will change depending on your taste buds. For me this proportion tasted best while my husband wanted a little more of the syrup.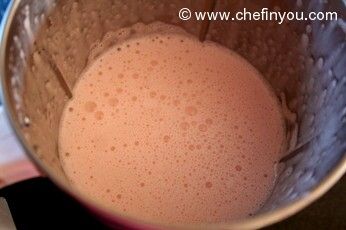 5
Drop some of the chopped strawberries in a serving glass and pour the blended strawberries and creme to it.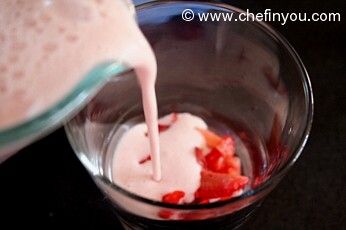 Add some whipped cream on top if desired and serve chilled.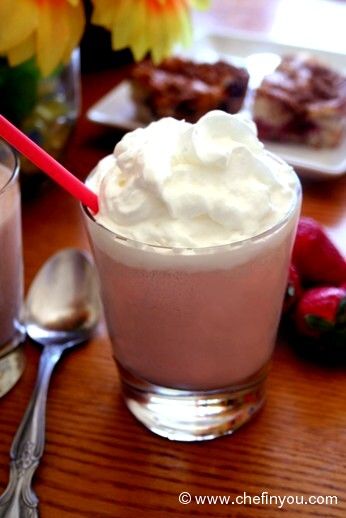 Related Recipes You May Like
Did you make this recipe?
Please click below to share your experiences while you were making this recipe. Thanks for your input!
Have a favorite recipe?
Know a family recipe your mom used to make? Or maybe a go to recipe that works everytime? Share it with your fellow foodies!