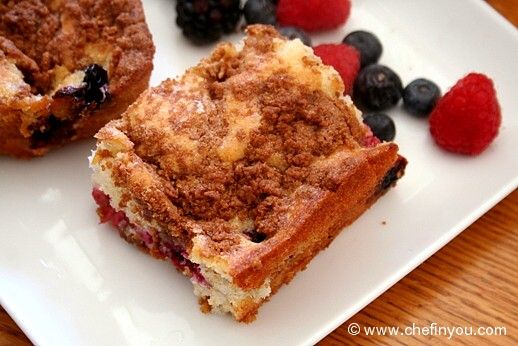 We LOVE berries. I have been known to go overboard with my purchase when it comes to berries. Leave me at Farmer's market and you know for sure what is the first thing I will buy. The issue always has been about us consuming it faster before it goes bad on us. We eat them mostly as they are but nothing beats homemade jams, flavored yogurt, pancakes and waffles with these goodies. Occasionally I bake with them and they have till date turned out to be delicious every single time.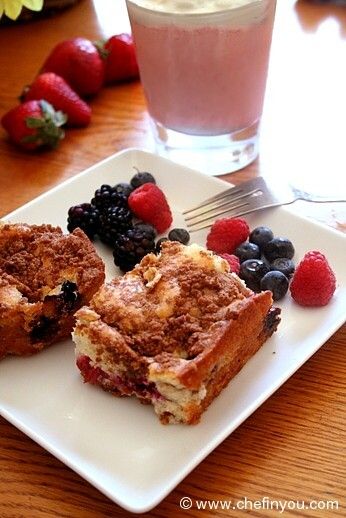 But one thing that I never tried previously (for reasons unknown!) is making a mixed berry cake. I love
Starbucks Very Berry Cake
and most often buy them along with my drink. So for last month's
FSB theme
when Deepti announced Starbucks Specials, I could not help wondering about these goodies. Quick internet search got me many options out of which I narrowed it down to 5 recipes. My luck, the first 4 attempts were only so-so. They were not bad, but they just did not impress me as much as the ones from Starbucks. The last recipe though turned out to be a keeper for us.
Changes I Made:
Moist, spongy, fluffy and mildly sweet and tart from the berries, this cake is everything we think a cake should be. After having this, I did not even take a second to wonder how close it was to the Starbucks version cos - what the heck - this one was v delicious! I made very few changes to the recipe like using egg whites instead of 2 whole eggs, replacing full fat sour cream with low fat, milk with 2% milk and the brown sugar in the topping with natural Sucanat sugar. To my knowledge I have figured that the shop version uses blueberries, raspberries and blackberries hence used the same. I usually would have opted for Yogurt instead of Sour cream but this time just used some sour cream I had in the fridge. Since there was already sugar in the cake, I thought I will replace it in the topping using a natural sweetener. I would have liked to replace some in the cake itself, but in the spirit of hitting something close to the Starbucks version, did not go all the way like I normally would have. We enjoyed it the day I made with
Starbucks Style Strawberry and Creme Frappucino
and the next day warmed lightly for breakfast.  It did not last longer than that.:)
Basic Information
Cook Time
:
30 min to 1 hour
Yield
:
Makes one 9 inch square cake
Ingredients
For the Cake
1 1/2 cups sifted All-Purpose Flour
1 tsp Baking Powder
1/4 tsp Salt
1/2 cup softened unsalted Butter
1 cup granulated Sugar
4 Egg Whites (see Tips)
1 tsp Vanilla Extract
1/2 tsp Lemon zest
3 tbsp low fat Sour Cream (see Tips)
1/3 cup 2% milk
1/2 cup

each

of fresh Blueberry, Blackberry and Raspberry (see Tips)
For the Crumb topping
3 tbsp softened butter
1/3 cup Sucanat (see Tips)
1/4 cup All-Purpose Flour
1 tsp ground Cinnamon
Tips
1.
Eggs :
You can replace the eggs using my
Egg Substitution Chart
. You would need to substitute for 2 Whole Eggs.
2.
Sour Cream :
Instead of sour cream you can use fat free Greek Yogurt.
3.
Berries:
You can use any type of berry you like. You can just use one berry also (use 1-1/2 cups of it). Frozen or thawed berries may be substituted.
4.
Sucanat:
If you cannot find it, use regular Brown sugar instead or use white sugar.
If you want to
Bake using Microwave
pls refer to these articles:
1)
How to Bake in Microwave
2)
How to Bake in Microwave Convection Oven
For making
Substitutions
please refer my handy chart:
1)
Baking substitutions
2)
Egg Substitutions
Method
1
Preheat oven to 350 degrees. Grease bottom and sides of a 9-inch square pan with butter/PAM Spray/Shortening. Sift flour, baking powder and salt. Set aside.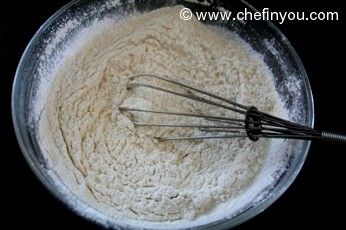 2
Cream butter and sugar with electric mixture until light.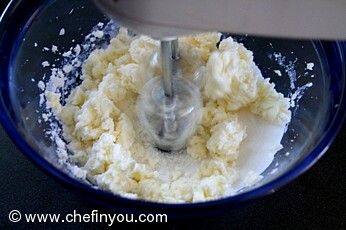 3
Add egg whites and beat until fluffy.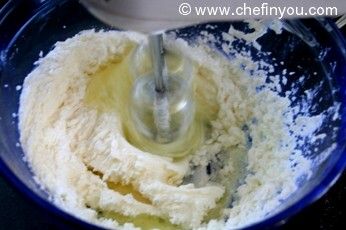 4
Add vanilla, lemon zest and sour cream and mix well.
5
Alternately, add flour mixture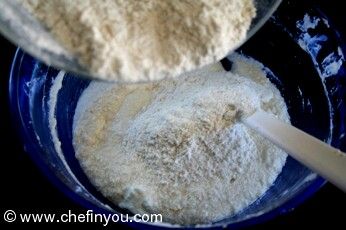 6
and the milk to the batter,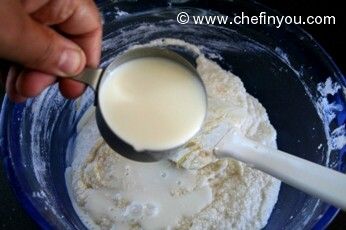 7
beginning and ending with the flour.
8
Folding the batter until everything comes together makes for even softer and fluffier cakes.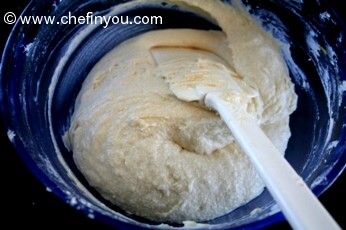 9
Spread half of the batter evenly into prepared pan and smooth the top.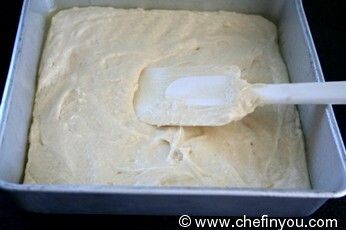 10
Spread berries on top of batter. Cover berries with the remaining batter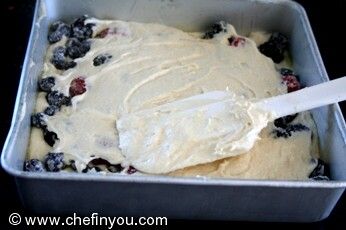 11
and spread the top evenly with a spatula . Its fine if some of the berries shows through.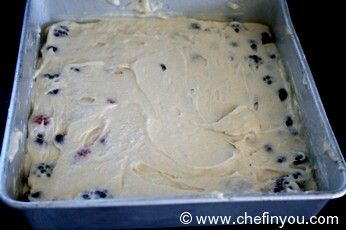 12
Meanwhile for crumb topping, combine all ingredients and use fingers to mix and form crumbs.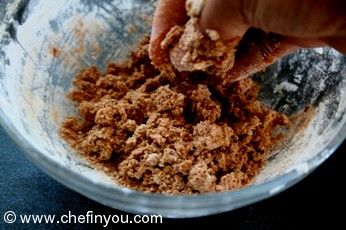 13
Spread crumbs on top of cake and bake for 35 to 40 minutes or until toothpick comes out clean and cake is golden brown.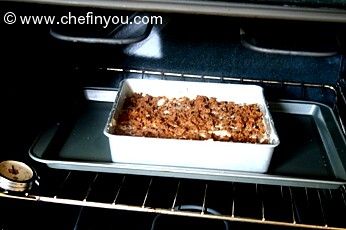 14
Cool completely in pan on wire rack.
The original recipe suggests that this cake tastes better the next day. They were NOT joking. We actually liked the cake warm from the oven. But the refrigerated left overs that we had the next day had us wanting more. It was immensely delicious. Next time I plan to make this late in the evening and enjoy it only the next day.
Serve at room temperature. See how fluffy and spongy it looks? Want a bite?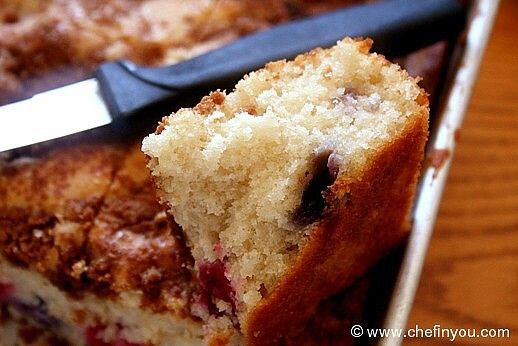 Related Recipes You May Like
Did you make this recipe?
Please click below to share your experiences while you were making this recipe. Thanks for your input!
Have a favorite recipe?
Know a family recipe your mom used to make? Or maybe a go to recipe that works everytime? Share it with your fellow foodies!