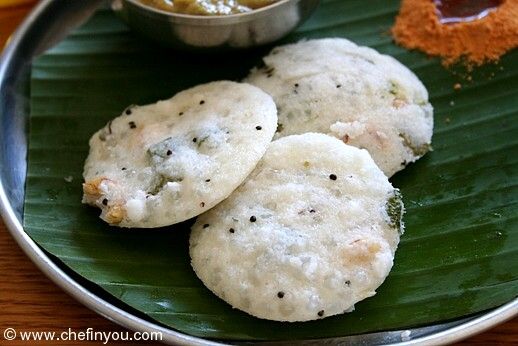 Those days are still fresh in my mind. The days of "transition", of new beginnings, of venturing into realms unsought before. Like cooking for example- my mom is still shocked at this culinary enthusiasm of mine. But the funny part is - so am I :). We all dream of our future, don't we? Well, cooking for sure was not on mine. There were umpteenth things - but never ever in the wildest of dreams, cooking formed part of it. Let's just say,  I did not hate cooking, instead, only not too interested in it :).

But it happened when the marriage happened. New place and new situation found me "jobless" - both figuratively and literally. Life was so much easier in the new place and I hardly had anything to do to keep me occupied 24X7. Having been extremely busy with my job before marriage, this sudden state of idleness simply made me even more restless. I started doing and exploring stuff that I never did before - which included cooking. Once I started reading up more and experimenting, the interest seeped in abundantly.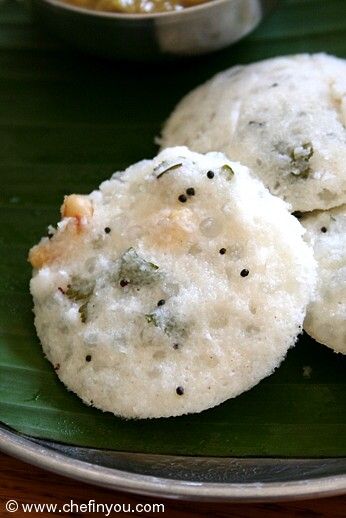 Idli
, is one of the most loved South Indian breakfast items. Due to the cold weather, during those days, my idli(s) were almost always a disaster and hence, I started trying out other varieties. This was one of them and that time, amidst the famine of good idlis, it was such a life savor. Instead of regular rice (both raw and par boiled rice) and Black Gram Lentil (Urad), this one uses
Sago pearls
(also knows as
Sabudana
in
Hindi
,
Jevvarisi
in
Tamil
,
Sabakki
in
Kannada
) along with Idli rava (Cream of rice). What I love about this is the addition of yogurt. While normally sour yogurt is used, I tend to use fat free Greek yogurt  for its high protein-low fat content. We especially love it when its paired with spicy chutney or sambar since the Sabudana idli by itself, like the regular idli, is bordering bland if no vegetables are added. It is little dense than regular idlis but not too dense that you find it hard to eat. If you think your idlis fall in that category, then please refer the
Tips section (point 4)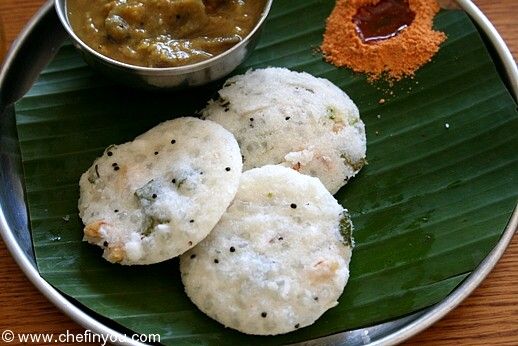 Those were the days when the thought of noting down the source of the recipes did not naturally arise in my mind, as writing it down on a scrap of paper did. So now, I am left with my original source (the scrap of paper) but no clue to how and where this original comes from. The thing is, I don't even recall if this is a recipe that I tinkered with as a result of my experiments. But, I make these judiciously at least once a month with minor variations for our breakfasts.
References
from my kitchen notes
Basic Information
Prep Time
:
8 hours to 1 day
Yield
:
Half the batter makes 16 idlis (whole batter makes 32-35 idlis), depending on the size of your idli mould
Ingredients
For the Batter
2 cups Idli Rava (Cream of Rice)
1 cup Sabudana (Sago pearls/Jevvarisi/Sabakki)
2 cups fat free Greek Yogurt + 2 cups water (see Tips)
1/2 cup grated coconut (frozen works too)
little salt to taste (see Tips)
Tempering/Seasoning for half the batter
1/2 tsp Mustard seeds
handful of roasted cashews (see Tips)
1-2 green chillies, thinly sliced, as per taste (optional)
few curry leaves, torn
few cilantro sprigs, coarsely chopped
1/4 tsp Baking Soda (see Tips)
1 tsp Ghee (or oil)
Tips
1.
Yogurt
Use any sour plain yogurt you have on hand. You would need 4 cups of yogurt. Since I use Greek yogurt and its very thick, I tend to add 2 cups of yogurt mixed with 2 cups water to make 4 cups.
2.
Cashews
: I personally use 16 - one for each idli that half the batter makes. But there is no hard fast rule for this. Use as much or as little you like - whole or broken.
3.
Salt:
Since Sago has a salty taste, I personally find that adding a little less salt than what you would normally add for
regular idlis
works best for this recipe. But its my personal opinion and taste. If you think usual amount of salt works better for you, please feel free to do so.
4.
Baking Soda:
More often than not, I find the given amount perfect. But there are occasions when may be cos of weather or quality of ingredients, a little more works better. Start with 1/4 tsp and if you feel that the idlis are very dense, add a pinch more next time.
Method
1
In a large bowl, mix idli rava and sabudana together.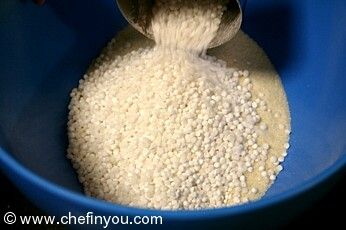 2
Add yogurt to it. See the thickness of Greek Yogurt?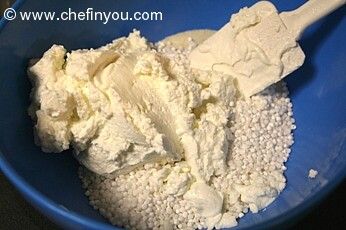 3
That's why the additional 2 cups of water. Refer my Tips section for more details.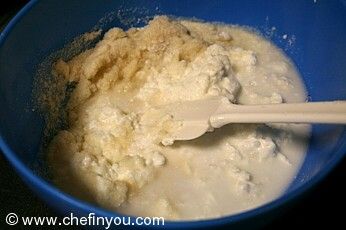 4
Mix well along with salt until blended.
5
Cover and set aside for around 10 hours. I do this the previous night (hence the bad yellow light!)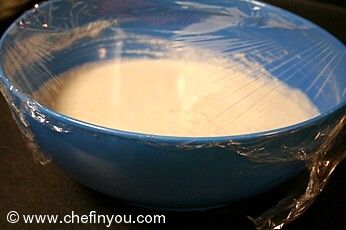 6
This batter does not double like normal idlis.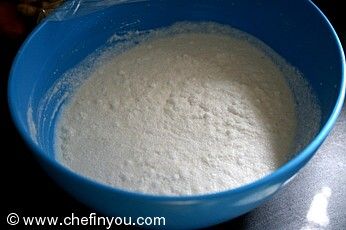 7
Give it a good mix.
Important Note: At times I find that the batter is at the perfect consistency in the morning while at few other times I am in need of additional cup or so of water to bring it to regular idli batter consistency. In both cases, the idlis turn out fine. So feel free to add little bit of water if required.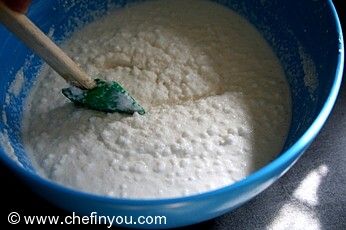 8
Add the coconut and give it a good mix.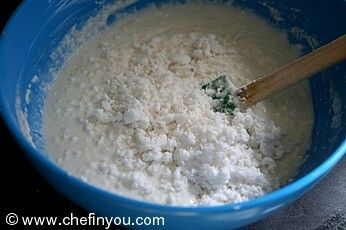 9
I usually at this point take half the batter and store the remaining in the fridge.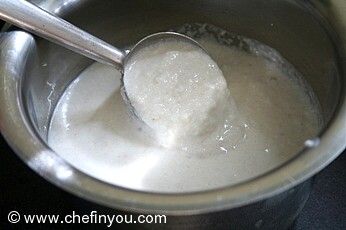 10
In a pan, heat some ghee - 1 tsp. or so. Add mustard seeds and when it starts popping, add it to the batter along with roasted cashews, baking soda and cilantro (or any vegetable you care to add). If you want to use the whole batter, simply double the ingredients in the "Tempering" section.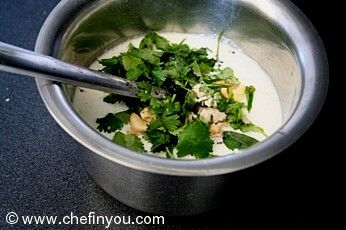 11
Mix it well and when blended, drop ladleful of the batter to your Idli moulds.
12
Steam them for around 20 minutes,
13
or until the knife/stick/spoon inserted in the middle comes out clean.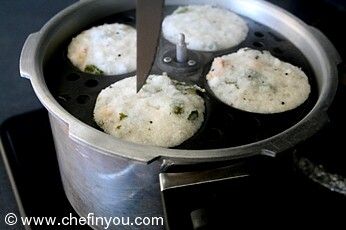 14
Cool it for few minutes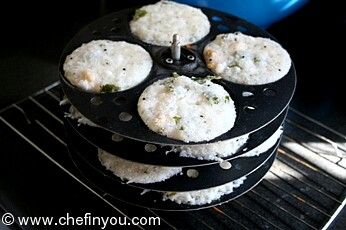 15
and then remove from the mould. Can you see the glistening sago pearls in there?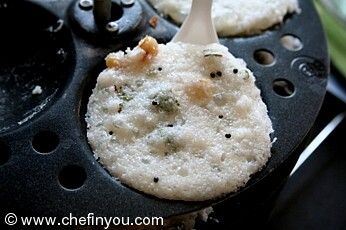 Serve immediately along with any
chutney
of your liking. I served it with Eggplant sambar and
Idli Chutney powder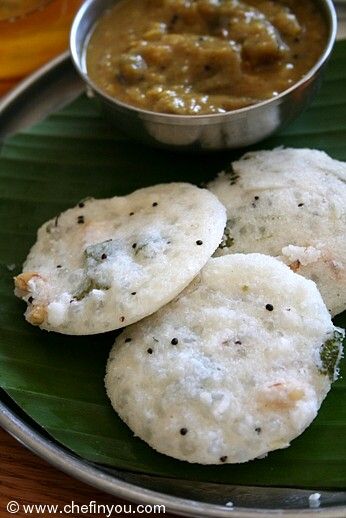 Related Recipes You May Like
Did you make this recipe?
Please click below to share your experiences while you were making this recipe. Thanks for your input!
Have a favorite recipe?
Know a family recipe your mom used to make? Or maybe a go to recipe that works everytime? Share it with your fellow foodies!