Karanji (Karchikai, Kajjikayalu)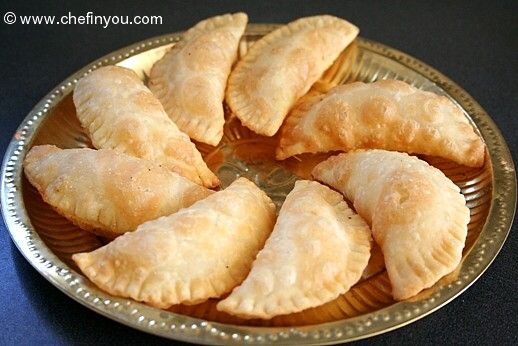 I favor sweets that aren't that sweet. Sounds like an oxymoron, doesn't it? Born to a sweetaholic(!), I am a paradox to my mom's blissful existence in the world of desserts. She can whip up any sweet (any form, texture, complexity) in a jiffy while I am like a fish out of water - even worse if its possible. She looks at my
breads, cakes and baking in general
and wonders how can I do those when I can't even make a simple sweet(!).
Do you get the logic? I sure don't.
This dish here is a popular sweet called
Karanji
that I think is much easier than traditional sweets. I am more of a savory person with just a wee bit of sweet thrown in and this fits my requirement perfectly.
Its a Maharashtrian sweet that's also popular in other regions - namely Karchikai in Karnataka and Kajjikayalu in Andhra. Our stay in the Northern parts of India has enriched us with their cuisine and my mom with their sweets and desserts. I still remember this one colony (one long street) where we stayed,that housed Maharashtrians entirely except for two houses. Ours and our house owners who spoke Hindi. I picked up Marathi well in my childhood - enough to blabber few words and understand many sentences. Of course, with absence of regular use, I have forgotten whatever little I know, although the same cannot be said of the food.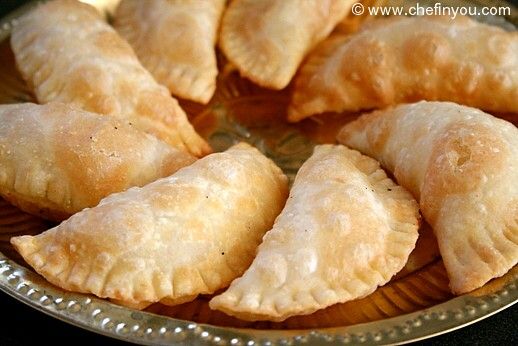 My mom learnt this recipe from our Maharashtrian neighbors ages ago. They used to make this during
Ganesh chaturthi
and during
Diwali
festivals. Though she doesn't make it often enough, she makes a similar South Indian dessert named Somasi. I like them both. The outer cover is crispy and slightly crunchy and provides a tasty balance with the sweet coconut filling. Very easy to make and keeps well for weeks in an air tight container though, trust me, it won't last you that long.
References
mom's recipe diary
Basic Information
Prep Time
:
30 min to 1 hour
Yield
:
Makes around 25-30 Karanjis depending upon the size
Ingredients
For the Cover
1 cup (abt 5 oz/150 grams) All purpose flour (Maida)
1/4 cup (abt 1.5 oz/40 grams) Semolina (Sooji)
1 tbsp melted Ghee, see Tips
Pinch of Salt
Warm milk to knead, as needed, see Tips
For the Filling/Stuffing
1 cup (abt 3 oz/80 grams) dry Coconut
1 cup (abt 3.8 oz/110 grams) powdered Sugar
1/4 tsp Cardamom powder
2 tsp Poppy Seeds, white colored
2 tbsp mixed nuts, finely chopped (and raisins), see Tips
Tips
1.
Ghee:
To make it less rich, you can add oil instead
2.
Milk
: You would need somewhere 1/3-1/2 cup of milk. I used 2% milk but you can use whole milk instead. If you are vegan, use water instead.
3.
Mixed Nuts:
I used a mixture of Pistachios, Almonds and Cashews. I added around 6-7 raisins
Method
1
First prepare the cover since it needs sitting time. Add the semolina to all purpose flour along with salt. Combine well.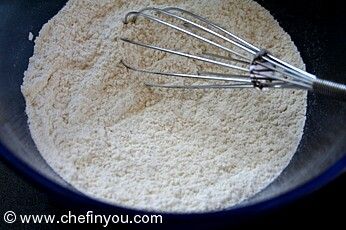 2
Add the ghee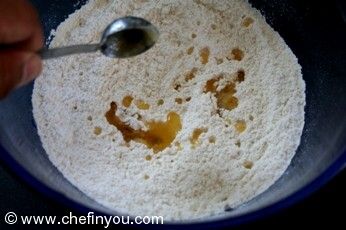 3
and rub it into the flour to form breadcrumbs.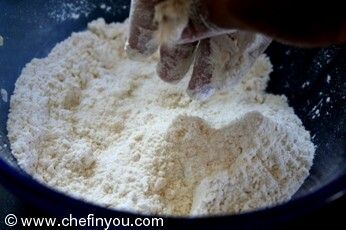 4
Slowly stir in the warm milk to the dough.  .
5
Knead the dough
6
until pliable. Should be of medium consistency - neither tight nor very soft.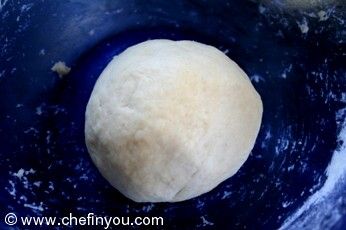 7
Cover with plastic wrap or kitchen towel and set aside for 30 minutes.
8
While that's happening, dry toast the coconut - for around 20-30 seconds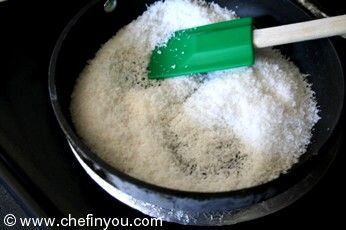 9
No need to brown, just warm it until aromatic
10
In the same pan, dry roast the poppy seeds - another 20-30 seconds
11
Add it to the coconut.
12
Now mix in the mixed nuts and raisins, cardamom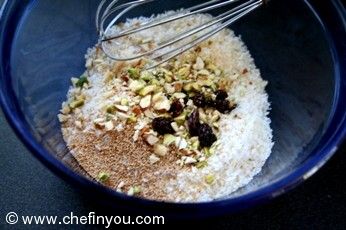 13
and the powdered sugar. Combine well and set aside.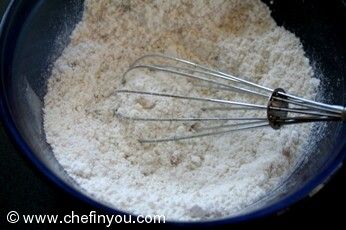 14
Now pinch a small piece of the dough
15
and roll it out into a circle - I think mine was about 5-6" in diameter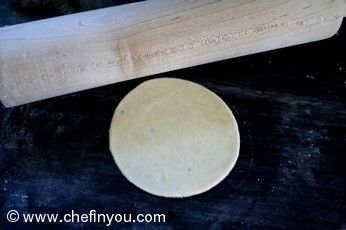 16
Add around 2 tsp (or as much as you can fit in!) of the filling in the center.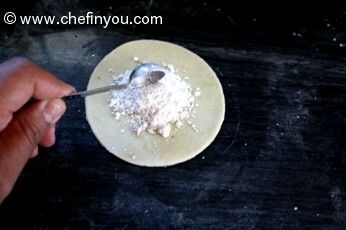 17
Smear some milk around the corner
18
Bring one end of the circle over the top, to the other end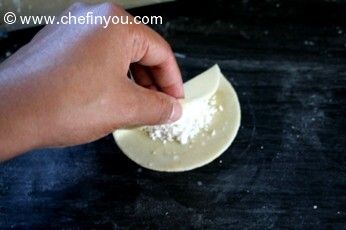 19
to make a semi circle. Press it well with your fingertips. Its crucial to avoid the stuffing from coming out during frying.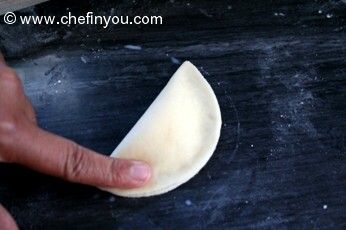 20
Press it down with a fork for a beautiful pattern. If you have empanada maker/mould, you can use it too.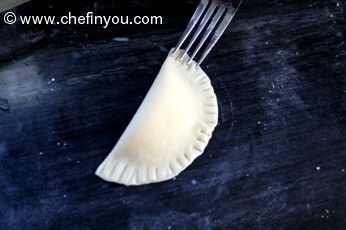 21
Repeat with rest of the dough.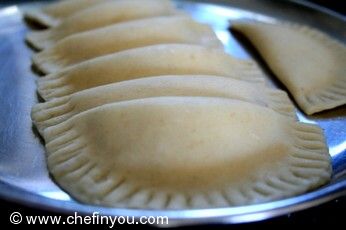 22
Drop 1 or as many you can in your fryer (make sure of the temperature of the oil. Adding too many will bring the temperature down making it soggy with oil and not crispy)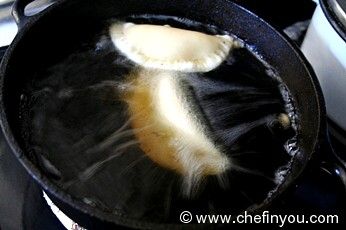 23
You will find them puff up a bit.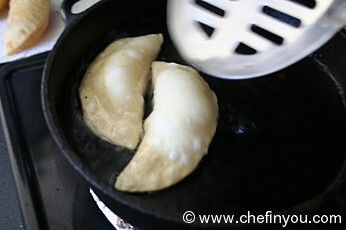 24
Ladle in some hot oil on surface now and then (just like you would do for
making poori
)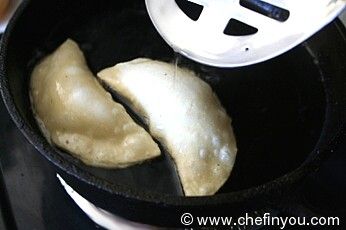 25
Turn it for the other side to cook.
26
Its done when its golden brown. Drop it on a paper towel.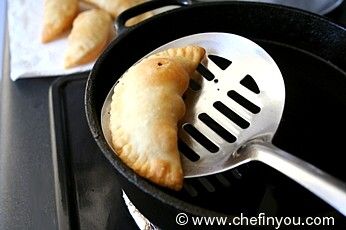 Crispy Karanjis  ready!  Cool them completely before storing them in an air tight container. Will keep well for weeks.
The crispy outer layer with a sweet and chewy coconut layer inside is a perfect foil to all your diet plans - but hey! Its the festive season after all :) :) All's fair in food and festival - they go hand in hand.
Related Recipes You May Like
Did you make this recipe?
Please click below to share your experiences while you were making this recipe. Thanks for your input!
Have a favorite recipe?
Know a family recipe your mom used to make? Or maybe a go to recipe that works everytime? Share it with your fellow foodies!