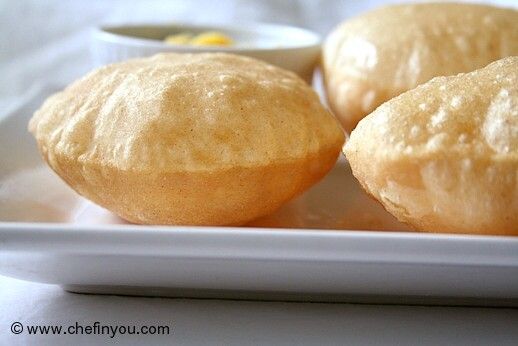 OK - I have to confess. I am a pooriholic(!!!!) As long as I can remember,  I have been a fanatic in my love for it, so much so that I think I can have poori for a whole week and not be bored with it. Then marriage happened and everything turned upside down. The first year of marriage saw me experimenting with loads of dishes and I was sure not going to miss out on my fav. pooris. I had purchased some whole wheat flour (American brand) and used the same to make mine. Disaster struck. Here I was waiting in anticipation to devour some fluffy pooris (imagine a bad hungry wolf  drooling ;)) , day dreaming about me enjoying the ones my mom made and what came out of my oil was something which did not even remotely look or taste like those :(. Instead what came out were papads (or popaddams as the westerners know it). Crunchy and hard....and FLAT!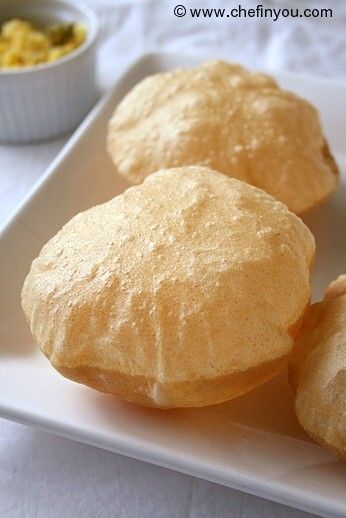 Of course, I blamed the flour (What did you expect? That I will take the blame?? You WISH!). But the stigma it caused was too much. I did not touch puri after that - to make them or to eat them. Then it took my mom's visit  to get my poori mojo back. And when she made them - aaaah, my precious poori was back :). Soft fluffy fried bread that I could eat all on their own without any accompaniment. Bliss.. Although I would have to say that enjoying it with potato masala is like mac and cheese combo. I had to post these after I realized I have some ardent bachelors  and beginner cooks giving me readership love (thank you guyz :))
Ingredients
1 cup wheat flour
1/4 tsp salt (or as needed for taste)
about 1/2 cup water (or as needed to make a pliable dough. Might vary depending on the quality of flour)
Method
1
Stir the flour and salt in a bowl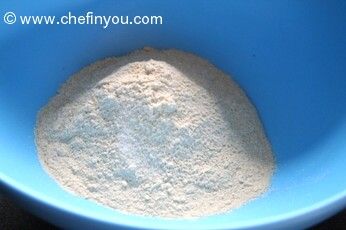 2
Add water little by little to the dough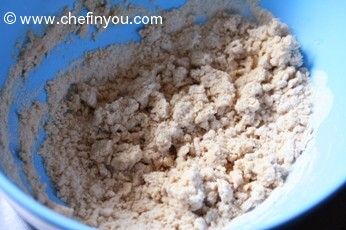 3
until it comes together into a pliable dough. I think we would have used around 1 cup of water but it might differ depending on the quality of the flour. So add it little by little while kneading. You can also add 1 tbsp or so of hot oil (that you are heating for deep frying) to the dough. The final consistency should not be too tight (dry) or too soft(wet).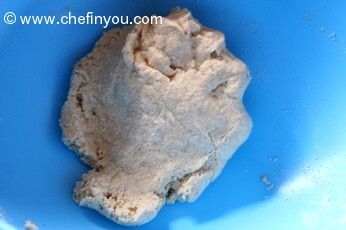 4
Knead it well until smooth like below. The dough should not be sticky (only v lightly sticky)  or feel dry in your hands.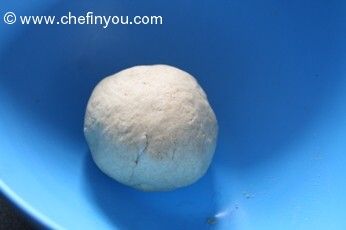 5
Make small balls out of it. These will depend on how big a fryer you have. We intended to make puri of small-med (probably about 6 inch in diameter).
Tips:
Do not let the dough sit. Usually for roti(s), I insist on letting the dough sit for some time which makes the dough very soft. But for pooris this rule does not apply (at least that's what I learnt from my mom). She insists that letting it sit makes it prone to soaking up lots of oil while frying. Hence use the dough immediately to make the pooris.
6
Roll it out into small circles with thin-medium thickness. Don't make it too thin else it will come out crispy.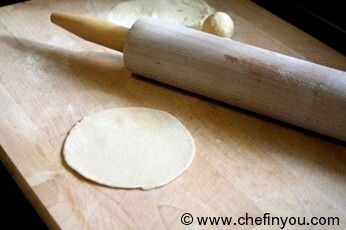 7
Repeat for all dough. Alternatively heat oil for deep frying.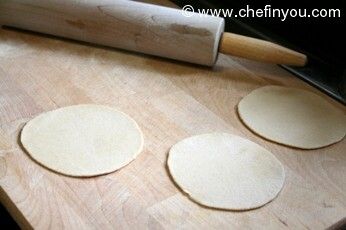 8
Do the oil-temperature test to see if it is ready. The oil should be hot but not too hot that it smokes. Tips: Drop a small piece of dough into the oil. The dough should fry up immediately and come to the surface. You know the oil is not hot enough when the puri does not puff up, is flat  and instead is also soaking up oil.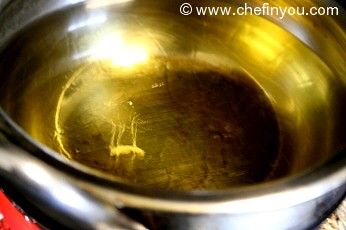 9
Now drop the poori into the oil.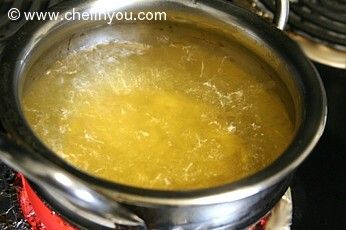 10
While the poori is slowly coming to the surface, make sure to keep ladling in the hot oil on the surface.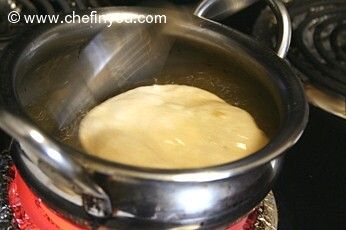 11
This helps the poori to puff up.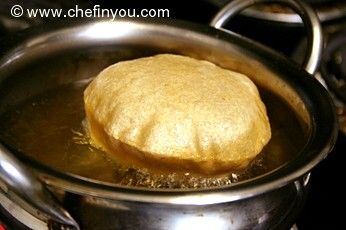 12
Turn it so that it gets evenly reddish brown or golden yellow (however you prefer)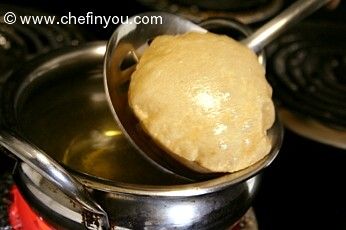 13
Place it on paper towel to drain off any oil. If fried right, it wont retain oil.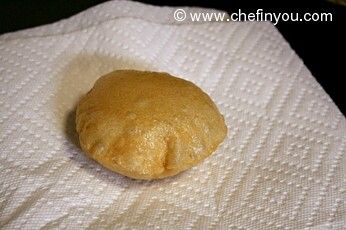 Serve it with side dish of your choice. The famous combo is with Potato Masala (a curry made with potatoes) and also Chole (chickpeas curry).  I also know many South Indian families who enjoy it with a condiment called as Pudina Thogayal which is a chutney made with mint and tamarind.
Related Recipes You May Like
Did you make this recipe?
Please click below to share your experiences while you were making this recipe. Thanks for your input!
Have a favorite recipe?
Know a family recipe your mom used to make? Or maybe a go to recipe that works everytime? Share it with your fellow foodies!