I am a sucker for fried rice recipes. They are quick to put together, easy to make, pair with so many side dishes and not least of all - taste absolutely delish for the minimal effort. The variations are mind boggling and welcomes creativity. Though there are so many varieties, I am listing my family's favourites below.
1. Chinese Fried Rice
---
The ultimate version from which many other versions are spun off. Scallions, garlic, sesame oil, soy sauce, cold rice, veggies with/without protein come together to make this rice. I have used this recipe from
Food.com
to customize it to my preferance; read as:made it vegetarian.
Image source:
Food.com
2. Thai Fried Rice
---
Ask any Indian his/her favourite cuisine and you are 99% sure to hear Thai cuisine among the top 3. Thai's extremely aromatic fried rice (known as
khao phat
) is among the most popular. Its USP is in its aromatics - thanks to Jasmine rice and various herbs. The foundation for any Thai dish lies on its usage of fish sauce and hence can be quite a daunting task to make vegetarian. I use this recipe from
ThaiFood.about.com
as a base to make my fish and meat free version. Image:
ThaiKitchen
3. Indonesian Nasi Goreng
---
This is our family favorite. It has amazing flavor profile and uses sweet soy sauce (kecap manis),Tamarind, garlic, chilli and some protein. Since my family is Egg friendly I use it as well in this rice. Makes a complete meal and given that it has many familiar Indian spices like turmeric, nutmeg etc, it feels close to home. I make it fish free skipping the fish sauce/shrimp paste that's normally added. My favourite version if from
America's Test Kitchen
cookbook. Image:
Trialx.org
4. Filipino Sinangag - Garlic Fried Rice
---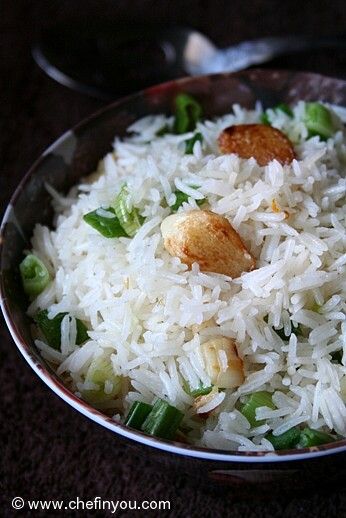 When you think about Sinangag, you think simplicity. Very few ingredients come together to create the taste profile of this rice. If you are a lover of Garlic, then this is a must try! Check out
Sinangag Recipe
5. Indo-Chinese Vegetable Fried Rice
---
This Indian Chinese fusion is one of the most loved dishes in India. Indo-Chinese is a popular cuisine where the chinese cuisine is customized heavily for the Indian palate. There is nothing Chinese about these dishes but that doesn't stop it from being sought after by people esp.Indians all over the world. Check out the
Indo Chinese Vegetable Fried Rice Recipe
6. Paneer Fried Rice
---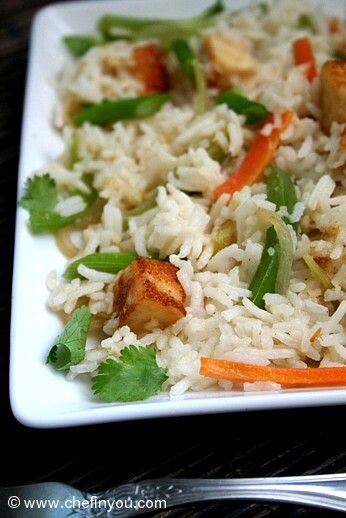 This is a vegetarian equivalent of the more popular Chicken Fried Rice. To replace the meat, Farmer's cheese - Paneer, is used. Lightly pan roasted paneer that's then stir fried with other veggies and sauce makes a hearty fried rice and is an absolute must at least twice in a month at our dinner table. Check out
Paneer Fried Rice Recipe
7. Cashew Fried Rice
---
This fried rice relies on cashews for the meatiness of the rice along with some cremini mushrooms. If you love nuts and/or want to jazz up your regular rice recipe, try this one out. Check out
Cashew Fried Rice Recipe
8. Schezuan Fried Rice
---
If you are spice/heat lover then this one is tailor made for your needs. This rice is made using a red sauce made from red chillies, garlic and garlic as main ingredients. Makes a great accompaniment to any kind of fried side dishes with a gravy. Check out this recipe from
Tarla Dalal.com