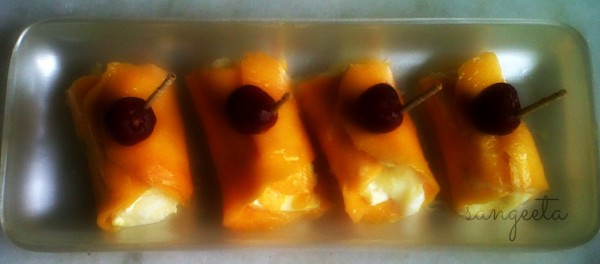 I m a die hard mango lover,want to use more and more mangoes in my daily diet,as mangoes are in season now.This roulades are very quick and easy to make and very refreshing dessert,can be served,after any meal,can be served in any get together or parties...hope you guys will like it....:)
Ingredients
2 Alphonso Mangoes ( thinly sliced and chilled )
For Stuffing:
100 grams cottage cheese / ricotta cheese
50 grams mixed dry fruits ( chopped )
10 grams sugar free powder / icing sugar
1/4 tea spoon vanilla essence
For Garnish:
Glazed cherries
For Serving:
Toothpicks
Method
1
Mix all the ingredients for stuffing,make a big roll,cover it in foil paper and refrigerate it for 5 min. in deep freezer.
2
Now cut the roll of stuff,in small pieces and again make small rolls.
3
Place the slices of mangoes on the butter paper,in a flat plate,keep the roll of stuff on the center of mango slice,fold one by one from both sides,keep cherry on top and seal it with tooth pic,ready to serve.
5
NOTE:
My Vegan friends can use silken tofu,instead of cottage cheese.
One can use mawa (evaporated milk) in stuff along with cottage cheese.
Chocolate lovers are free to add grated DARK or White cooking chocolate to the stuff,but then avoid sugar.
This recipe was contributed by a ChefInYou member.
Related Recipes You May Like
Be the first to showcase this recipe!

Your Name
Did you make this recipe?
Please click below to share your experiences while you were making this recipe. Thanks for your input!
Have a favorite recipe?
Know a family recipe your mom used to make? Or maybe a go to recipe that works everytime? Share it with your fellow foodies!