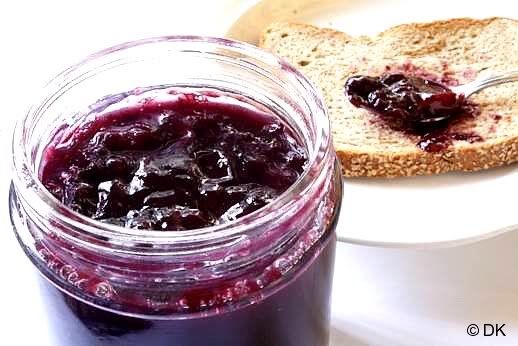 I have been making Jams for a while now. Recently gal pal of mine dropped in during tea time and we thought we will enjoy some home made Rye bread with some jam along with tea. The minute she had the jam, she fell in love with it and insisted on asking me from which I store I bought the Jam and the make. I had to do some real convincing since she wouldn't believe that it was a home made Plum Jam. Her doubt was how I managed to get the store like consistency - you know jelly like. It was pectin mantra and not bad as it is made out to be. In fact Pectin is actually a good substances. It is actually a soluble fiber and is known to be created naturally in certain fruits like apples,apricots,cherries, berries etc. In fact when making Berry Jams, adding pectin is not necessary since they have abundant pectin of their own - which is why I havent used any kind of pectin for any of my previously posted Jams. But the last time I made Plum Jam, I had a packet of pectin lying in my pantry, I wanted to use it up, hence added it while making the Jam this time.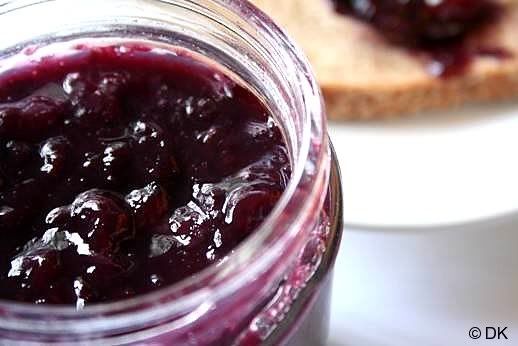 My friend also informed me that making Jams at home were cumbersome since hers lasted only a week or so after which fungus started appearing even after refrigerating them. I asked her if she sterilized the jars which she uses for Jams and she said "yes, I wash them well with soap, dry and use.That should do ir right?" Well, that mostly is not enough for preserving the Jams. My jams lasts me for a month easily. I dunno after that since usually my jams get over by that time. I have shown here what I do for canning my jams.
Basic Information
Prep Time
:
30 min to 1 hour
Cook Time
:
30 min to 1 hour
Yield
:
Around 3 pint sized jars
Ingredients
About 5 cups of plums, chopped and pitted
2 tbsp of freshly squeezed lemon juice
1 packet powdered fruit pectin
1 cup honey ( depends on the sweetness of the plums. Increase/decrease as per taste. I have used honey for enhancing the nutrition. You can use sugar instead)
1/2 cup water
Method
1
Mix the plums, pectin and lemon juice in a heavy bottomed pan and cook in medium heat.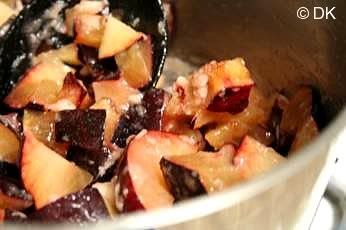 2
The plums will start liquifying slowly.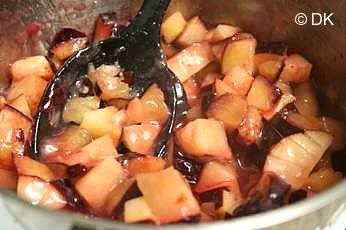 3
While slightly mushy, add 1/2 cup water, stir well and cook until it comes to a boil.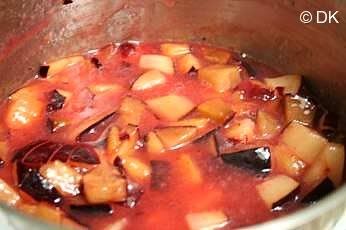 4
Remove the foam that forms on the top. Another tip to make the foam go away easily would be to add a little butter.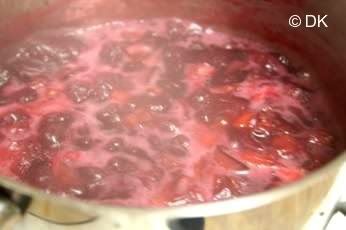 5
Add the honey or sugar, mix and cook for another 10-15 minutes until it all starts coming together as one thick syrup consistancy.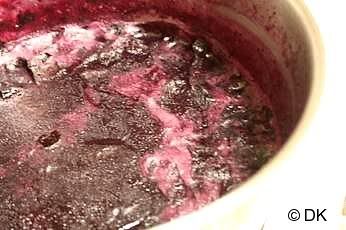 6
Alternatively with soapy water, clean the Jam can well, along with the lid. Lightly dry it and then drop them in a big pot of water. Bring them to a boil. Make sure your jars are submerged well. This picture was taken towards the end when I was removing my jars
7
Lift them carefully (don't burn your hands) and lightly dry them with paper towels. They should feel hot since it will make sure that the bottle does not break when your pour the jam inside. Slowly pour the jam into the Jar upto about 1/2-1/8 inch on top. Leftovers in the pan are a dream! why? Your fingers will tell you ;-)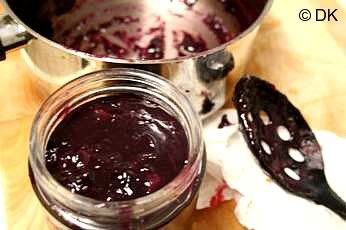 8
Close the lid tightly and invert the bottle to help the Jam set well for about 5 minutes.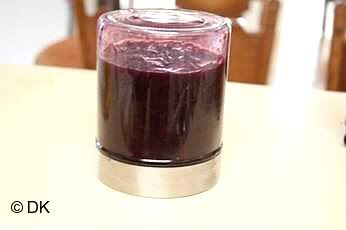 9
Now slowly place it, straightup, inside the hot boiling water and leave it for another 5-8 minutes. This is done/neccessary cos if skipped the Jam will spoil. If you live in higher altitudes, then leave them for about 10min. Too much boiling can make the Jam runny too.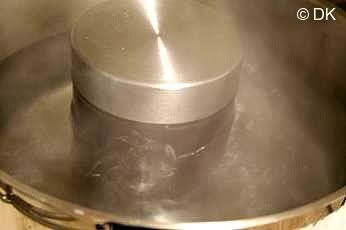 10
Remove them, let it cool. Refrigerate them. Enjoy them with your toasts or any other recipe you like :) All this may sound like a long process, but believe me, once done the satisfaction that it gives every time you scoop a spoonful is unparalelled!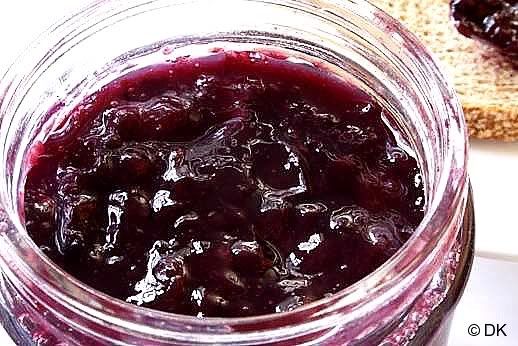 Related Recipes You May Like
Did you make this recipe?
Please click below to share your experiences while you were making this recipe. Thanks for your input!
Have a favorite recipe?
Know a family recipe your mom used to make? Or maybe a go to recipe that works everytime? Share it with your fellow foodies!