I have made quite a few variations of these, but this is the one that I have finally decided to make it regular. I got this one from a gal pal of mine way before during my college days when she bought them over for lunch. I have made few teeny weeny changes to her recipe. The combination of ingredients which are not many plays well together and it is not overly sweet nor sober tasting. Give it a try, you will start singing its praises too.
Basic Information
Prep Time
:
30 min to 1 hour
Ingredients
1 large sweet potato, peeled and chopped
About 2 cups of whole wheat flour
1 tbsp brown sugar
salt to taste
1/2 tsp cardamom powder
Method
1
Cook the sweet potatoes in some water until soft.
2
Grind it with a food processor until mushy.
3
Add the rest of the ingredients and make into a soft pliable dough.
4
Divide into small balls
5
Press it down with the palm of your hands and roll it thin flatbread
6
Cook it with little butter (or oil for less calories) until brown
7
Turn the other side and cook likewise.
8
Serve hot.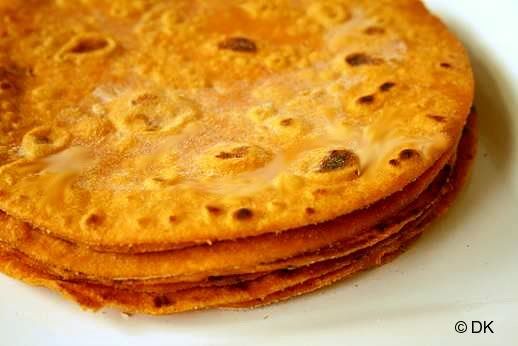 Related Recipes You May Like
Did you make this recipe?
Please click below to share your experiences while you were making this recipe. Thanks for your input!
Have a favorite recipe?
Know a family recipe your mom used to make? Or maybe a go to recipe that works everytime? Share it with your fellow foodies!