Rava Laddu or Rava Laddoo?…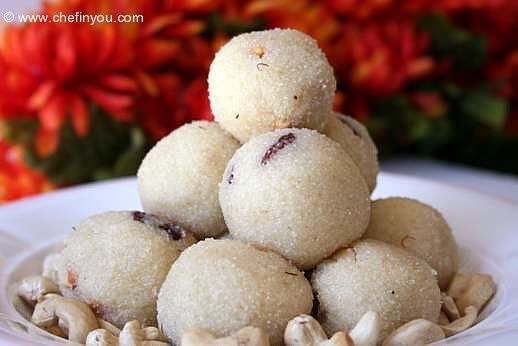 ...who cares as long as its RAVA LADOO!!!!!!!!!!!!!! This had to be easily one of the fastest photos I have ever taken!! No - Not because I was satisfied at the very first one - but because I was hardly able to contain myself. I mean here you have a plate of absolutely delicious looking rawa laddu (semolina balls) all stacked up in front of you, with no one around to remind that you are trying to avoid anything which has the word "calorie" in it (unsuccessfully, I might add!), on top of which its aroma extending its virtual hands and pulling at your nasal cavities - and you tell me I have to sit and take photos?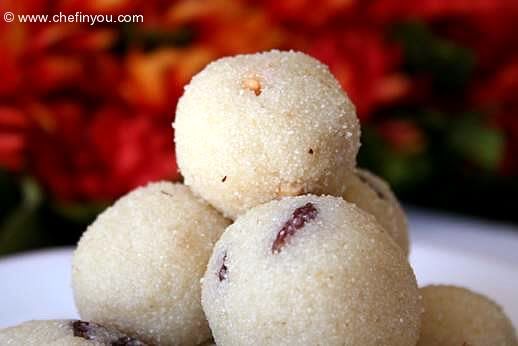 You gotto be kidding me! Valli - I can see you making faces at me. It may be your recipe dearest Valli - but the torture of sitting in front of them without eating is mine - so dear all, excuse me if the photos don't seem to be doing justice to all the extolment that I am showering on these ravva ladoos - although I have to be brutally honest with ya, I care less. All I care now is that here I am eating these while you are fated to only watch them!!!!
"Oh Yeah - You seem to talk too much! Even we can make these you know! "
Oh yes you sure can, I agree. But then I am warning ya, you will behave like a starved glutton(!!!!) and you would talk the same way like me. At that moment I will surely say "I told you". :) Anyways, I rarely make Indian sweets - Most often I can rest assured that I will mess it up. Mainly cos I have no patience with them, the recipes are not scientific and precise enough for me to practice on my own, and I have ..erm..er...no patience......
I thought I could easily make them having sat on the kitchen counter all those years when my mom made them. Turns out, you need to be more a
"test"er than a "taste"r
which is what I was. On top of it we both (The Husband and me) are not "sweet people"(!!), mm may be cute people but certainly not "sweet"! Valli patiently waited for me to give her sweets for all those mega melas she hosted and when nothing came out of it, she said enough is enough (she is trying to turn me into a new leaf!!!) and started the
ICC - Indian Cooking Challenge
where she asked us all to select different Indian sweets to take on. As a trial run when she asked me for a suggestion, I tried to take the most easiest one I could muster and Rava Ladoo were it. I don't even feel like writing any more - got to get back to my plate...but here is the recipe verbatim
Basic Information
Prep Time
:
30 min to 1 hour
Yield
:
Makes around 10 medium-large sized balls
Ingredients
Rava / Semolina - 1 cup
Sugar - 1 cup
Ghee - 25 gms
Milk - 25 ml
Cardamom powder - a pinch
Cashew nuts - 10 whole nuts
Raisins - 10 nos
Grated fresh coconut - 25 gms
Method
1
Heat 2 tsp of ghee in a kadai. Once the ghee is hot enough, simmer the flame and roast cashew nuts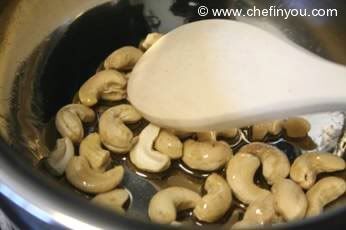 2
and raisins.
3
Once the raisins balloon up, remove. Then roast the grated coconut.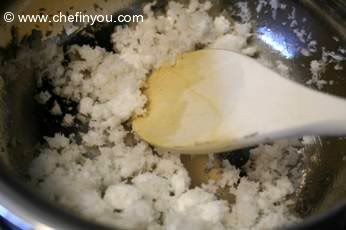 4
Remove once done. Keep all these aside. Add the remaining ghee and roast the Rava till its well roasted and aroma starts coming out.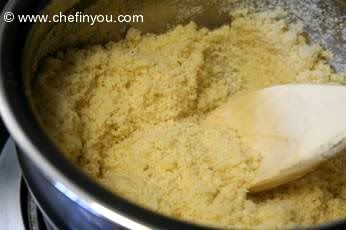 5
In a bowl, take all the roasted Rava, Nuts, Coconut and add the Cardamom powder. Then add the sugar. Mix well.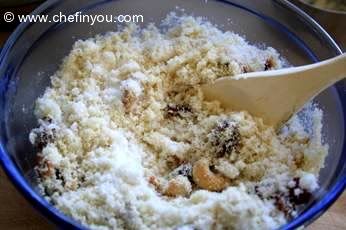 6
Then slowly add the warm milk into the bowl. Check if you are able to gather as balls.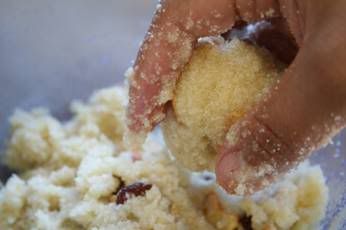 7
When you find that milk added is enough to get you laddos, transfer it back to the kadai and cook in sim for 2 mins. Mix well and then cover it and let it rest for 2 mins. Notes : For some reason I found this step unnecessary for me since it formed into perfect balls for me at the get go and even without following this step it came out super yummy. Then immediately make balls or laddoos.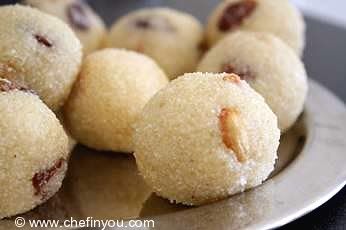 8
Notes: While roasting the Rava, make sure you have the flames in sim, else there is a chance of the rava getting over roasted. Its enough to add only the required amount of milk to get you form balls. Depending on the rava and the sugar at times we may not use all the 25 gms Since we add milk, its best to consume within 5 days of making them. If you store them in fridge, you can have them for a week. The other version followed is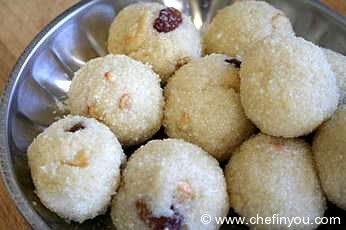 The rava after being roasted can be powdered using a blender. Add sugar to this and make a powder. Add a little ghee to this mixture and make small balls out of this.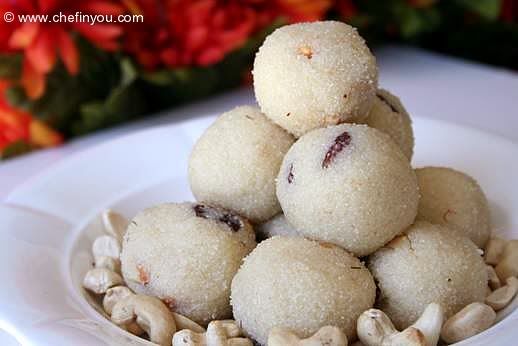 Related Recipes You May Like
Did you make this recipe?
Please click below to share your experiences while you were making this recipe. Thanks for your input!
Have a favorite recipe?
Know a family recipe your mom used to make? Or maybe a go to recipe that works everytime? Share it with your fellow foodies!