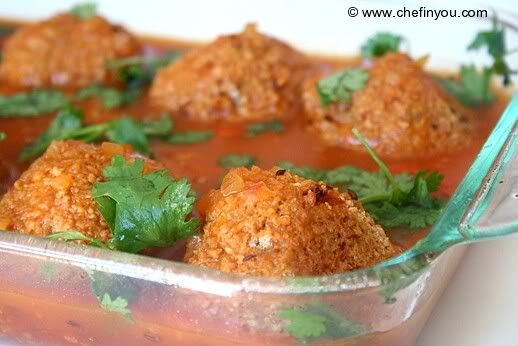 We love Koftas ( Koftas are mostly what one would call as Meatballs - but we vegetarians can't be expected to be left out behind! No way! :)) I make them in many different ways. You might wonder how I can possibly think of making these calorie rich dishes often enough? Well you can easily make them as very healthy and nutritious to boot too. Just like these Soya bean koftas here.
Not only are they simple to make (Really..you will see), they are very healthy ( baked - so almost no oil in the entire dish ), immensely nutritious (power of soy at its best) and totally yummy (even non vegetarians will love it!). All the ingredients work in harmony and my gravy is such a fast little thing to make. I wanted to showcase the Koftas more than the gravy hence kept it to bare minimal ingredients which will only compliment but not hog the limelight from the Soybean koftas.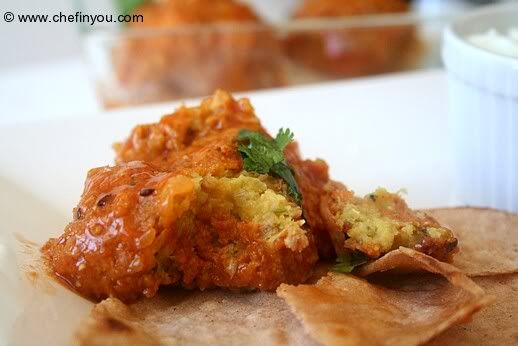 I served them with Phulkas ( the lighter cousin's of Chapathi/Roti's which uses no oil) - the resultant lunch was hearty - great on the palate and on the health not to mention pleasing on the eyes too. They don't take much of your time, most of it is done by the steamer (instead of boiling, I steam the potatoes - preserves nutrition) and the Oven. The gravy is a child's play :) Without further adieu, lets go to the recipe
Basic Information
Prep Time
:
8 hours to 1 day
Cook Time
:
30 min to 1 hour
Yield
:
Makes around 8 koftas
Ingredients
For the Koftas
1 cup Soy beans
1 large potato
1 small onion, (shallots/red onions work great.)
1-2 green chillies, finely sliced (or as per taste)
few cilantro sprigs for garnish
juice and zest of one lemon
salt to taste
About 1/2-1 cup of Soya chunks (Indian stores) or TVP (in US stores)
For Simple Gravy
1 onion, chopped finely
1 tbsp ginger-garlic paste
1 tsp cumin seeds
1 tbsp tomato paste (optional)
about 1/4-1/2 cup tomato puree
1/4 tsp turmeric
1 tsp garam masala
1 bay leaf
salt to taste
Method
1
Soak the soy beans overnight. Cook them in a pressure cooker. No problems if it gets mushy. We are going to do that anyways.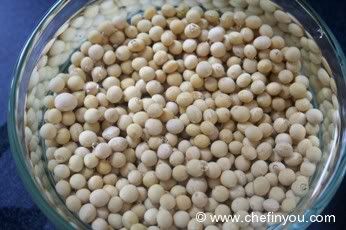 2
Steam the potato in the steamer (with the skin. It has nutrition too)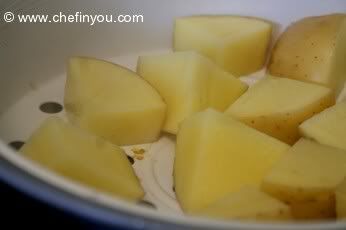 3
Now mix all the ingredients for the koftas together except the soya chunks/TVP.  Mash them with your hands or pulse it up in your food processor - whatever works for you.
4
If you are not able to make it into a ball and the dough seems moist, add some soy flour to thicken it up.
5
Spread the soy chunks on a plate and coat the balls with them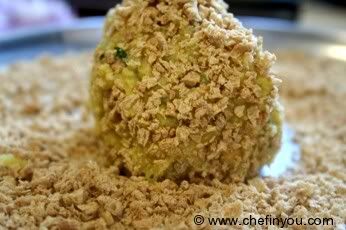 6
Repeat with all the balls and place them in a lightly greased  baking sheet. Bake for about 10-15 minutes in an 400F oven.
7
Meanwhile in a skillet, in a 1/4 tsp oil (or skip the oil. Just place the onions and cumin on the hot skillet with some salt. The salt will bring out the moisture and help the onions cook easily. That way you cut the oil and make this dish oil free), saute the cumin seeds along with onions, ginger garlic paste and the spices together for a minute until soft.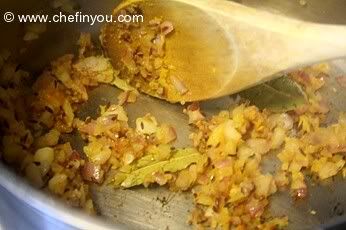 8
Add the tomato paste (if using) and the puree.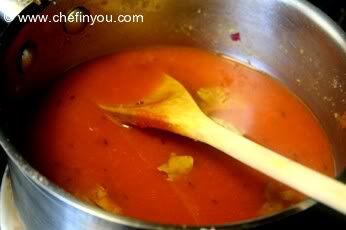 9
Add enough water to make sufficient gravy and once it comes to a boil, thicken it up with little soy flour/cornstarch and bring it to a simmer.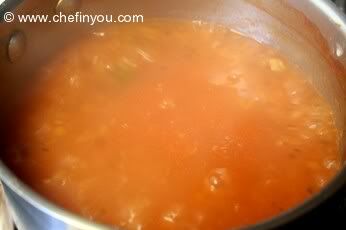 10
Remove the koftas from the Oven and pour half the sauce over each of the koftas until they are soaked in the gravy.
11
Bake them for another 10 minutes and before serving pour out the remaining gravy.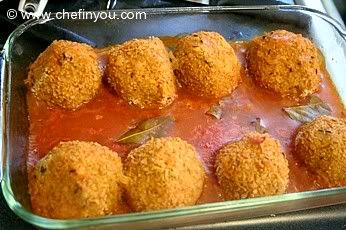 Serve warm with phulkas.  Tell me now - Was that difficult?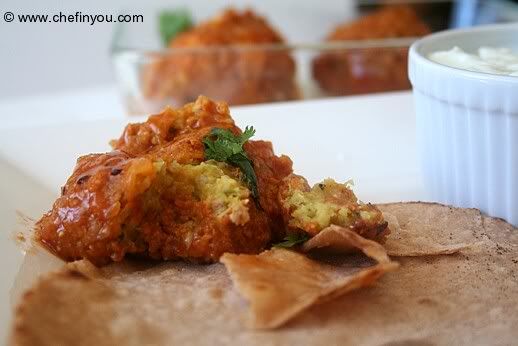 Related Recipes You May Like
Did you make this recipe?
Please click below to share your experiences while you were making this recipe. Thanks for your input!
Have a favorite recipe?
Know a family recipe your mom used to make? Or maybe a go to recipe that works everytime? Share it with your fellow foodies!