Kunukku is a snack item made by deep frying left over
Adai batter.
And just like many other dishes, one recipe spawns off so many different varieties. The base may be almost the same, but different additions make it one more interesting than the other. I know I already posted THE
Adai Kunukku
, but then this is another variety.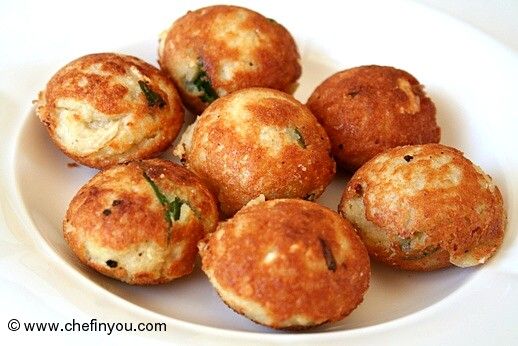 Nothing radically different, but I just changed the proportions of the batter to include more Toor Dal (pigeon peas). I had made this during
Navarathri
, where for one day, my mother insisted that pigeon peas was the highlight and that I should cook something with it. She informed me that usually people make these
Adai Kunukku's
, but make the batter with more pigeon peas than the usual recipe. I went ahead and added cashews to this batter to make Cashew Kunukkus. It was raining the other day and here I was, making them again - nothing like fried goodies during rains. Dont you agree? :) Just to ease my conscious a wee little bit, I made them using my pancake puff pan instead of deep frying them! And yes, you can use the usual
Adai Batter
for this. Just add few broken cashews to it.
Basic Information
Yield
:
Makes about 14-16 depending on the size
Ingredients
2/3 cup plain short grained rice
1/3 cup par boiled rice
1 cup toor dal (pigeon peas)
1/4 cup channa dal (bengal gram)
1/4 cup whole urad dal (black gram)
2-3 dried red chillies ( or as per taste)
1/2 cup broken cashews
1/2 tsp asafoetida (as per taste)
1/4 cup grated coconut
1-2 green chillies (optional)
salt to taste
few sprigs of curry leaves
Method
1
Wash the lentils and the rice in cold water. Then soak them along with dried chillies for at least 3 hours.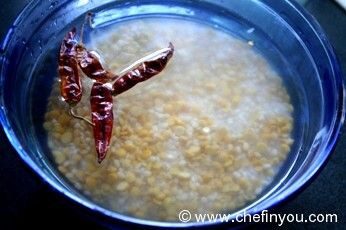 2
Drain the water from the soaked lentils and rice.
3
Grind them with very little water along with coconut, salt and asafoetida to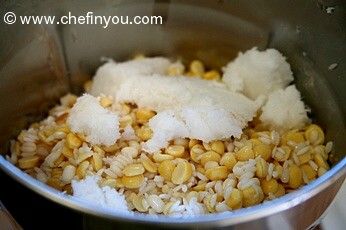 4
form a coarse batter.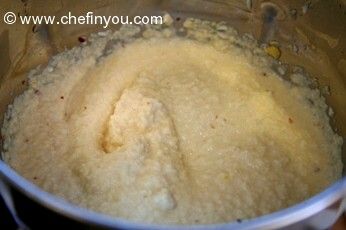 5
Add the curry leaves, green chillies along with the broken cashew pieces. Stir well.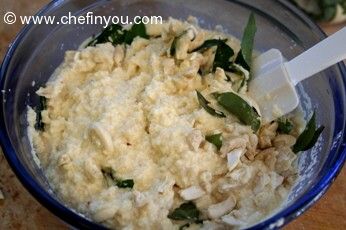 6
Meanwhile heat the pancake puff pan (kuzhi paniyaram pan) with 1/4 tsp of oil in each of the depressions. Drop spoonful of batter inside each of the holes.
7
Cook until the underside gets brown and then turn it upside down and cook for another 2-3 minutes.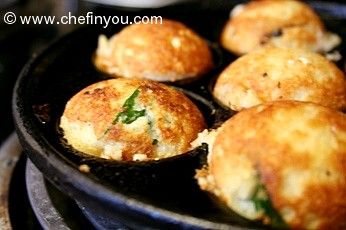 Serve with
coconut chutney
! Tasted delicious.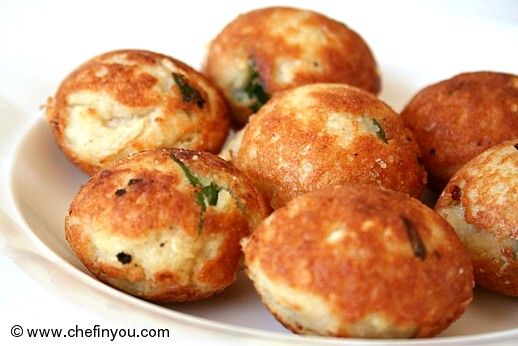 Serve it hot - the outside is crunchy and the inside is soft and bready! It tastes great on its own - but as I said earlier - nothing beats the
coconut chutney
combination!
Related Recipes You May Like
Be the first to showcase this recipe!

Your Name
Did you make this recipe?
Please click below to share your experiences while you were making this recipe. Thanks for your input!
Have a favorite recipe?
Know a family recipe your mom used to make? Or maybe a go to recipe that works everytime? Share it with your fellow foodies!