Brown Butter Pumpkin Risotto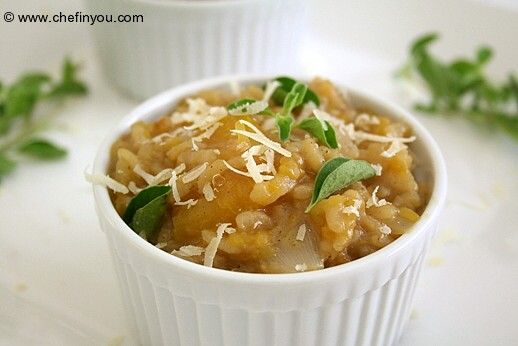 I don't think I would be too wrong in estimating that at least 95% of the people love risotto! I am a die hard fan. Give me mushroom, give me saffron or any other vegetable, I would first think of how I can make risotto with it. And with
pumpkin
season on, can it be left far behind? Its surprising that I have received 13 mails in the last 3 months asking me for a Risotto recipe made without using wine which plays an integral part in this dish - questions like 'Can you make risotto without wine?' or 'Do we have to have to change ingredients to make risotto without it'?
Well, we are less than occasional alcohol drinkers and I don't carry any alcohol in my house. Hence to buy wine just to make an occasional risotto simply does not seem feasible to me. I have been making risotto without wine for as long as I can remember and it works just fine for me. You don't have to replace any ingredients as such. Instead of adding wine just add more vegetable stock or water to the rice. It does not hurt the recipe at all.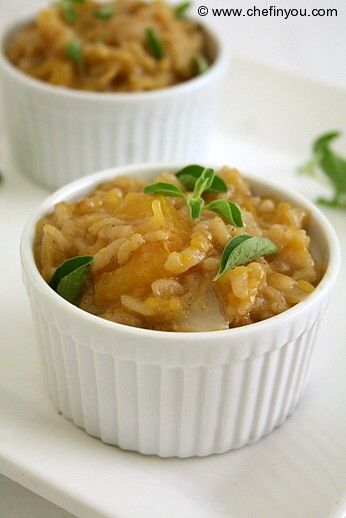 This recipe was an accident. I have this inane habit of multitasking, hence kept butter in a pan to heat it. I went off to do something else and suddenly an aroma hit me. I ran to the kitchen to find that the butter had browned nicely ( not yet burnt - thank god!) and I proceeded to add the rest of the ingredients. The taste was amazing and delicious. The aroma was amazing to say the least. You can use this brown butter in different ways - you can add it in the middle or cook right in it. Either way works. You can even use pumpkin puree towards the end of cooking the risotto to replace some of the stock. You can either use Parmesan cheese or try Romano cheese. They both work very well in this recipe ( well, its cheese - what's not to work)
Basic Information
Cook Time
:
30 min to 1 hour
Ingredients
1 tbsp unsalted butter
1 onion, finely chopped
1 cup arborio rice
2 cups diced pumpkin (cut the pumpkin,peel it and then dice)
1/4 cups homemade pumpkin puree (optional)
5-8 cups of vegetable stock (or water)
pinch of nutmeg
salt and pepper to taste
3-4 tbsp of grated vegetarian Parmesan (or Romano cheese)
Method
1
Heat the butter in a heavy-based pan. I know many recipes ask for at least 2-3 tbsp butter, but I find it works fine even with 1 tbsp. Otherwise, its get too rich for me. You can add an additional tbsp of butter according to your taste. Keep the heat low and let the butter melt and slowly brown. Unlike me, be close by, you don't want the butter burn. Now add the onions and saute it for few seconds.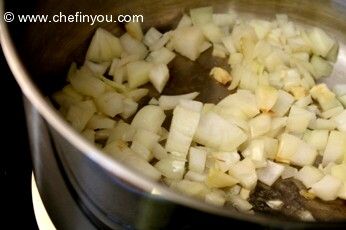 2
Now add the chopped pumpkins and saute along with salt for 1-2 minutes or until tender/soft.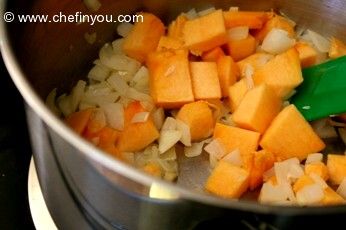 3
Mash it lightly.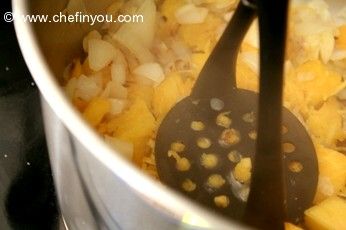 4
Next add the rice and toast it for 2-3 minutes or until the grains are translucent.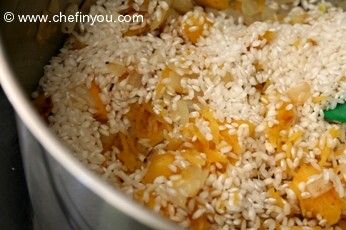 5
Alternatively, make sure you keep the vegetable stock/water simmering in another saucepan. You want it to be warm.
6
Now ladle in 1/2 cup of this warm stock to the rice and stir well.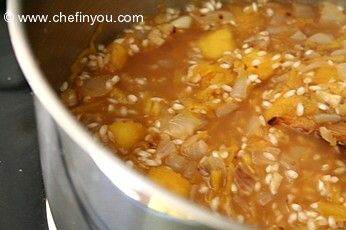 7
Add the stock little by little, stirring constantly for 15-20 minutes. Add in more stock every time the rice absorbs the liquid. Add the pumpkin puree towards the end.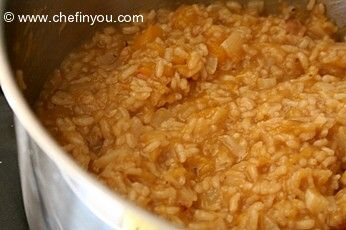 8
You know it is done when the rice is tender and very creamy. You might either need more stock or less from what is given in the requirement. Remove from heat and add cheese, nutmeg and pepper. Fork the rice through - cover and leave it for few minutes before serving.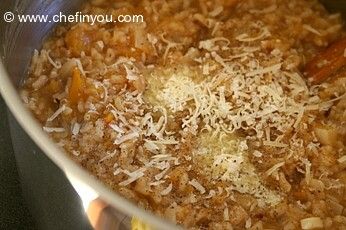 And oh yes, don't forget to add more cheese :)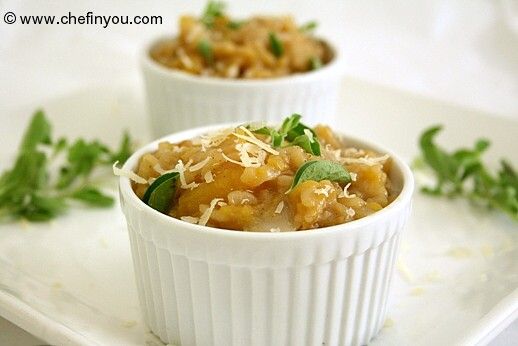 You can use few sprigs of any of your favorite herb as garnish.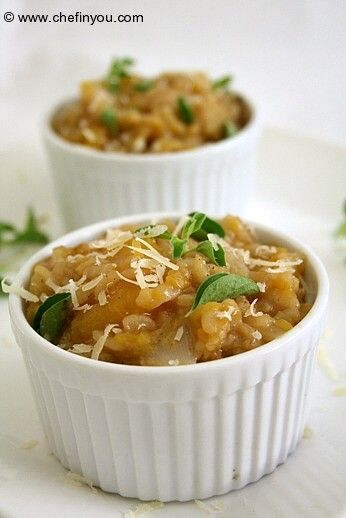 Related Recipes You May Like
Be the first to showcase this recipe!

Your Name
Did you make this recipe?
Please click below to share your experiences while you were making this recipe. Thanks for your input!
Have a favorite recipe?
Know a family recipe your mom used to make? Or maybe a go to recipe that works everytime? Share it with your fellow foodies!