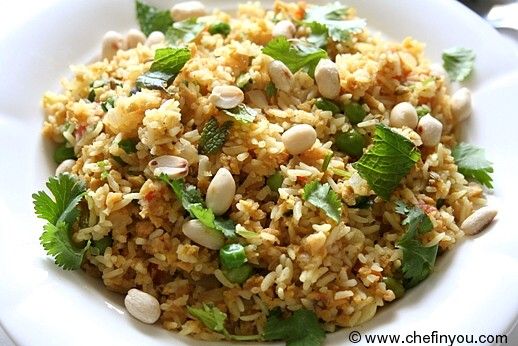 Traditional Indian food has protein but not enough. Though lentils (one of the sources of protein), milk and curd are enjoyed on a daily basis, the quantity isn't in large quantities. An occasional rajma (kidney beans) and channa (chickpeas) are thrown in but as I said, they are only occasional and not on a daily basis - with probably the exception of Punjabi cuisine. With this in mind, one has to add in other protein rich ingredients in their daily food esp. when you are working out hard at the gym or expending more energy in day to day activities. The protein is needed for building muscle which in turn gives one more strength etc. Although, I personally am not such a gym freak to warranty that much of a protein dose, I like to add in enough protein since I find that it keeps overindulging and then hunger at bay (where I like it!). A little goes a loooong way.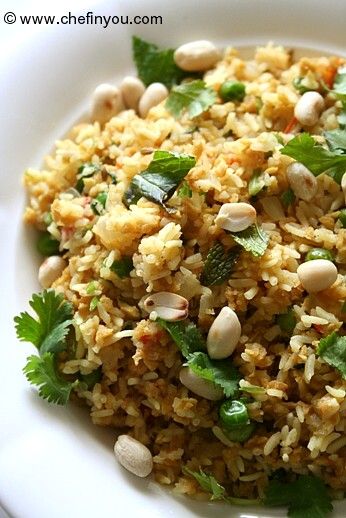 My mother and I have an argument with regards to this where she mentions that too much of protein causes Kidney issues. But trust me - with a vegetarian diet consisting mostly of only lentils, milk and curd - you aren't in any danger of protein caused Kidney issues in my humble opinion. I think its more applicable to high protein non-vegetarian diet where a single serving of say - a beef/bacon etc gives you so much protein which when compensated with vegetarian ingredients, one will not be able to finish in one setting. Lots of vegetarian equivalent for the meat has to be made and 1 plate of beef would probably compare to 3-4 plates of its same protein vegetarian plate! You wont be able to finish that much :) So vegetarians have to distribute their protein throughout the day in sufficient quantities. And its so much better this way cause the protein from vegetarian sources come with so much less of a baggage by way of calories in the form of fat. In this bargaining world where we want more for less, this package is indeed 'appetizing'.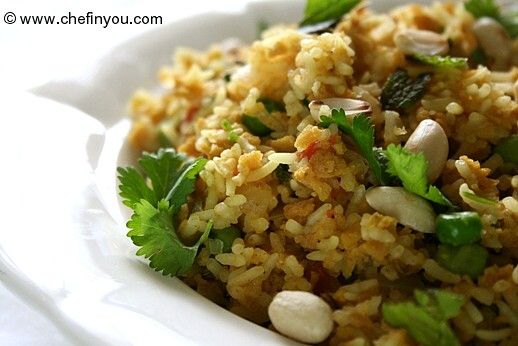 I rely on ingredients like Seitan, tempeh, Tofu, legumes, Soybeans, TVP, egg whites, milk along with yogurt/curd for our protein sources and use them often in our food. Of course grains like quinoa, millet, amaranth etc are other rich sources of protein too. Coming to today's recipe - its a simple pulao (rice based dish) made using Soya chunks (which is available by name of "TVP" in US stores). Since my better half does not like the chewy texture of whole soy chunks, I use the granular variety. You can use whatever you prefer. Its colorful and very appetizing, making it an nutritious meal for your family including your kids.
Ingredients
1 cup rice (basmati works great here)
1 cup Soya granules (or use chunks/ Gluten free TVP)
1 tsp fennel seeds (or use cumin)
1/2 tsp garam masala
1/2 tsp cumin coriander powder
1/4 tsp turmeric powder
1/4 cup peas, frozen
1 onion, chopped finely
2-3 tomatoes,chopped finely
1 inch grated ginger
2-3 cloves of garlic
2-3 green chillies, sliced thinly (or as per taste)
1 bay leaf (optional)
1/4 cup dry roasted peanuts (optional)
salt and butter/ghee to taste
few sprigs of cilantro and mint  to garnish
Method
1
In a skillet in 1 tsp of oil, add fennel, bay leaf, onions etc and saute until aromatic. Then add the tomatoes, garlic, ginger, spices along with chillies and saute it with some salt for few more minutes.
2
Add the Soy granules. There are two ways of going about this. Usually the packet suggests to soak the granules/chunks in some warm water and then add it to the recipe. I sometimes in a fit of laziness, add it directly to the recipe but increase the quantity of water in the recipe and it works equally well. But you can soak it in water and then add to the recipe. Whatever works for you.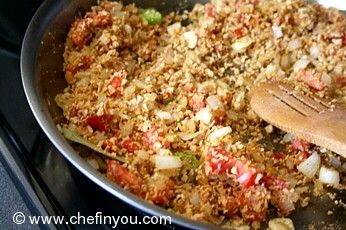 3
Then add the rice and saute for 1-2 minutes.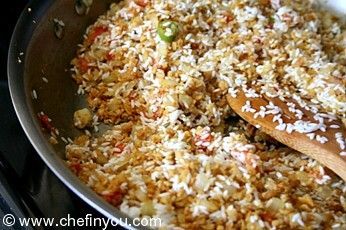 4
Add 2-1/2 cups of water (or vegetable stock) along with salt. Close it with a lid and cook for 6-10 minutes.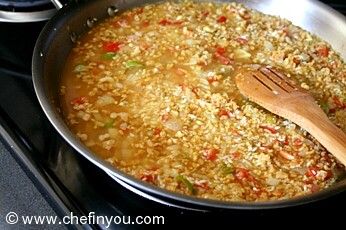 5
When almost done, add the frozen peas to the rice and give it a gentle stir. Cook for a minute
6
Garnish with the herbs. if you have finicky kids, then add in little ghee or butter right at the end for additional taste.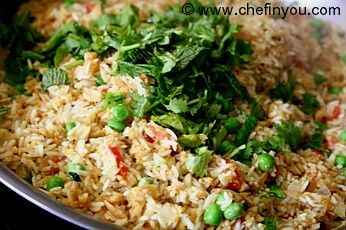 Serve it warm garnished with toasted peanuts.  I serve this with Raita or sometimes with spicy side dish.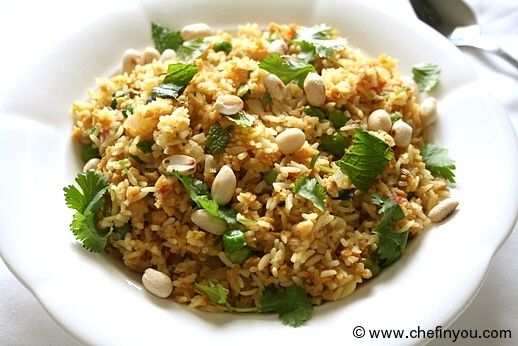 Related Recipes You May Like
Did you make this recipe?
Please click below to share your experiences while you were making this recipe. Thanks for your input!
Have a favorite recipe?
Know a family recipe your mom used to make? Or maybe a go to recipe that works everytime? Share it with your fellow foodies!