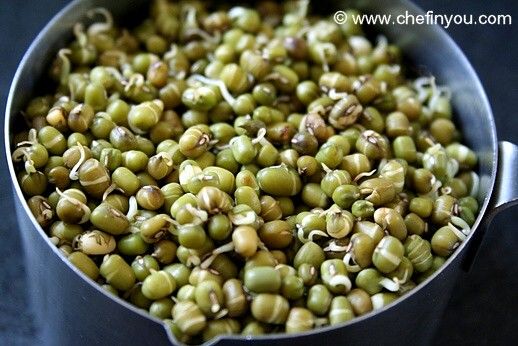 For a long time, I was of the opinion that Sprouting was an energy draining process – until I actually took time to sprout some! It was like a cloud was lifted off me. While the excitement set in, a little of self irritation also came along! I mean how do I count the wastage of all those months, of buying the sprouts off the store shelf, when all it took was few seconds of work on my part right at home? Sheer waste indeed! Anyways, as my father always said – you will never know without actually trying. Sometimes, when you read material or experience, they all seem to sound more bombastic than they actually are! When you set down to do it – its ends up being NOTHING bombastic at all!
Other Sprout Based recipes of interest : How to Sprout Ragi (Indian Finger Millet),  Sprouted Ragi Dosa (Finger Millet Crepe), Sprouted Ragi and Black eyed peas Cutlets, How to Sprout Wheat Berries (Indian gehun ka dana), South Indian style Sprouted Mung Bean Salad (Mulai Payaru Sundal)
Like a child who discovered the secret pathway to free chocolate factory, I find myself sprouting often now. They are versatile and nutritious to say the least. Hence, its indeed surprising that I haven't posted as many sprouting recipes as I ought to have here at Chef In You. I only recently discovered the fact that I sorely lack recipes in the sprouting department. But before that here's some info I have collected from the net and books on Sprouting the most famous bean of all  – Mung Beans. Enjoyed in variety of cuisines in various forms, it is the most oft reached out for sprouts everywhere. I have mentioned the sources from where I collected the data below. Hope it benefits you as much as it did for me.
In a Nutshell
Seed to Sprout in 2-5 Days
Yield = 2:1
Sprout Shelf Life = 2-6 weeks
Nutritional info:
Vitamins A, B, C and E ; Calcium, Iron, Magnesium, Potassium; Amino Acids; Protein: 20%
Here is a quick walk through for all those who haven't started the process of sprouting at home.
How to Sprout Mung Beans
1. Take the required amount of beans. I have 1 cup of mung bean here. Remember, it will double once sprouted. So prepare only the amount you can consume within 2 weeks.
2. Wash your beans well in cold water till the water runs clear. Drain and then place it in a bowl or sprouter if you possess one. Fill it with cold water until immersed well. (2 to 3 times as much as the seeds).
3. Soak overnight or at least for 8-12 hours.
4. Drain the water well. Rinse again with cold water and drain it again.
5. I have a bamboo steamer which I put to good use as far as sprouting goes. Since it has the system of draining, the excess water in case of any, drips off through those holes in the steamer. You can use cheesecloth, paper cloth or just a plain jar for sprouting. If you are using plain jar, then cover it with a light cloth.
6.Place them in a low light and at room temperature. When they suggest Dark place, don't imagine inside a shelf or oven. Just place it where there is no direct sunlight like in a considerably darker place in your kitchen counter space or something.
How Long to Grow Your Sprouts and approximate days taken:
If you just want just wee little sprouts
(1/4 – 1/2 inch roots): Rinse and Drain every 8-12 hours for 2 – 3 days.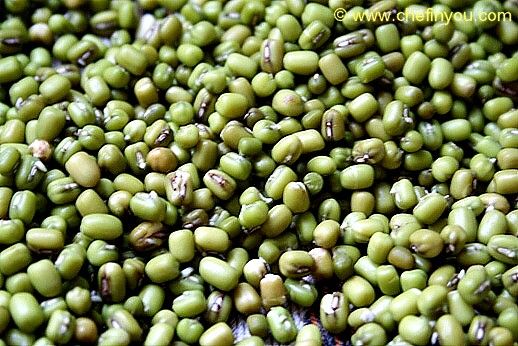 If you just want to grow big mung sprouts
(1 – 3 inch roots): Rinse and Drain every 8-12 hours for 4 – 5 days.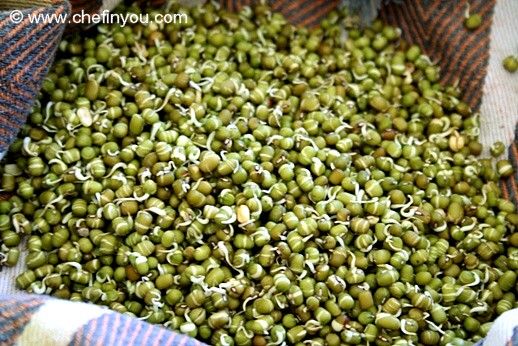 You can grow them more bigger and with thicker sprouts similar to what you get in your fav. Asian restaurant. I said similar since I haven't personally able to Sprout the ditto looking sprouts. It grows a lot but not as thick. The following note explains the reason why here – courtesy SproutsPeople.com :
Mung Bean Sprouts are most commonly seen big and thick rooted. They are common in Chinese cuisine. Commercial Mung Beans are grown with chemicals and gasses in huge 500 gallon machines. You will never get your home grown sprouts to look like those you see at a restaurant or supermarket, but you can get some thick roots. To do this you will need a sprouter which drains from the bottom (Easy Sprout, SproutMaster, or The Tube )
•When you Rinse, do not disturb the seeds/sprouts. The beans need to stay where they are – to form a mass that is unmovable. Rinse longer – with lower water pressure (if your sink has a sprayer, use that) during the first 2-3 days – until they are firmly in place. ………… Read more on the site
Do you adopt any other easier or different method while Sprouting? Would love to hear from you
Link to this recipe
Bookmark this page using the following link: http://chefinyou.com/2010/06/sprouting-mung-beans/
Do you have a website? You can place a link to this page by copying and pasting the code below.
<a href="http://chefinyou.com/2010/06/sprouting-mung-beans/">How to Sprout Mung Beans</a>