Sprouted Ragi & Black Eyed Peas Cutlets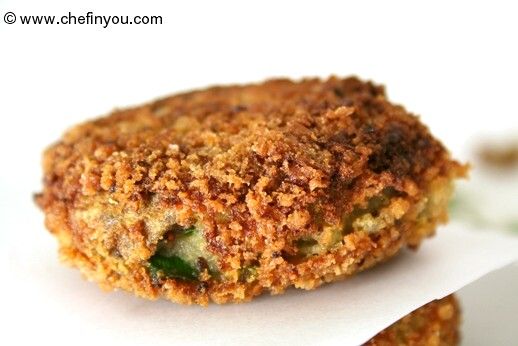 Its been raining cats and dogs, literally! OK agreed that the cat jumped down from a roof to the ground to escape the pouring rain and the neighbor's dog jumped up and down seeing the cat - its still rain, cat and dog in the same picture. If you can welcome
Modern Art
, you should be able to digest my abstraction of this scene too!! Anyways, coming back to the rain part. I LOVE RAIN. Period. I sort'a blossom with every pitter-patter of droplets of water falling down from the dark jacket adorned clouds above! So all this excitement had to wear me out now, right? Hence was in the mood for some crunchy fried snack. Now, now how do I cheat my 'dratted' sub conscious of mine promptly directing my eyes to the weighing machine? (thinking..)(thinking....) OK too much thinking only makes me more hungry! Just went into my kitchen and collected ingredients, whatever caught my fancy.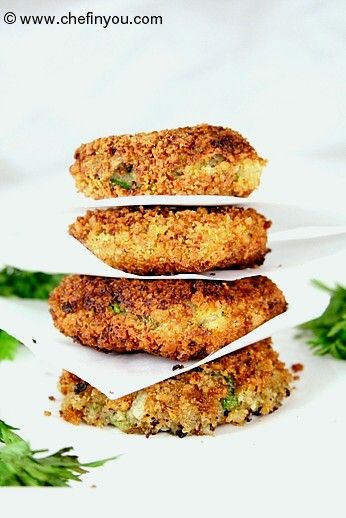 Panko Bread crumbs, Oil, Salt, Garam Masala, mmmm.........., Oh yes, Potatoes, spring onions, little cilantro and mint. That felt good. I placed a pan for shallow frying (see, no deep frying! Good girl, me). Then my eyes fell on my bamboo steamer which I use for sprouting and I saw some fresh sprouted Ragi...mmm... (
thinking to myself - "OK you plan to enjoy frying, so while you are at it, why not add some healthy ingredients? You wont feel bad now, would you?"
) ..
Ragi
it is. But now that we are starting on the healthy route
*burrowing deeper into pantry and finding..*
Aha..Black eyed Peas. mmm..lets cook black eyed peas (it does not need pre soaking and cooks fairly quickly), Pressure cooker comes up and the peas are cooked in 10 minutes flat. Mushy works fine in this case since I am going to mash them anyway. Steam Potatoes on the side...I am all excited now! - Another Sprouted Ragi recipe goes into my repertoire. of course you can deep fry, shallow fry or bake them. Whatever strikes your fancy. This is protein rich and delicious snack. If your kids dont like sprouted 'anything' leave alone ragi, this is one good way to
hide it
dress it up along with black eyed peas.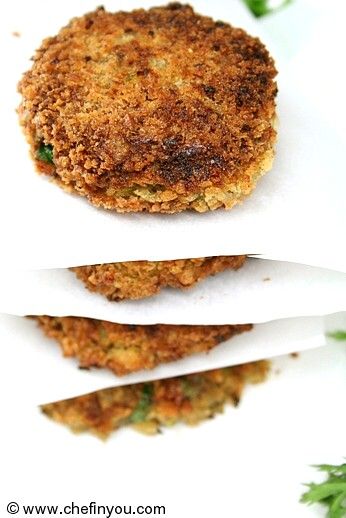 Without further ado, lets go to the recipe shall we? I basically eyeballed everything and hence I have given you approximate measurements. Use your discretion while making them.
You might also be interested in:
Ragi Related Posts:
Sprouted Ragi Dosa
,
How to Make Ragi Flour
,
How to Sprout Ragi
,
Thalipeeth
Patties and Croquette recipes:
Baked Quinoa and mixed bean Croquettes
, 
Baked Falafel Burgers
,
Falafel
,
Brown Rice Patties
,
Soy Burger
,
Zucchini Patties
, 
Tempeh Cutlets
Basic Information
Yield
:
Makes around 10-15 patties depending on the shape and thickess
Ingredients
2 cups cooked Black Eyed Peas
1/2 cup Sprouted Ragi (see how to)
2-3 spring onions, chopped finely
1 large potato, steamed ( I keep the skins on)
1 tsp chilli powder/ 1-2 green chillies (or per taste)
1 tsp garam masala
1 tsp cumin-coriander powder(optional)
4-5 tbsp soy flour (or you can use all purpose flour/corn flour)
1-2 cups Panko (or you can use bread crumbs that you have on hand)
salt to taste
few sprigs of cilantro and mint (mint is optional)
Method
1
Make sure to drain any cooking liquid from the black eyed peas. Use canned peas for a quick version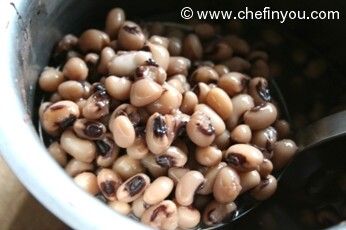 2
Grind it along with sprouted ragi, cilantro, mint and green chillies if using. You can also grind the Ragi first into a coarse paste and then add the black eyed peas and process it lightly. Whatever works for you.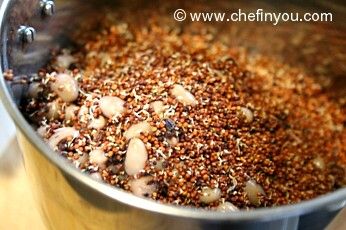 3
It should be a thick batter and try to avoid adding any water if possible. Otherwise it would get harder to shape it into patties.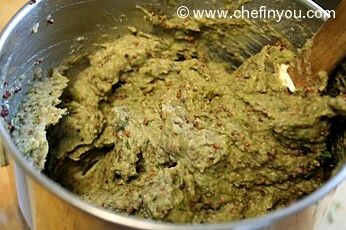 4
Now in a bowl, mash the steamed potatoes into paste,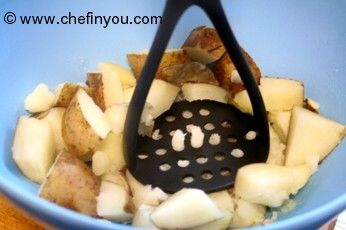 5
add all the seasonings, the processed batter and onions (along with greens) and mix well until combined. You can actually taste a little of the mixture to see if you need any more seasoning. If too hard, add 1-2 drops of water or if too watery, add few tbsp of soy flour to thicken it up.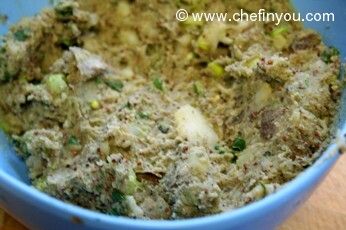 6
Place two plates side by side. In one plate spread the panko/bread crumbs. In another make a thin batter of soy flour and water. We need to lightly coat our patties. This step of course is not required. You can add the bread crumbs to the batter and shape into patties to save yourself some time. Drop the patties into the soy flour batter and coat it on both the sides lightly.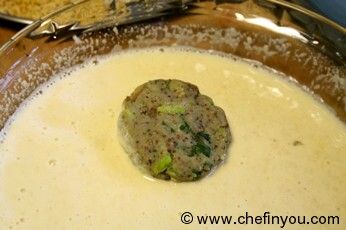 7
Now place that on the Panko Bread crumbs and coat it on all the sides.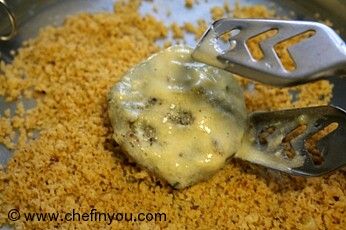 8
Drop this in hot oil. Shallow fry or deep fry. Your preference. I took a small non stick skillet and added like 6-7 tbsp of oil to fry these.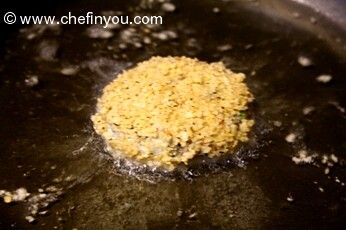 9
until golden,reddish brown.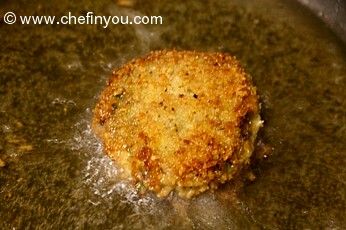 Place them in paper towels to drain excess oil and serve.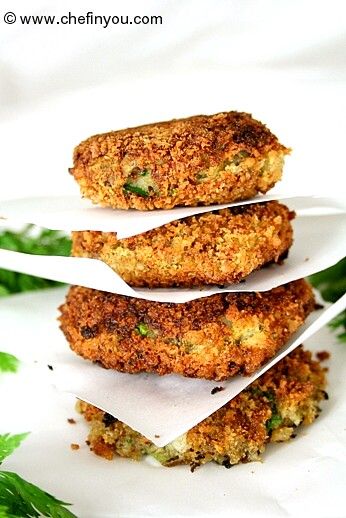 Related Recipes You May Like
Be the first to showcase this recipe!

Your Name
Did you make this recipe?
Please click below to share your experiences while you were making this recipe. Thanks for your input!
Have a favorite recipe?
Know a family recipe your mom used to make? Or maybe a go to recipe that works everytime? Share it with your fellow foodies!